If you've been missing desserts since you went gluten free, then you've come to the right place. This is the last in a three-part series on eggs, and we've been learning how to crack and separate an egg, beat egg whites, and beat egg yolks. All three of these skill are used in gluten free baking, especially in desserts like meringues, crème brûlée, mousses, and Pavlovas.
In this post we'll learn how to beat egg yolks to the ribbon stage, and then we'll make some yummy crème brûlée.
Beating egg yolks is much simpler than beating egg whites. Your goal is for the color of the yolks to change from bright yellow-orange to a pale, pale yellow and for the yolks to thicken to the point that they fall from the beaters in a ribbon.
Place chilled egg yolks in a mixing bowl and begin to beat them with a mixer or whisk.
After beating the yolks a few times, gradually begin adding sugar, if the recipes calls for it.
Continue beating the yolk until they thicken and the color of the yolks is pale yellow, like this.
When you pull the beaters or whisk from the yolks, the yolks should fall from the beaters in a ribbon.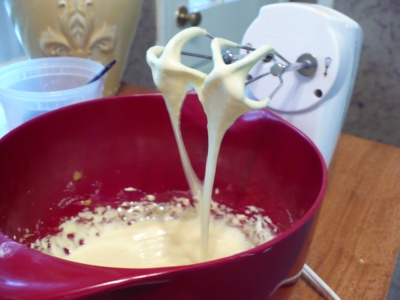 When the ribbons hit the surface of the yolks, they should stay on top for a moment and then dissipate.