Here Are The Bread Recipes!
Yay! I've got your contact info now and you are going to LOVE these two recipes.
Here's a picture of the Reubens that we made with the Cocoa and Molasses Bread recipe to whet your appetite.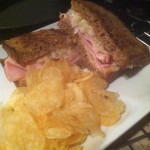 I try not to look at that picture too often because it just makes me hungry!
Instructions for Downloading Your Bread Recipes:
1. As I mentioned, the recipe will be sent to your email. Because email privacy is super-important to us, you will first receive an email asking you to confirm that it's okay for us to email you. So go check you email and click on the confirmation link inside.
2. After you click on the confirm link in that email (it will be from Gluten Free Cooking School), you'll automatically be redirected to a page here at Gluten Free Cooking School where you can download the recipes and get a few tips on baking gluten free bread….just in case you're feeling a bit unsure about doing that.
3. We'll also send you a download link for the recipe by email, in case it's not convenient for you to print the recipes right this minute.
– Mary Frances