Light and Fluffy Gluten Free Biscuits Recipe
With a biscuit recipe that uses gluten free flour, you may have difficulties getting it to rise properly. Not with this recipe, though. It yields beautiful, fluffy biscuits that practically melt in your mouth.

Search Recipes

Print

Prep Time:

Cook Time:

View All

Popular

Breakfast

Lunch

Dinner

Appetizers

Snacks

Vegetarian

Bread

Desserts

Sides

Easy Dishes

Pizza

Pasta

Thanksgiving
A happy accident a few weeks ago led to yet another change in my gluten free drop biscuits recipe. I ran out of soy flour and added an additional 1/2 c. of cornstarch to make up for the shortfall. The result. . . fluffy, tender biscuits that I would put up against anyone's gluten filled biscuit.
These biscuits freeze really well too. I usually make a batch on Saturday morning, cook 6 for our breakfast and then freeze the remaining 10 biscuits in two pans. These pans eventually find their way into our oven during the week. Just bake for 30 minutes while you get dressed, and breakfast is done.
If drop biscuits are not quite your thing, then you need to try my recipe for cut-out biscuits. It's included in my e-book, The Gluten Free Survival Guide.
Instructions
Yield: 16 large biscuits
1 1/2 c. brown rice flour
2 c. corn starch*
1/2 c. soy flour or sorghum flour
2 tsp. baking powder
2 tsp. salt
1 1/2 tsp. baking soda
2 tsp. xanthan gum
1 stick of butter* (chilled in the freezer)
1 1/4 c. soy milk*
1 1/4 c. water
1 Tbsp. cider vinegar*
1 egg, beaten (or the equivalent amount of your favorite egg replacement)
Preheat your oven to 350 degrees.
In a large mixing bowl thoroughly combine the flours, baking powder, salt, baking soda, and xanthan gum.
Grate the butter into the flour using the small holed side of a box grater. Mix the butter into the flour so that there are no large balls of grated butter.
Add the soy milk, water, vinegar and beaten egg to the flour and stir until the dry and liquid ingredients are combined.
Using a large spoon, drop the dough onto a greased pan to make 16 biscuits. Cook at 350 degrees for 15 minutes or until golden brown.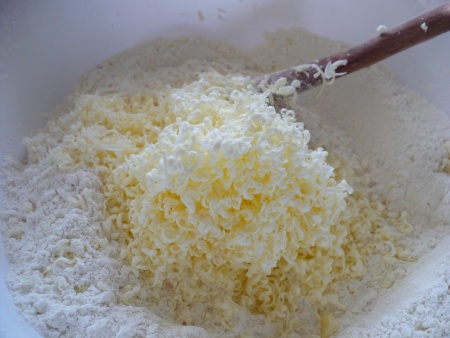 Cook's Notes:
If you're not vegan or dairy free, feel free to use 1 c. buttermilk in place of the soy milk and vinegar. If you're allergic to soy, try using your usual milk substitute and keep the vinegar in the recipe.
You may substitute potato starch or tapioca flour for the cornstarch.
1 stick of butter = 8 Tbsp. = 1/2 c. = 1/4 lb. = 115 grams
Earth Balance Buttery Sticks should work if you need this to be casein free. I just checked their website and the sticks are gluten and dairy free.
Thanks to Kate at Gluten Free Gobsmacked for the tip on grating the butter. It was a lot of fun and decreased my prep time by quite a bit.