Just in time for the weekend, here is one of our favorite breakfasts: gluten free pancakes. We love to cook these on the weekend, when we have more time to sit and enjoy them. You can always top them with syrup, of course, but we've also enjoyed strawberries, blueberries, whipped cream and bananas.
For more fun and Gluten Free Easy Recipes like this one, make sure to check out my ebook, The Gluten Free Survival Guide. I've packed it full of all of my favorite GF recipes, like biscuits, waffles, pizza and more. I know you'll enjoy cooking them as much as we do!
2 1/3 c. of my Gluten Free All Purpose Flour mix
2 Tbsp. sugar
2 tsp. baking powder
1/2 tsp. salt
1 1/2 c. soy milk (or cow's milk)
3 Tbsp butter, melted (or canola oil)
2 eggs, beaten (or 6 Tbsp. water and 2 Tbsp. ground flax seed)
1/2 tsp. vanilla
Combine the first four ingredients in a large mixing bowl and give it a few whisks. Crack the eggs into a separate bowl and whisk them until they are well beaten. Add the soy milk, butter, and vanilla to the eggs and whisk again.
Pour the wet ingredients into the dry ingredients and stir until the ingredients are combined. (I usually abandon the whisk at this point and grab a wooden spoon.) Stir the batter until all of the flour is mixed in. This should just take a few seconds – there will still be lumps in the batter and that is okay. Put the batter aside while you heat up the griddle.
Put a teaspoon of butter on your griddle or non-stick skillet and heat on medium. Once the butter has melted, use your spatula to spread the butter over the entire surface of the skillet. This is going to keep the pancakes from sticking.
Using a 1/4 c. measuring cup, dip the batter out of the bowl and pour onto your skillet. I can generally fit three pancakes on my skillet at once. Let the pancakes cook and do not touch them until you see bubbles popping in the middle of the pancake like this: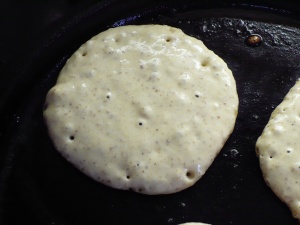 Now, flip the pancakes immediately. They will only cook for a minute or two on the second side, and you can use your spatula to peek and see if they are as brown as you want them. Once they are, take them off the griddle and slip them into a plate that is warming in a 200 degree oven. Put some more butter on your skillet and do it again.
Tips:
(Yield: One dozen)
Adding the melted butter to the other ingredients can be a bit tricky. If the butter is too hot, then it may cook the eggs. If the milk and eggs are super cold, then the butter may re-solidify once you add it in. The solution is to have all of your ingredients at room temperature. However, this is not always convenient, so I sometimes substitute canola oil for the butter just to make my life a little easier.
If the pancakes are turning out darker than you like, or if the butter in the skillet is turning brown, turn the heat down. I usually have to turn my skillet down to medium low after the first batch. You may even need to take the skillet off of the heating element for a few minutes to let the skillet cool down. Don't worry, you'll soon get a feel for it.
On the other hand, if you're not sure that the pancakes are done, just use the corner of your spatula to make a small slice in the middle of the pancake. Press down on the pancake and if you see oozing batter keep cooking.
If you're having trouble with the pancakes sticking to the skillet add more butter or try another skillet. I use a Lodge Logic Cast Iron Griddle
to cook pancakes. I have used non-stick surfaces and cast-iron surfaces and my pancakes always turn out better on a well-seasoned cast-iron skillet. This may just be a personal preference, but if you're not having any luck with non-stick, try a cast-iron griddle.
If the pancakes fall apart when you flip them, then you're either flipping them too soon, or you need a bigger spatula. Ideally, the spatula should be wider than the pancakes. Here is a list of pancake spatulas
from Amazon to give you an idea of what I'm talking about. I haven't tried any of these, and therefore cannot recommend one, but it should give you a general idea.