Yummy Sandwich Bread (Gluten Free, Casein Free, Soy Free)
Baking gluten free bread can be overwhelming, frustrating, and scary. But it doesn't have to be. Learn to bake good gluten free bread the first time and every time, by taking class, a virtual cooking class from Gluten Free Cooking School.  An updated version of this recipe is featured in the class.
Now that I've given you my new all-purpose gluten free, soy free flour mix, you need a recipe to try it in. Based on the questions and comments I've received I decided to start with bread. Everyone who goes gluten free starts to miss bread pretty quickly, and a nice loaf of gluten free bread can go a long way to making you feel better about your new diet.
For more great gluten free recipes like this one, check out my ebook, The Gluten Free Survival Guide. I've packed it full of all of my favorite GF recipes, including bread, biscuits, waffles, scones and more. I know you'll enjoy cooking them as much as I do!
I found a new sous chef for this experimental baking. Please let me introduce Sous Chef David.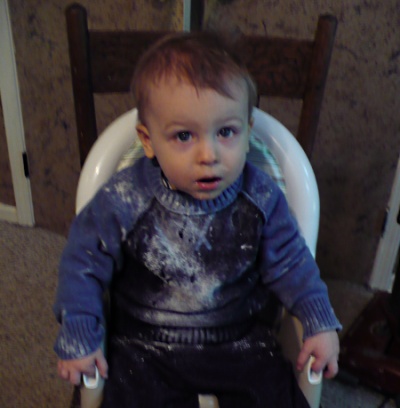 Experiments in Bread Baking:
For the baking session, I decided to make enough dough for two loaves and cook one in the bread machine and one in the oven. I recently posted "conventional oven" directions (in the comments) for my original Gluten Free Sandwich Bread post and I wanted to make sure that they were correct. And I thought it would be fun to compare the two loaves. You know me; I like experiments.
David and I made a double batch of the dough (see recipe below) and then scooped half of it into the bread machine. I've lost the paddle to my machine, so I just threw the dough in without it and set the bread to bake on the 80 minute "Express Bake" setting.The other half of the dough was scraped into a greased 10″ Calphalon loaf pan. The dough needed to rise in a warm place for 45 – 60 minutes and the only warm place that I could find was on the stovetop in front of the vent from the oven. I wasn't sure if this would counteract the somewhat chilly temperatures of our house, but the bread was pushing at the top of the cloth within 45 minutes. After the bread rose I baked the loaf in a 375 degree oven for 60 minutes.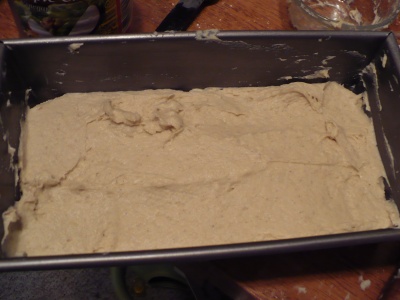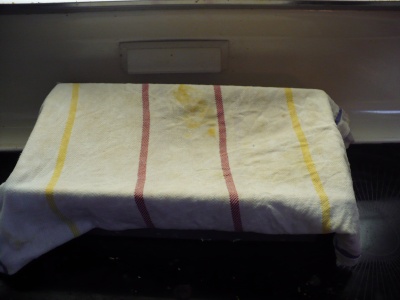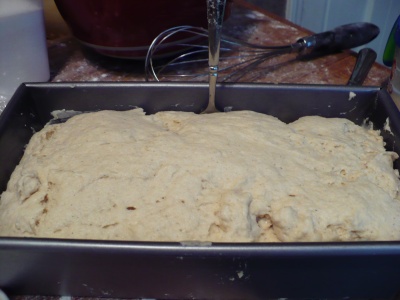 And here are the results: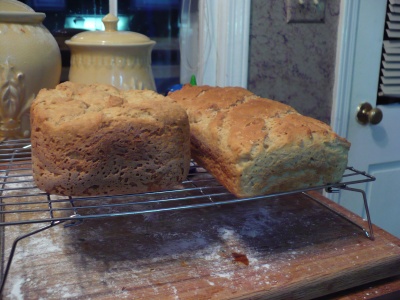 The bread machine bread is on the left and the oven bread is on the right. These loaves turned out pretty much as expected. My oven loaves have always been on the short side, but I think this is primarily because my loaf pan is longer and wider than my bread machine pan. There's just more room to spread. To confirm this theory I cut the end off of each, and you can see in the pictures below that both loaves have the same density.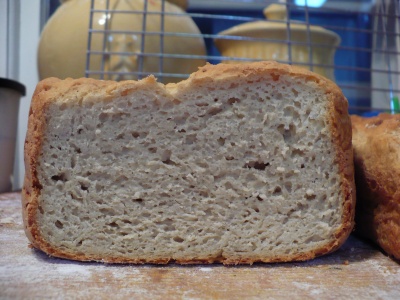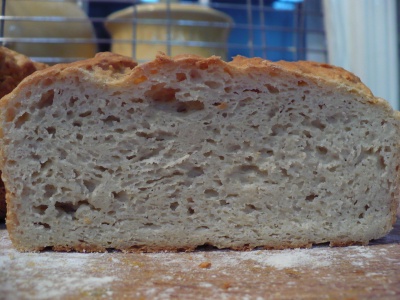 Again, due to some recent reader comments I drug out my measuring tape to determine the exact height to which my loaves had risen. The bread machine loaf topped out a little shy of 3″, while the oven loaf came in right at 2″.
The 3″ loaf is typical for our bread machine. I've made higher loaves with store-bought mixes but they always collapsed as they cooled. Even though this loaf is only 3″, it's always 3″ and I can count on having slices of bread that will hold together for a sandwich. In fact, this is the bread that we use for sandwiches, and along with soup or a salad it is the perfect amount for a meal.
The 2″ loaf of bread is a bit small, but we'll be eating sandwiches from it too. We may just eat two!
Final Thoughts:
While I am definitely in love with my bread machine, I think that you can bake a good gluten free loaf in the oven if you have the right pan. My bread machine pan measures 7.5″ x 5″ x 5″. I did some quick research on Amazon and a my 10″ loaf pan is technically a 1 1/2 pound pan. A 1 Pound Loaf Pan
measures 8.5″ x 4.5″ and, if my theory is correct, should result in a higher loaf.
If you have any insights from your bread-baking experiments that you'd like to share with everyone, please tell me about them in the comments.
Yummy Sandwich Bread Recipe
1 Tbsp. active dry yeast
1 Tbsp. sugar
1 ½ c. water (105 degrees or a little less than hot)
2 ½ cups All Purpose Flour Mix Recipe
2 tsp. xanthan gum
1 tsp. salt
2 eggs
1 ½ Tbsp. oil
1 tsp. cider vinegar
Directions
First combined the yeast and sugar in a small bowl, Add the water while gently whisking the yeast and sugar. Let this mixture sit while you mix the rest of the ingredients. If your yeast is good then bubbles and foam should form on the top. (By the way, this step is what is commonly referred to as "proofing the yeast")
Combine the flour mix, xanthan gum and salt in a large mixing bowl and stir well. If you have a sifter, then by all means sift the flour. I don't, so I whisk and stir it really well.
In a third bowl, whisk the eggs, oil and vinegar until the eggs are a bit frothy.
By this point the yeast mixture should be foamy, so you can pour the two liquid mixtures into the flour mixture. Stir until all ingredients are well mixed and then: (A) dump the dough into your bread machine and bake on the 80 minute setting. (B) Or, following the remaining instructions for a convention oven.
Grease a loaf pan with shortening, butter, or the appropriately allergen-free substance. Scoop the dough into the pan and smooth it out with a rubber spatula or the back of a spoon. Cover the pan with a damp dishrag and place in warm area so that the dough can rise for the next 45 – 60 minutes. The dough should double in size or reach the top of the pan.
After the dough has risen, bake in in a 375 degree oven for 60 minutes. When the bread is done it will have a crisp brown crust and it will pull away from the sides of the pan. Remove the pan from the oven, and the bread from the pan, and cool for 15 minutes before slicing.