We'll be out of town this weekend, so my menu for the week is based on what is in the refrigerator that needs to be eaten. I think I did a pretty good job, since our grocery bill today was only a third of what it usually is. The meals are relatively well-balanced and I managed to sneak in the recipes that I wanted to post about.
The Gluten Free Menu Swap is hosted this week by Slacker Mom at Mrs. G.F. – Recipes for a Gluten Free Life. Visit her site to see all of the other menus that my fellow gluten free bloggers have created. The ingredient of the week is apple, and I've used it in the Chicken & Apple Rice Skillet – which I'll make with tofu since we don't eat chicken anymore (Yippee! I love not handling raw chicken!)
Sunday: Baked Eggplant and Lentil with a salad
Monday: Gluten Free Fried Brown Rice
Tuesday:Smoky Chicken Tomato Soup with Southern Cornbread
Wednesday: Chicken & Apple Rice Skillet with a salad
Thursday: Halloween Quesadillas with Cole Slaw (not the best match-up, but I've got a huge head of cabbage in the fridge)
Friday & Saturday: Visiting my parents for Homecoming at my high school, (It's been 10 years!) so we'll be eating whatever my parents choose to serve. They're still not so sure about this whole gluten free vegetarian thing =)
Breakfast: Double batch of "Gluten Free Banana Nut Pancakes" We had these for breakfast this morning, and I put sixteen in the freezer for quick weekday breakfasts.
Upcoming Posts
Monday: "How to Prep a Butternut Squash"
Wednesday: Southern Cornbread recipe
Friday: Halloween Quesadillas
Saturday: Gluten Free Mystery Photo Contest – Round 2
In the Works
Gluten Free Banana Bread recipe
Gluten Free Impossible Pumpkin Pie recipe
Gluten Free Cheese Tortellini recipe
Tomato Bechamel Sauce recipe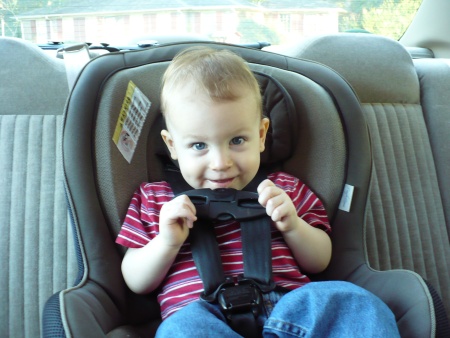 He was so hungry after a trip to the park, that he tried eating his car seat harness =)