Just a short post to give everyone my menu for the week. Unfortunately I'll be out of town on a business trip from Tuesday to Friday and John and David will be fending for themselves. The menu should give you a good idea of how John copes with cooking when I'm not around or otherwise out of commission. Soups, sandwiches, and salads. I've added in breakfast and lunch menus for the days I'll be gone mainly because I feel guilty for going out of town. I'm sure he'd do fine without the menus, but it makes me feel helpful =)The Gluten Free Menu Swap is hosted this week by Carrie at Ginger Lemon Girl. Check out her round-up post for links to the other Gluten Free Menu Swap entries.
My Menu:
Sunday: Black Bean Enchiladas (I'm hoping to post this recipe soon.)
Monday: Spaghetti with Mushrooms and Fava Beans in a Rosemary Cream Sauce – adapted from What the Hell Does a Vegan Eat Anyway?
Tuesday: TLT (Tofu, Lettuce,Tomato) Sandwich and Cole Slaw
Wednesday: Breakfast – Cinnamon Oatmeal with Raisins (follow directions on box – use soy milk instead of water and add 1 tsp. cinnamon and as many raisins as you want. Add sugar, salt, and butter to taste)
Lunch: Grilled Cheese Sandwich and Amy's Tomato Soup
Supper: Black Bean Soup and Green Salad
Thursday: Breakfast: Cinnamon Oatmeal with Raisins
Lunch: Tofu Reuben Sandwich and Cole Slaw
Supper: Lentil Soup and TLT Sandwich
Friday:Breakfast: Cinnamon Oatmeal with Raisins or Cheese Grits, if tired of oatmeal
Lunch: Peanut Butter & Jelly Sandwich and Black Bean Soup
Supper: Split Pea Soup with Garlicky Croutons, Loaded Baked Potato, and Green Salad
Saturday: Pizza and Green Salad
Sunday: I have no idea at this point =)
And for my Mommy Brag, here is a picture of David "marching" Army Bear. Army Bear was a gift from his uncle before he deployed to Iraq and it's one of David's favorite stuffed animals.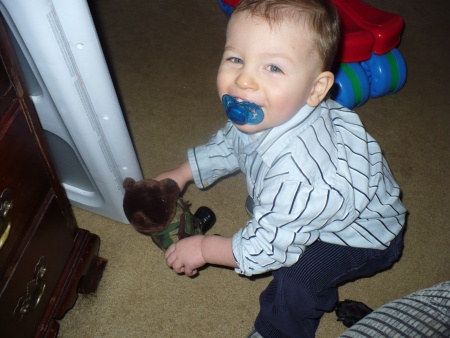 .
I decided at the last minute to submit this menu to Organized Junkie's Menu Plan Monday. You can check out the round-up here.