Sampling Gluten Free Egg Rolls - Satisfy Chinese Food Cravings!
Any time your husband uses the phrase "pink foam" to describe part of the meal you just served him, you know it's not a good night. So, tonight's supper will not be making it into a post any time soon. Instead, we're going to focus on the wonderful goodness I served up a few weeks ago when I finally made Kate's Gluten Free Egg Rolls.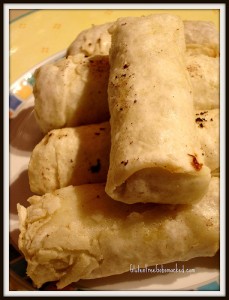 My take-out Chinese cravings are now one step closer to being fulfilled, because these egg rolls are the best I've ever tasted – crunchy, flaky crust bursting with a flavorful, hot, and juicy filling. Dip it into a sweet and sour dipping sauce and you are in heaven.
I procrastinated about making the egg rolls, even though they were #1 on John's most wanted foods, because I thought it would be a "big ordeal". So, imagine my surprise when the whole process went smoothly and was quite enjoyable. That being said, this is not a recipe that I could whip out in 30 minutes, but it's definitely one that I'll be making again on a weekend night when I want to relax and cook at my own pace (i.e., with toddler in bed and adult beverage in hand).
Kate's recipe uses ground pork in the filling, but we simply substituted crumbled tofu which I think would probably have fooled a meat-eater. I also upped the xanthan gum since we don't use gelatin (if you don't know why, email me; I decided it was too gross to put in the post!). Other than that, I followed the recipe perfectly (which is unusual for me) and the egg rolls turned out perfectly.
(Oh wait. I didn't really follow it perfectly because I accidentally doubled the liquids, and then had to add more flour, and then ended up with a ton of the dough, which ended up turning into a brick in my refrigerator because I left my mind somewhere and forgot to freeze the dough. I also had leftover filling which somehow remained on the counter overnight and had to be thrown away. It was a very wasteful evening, but completely worth it because the eggrolls were so yummy!).
(Long time readers that are counting the number of parentheses will already have guessed that I'm past the point of exhaustion and am babbling away  simply because my fingers won't stop typing.) In summary, please make these because once you have eaten them you can never truly believe that this whole gluten free thing is that bad.  And while you are at Gluten Free Gobsmacked getting the recipe, be sure to check out Kate's other recipes. They are all superfabulous =)
P. S.  This post is part of the gluten free event "Adopt-A-Gluten-Free Blogger". The event roundup will be hosted by Gluten Free Goodness sometime after August 11th. If you'd like more information, the event page is at Book of Yum.
(There, I'm done. I'm going to bed. It's only 9:06 which may be the latest I've been up this week. Why am I so tired?!?!)