Gluten Free Bread: Submarine Rolls
April 22, 2009
Good Gluten Free Sandwich Bread is the holy grail of gluten free cooking.  Unfortunately, it is rarely available outside of my own kitchen. Now there are a lot of foods that I miss on a gluten free diet, but it is just plain torture to watch my friends eat a submarine sandwich at lunch and know that I can't join in.  Since I subscribe to the belief that all foods can be recreated in a gluten free form, John and I recently set out to create our own gluten free bread recipe for a submarine sandwich roll.
Instructions
We started with a package of my Gluten Free Sandwich Bread,  (we had several bags of my sandwich bread mix in the freezer) which we mixed up and left to rise on the stove while we headed out to play at the park. When we arrived back home, the dough had reached the top of my large mixing bowl.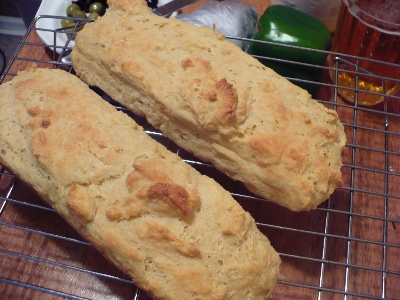 Since I was making this up as I went, I decided not to do anything else to the bread (the path of least resistance!) and simply spooned it into some forms that John and I quickly threw together using aluminum foil. The forms were approximately 12 inches long and 3 – 4 inches wide, and one batch of dough filled made two foot-long sandwiches.  Once the bread dough was in the forms, I didn't smooth it out because I wanted to make sure that all of those fragile air pockets stayed in the bread.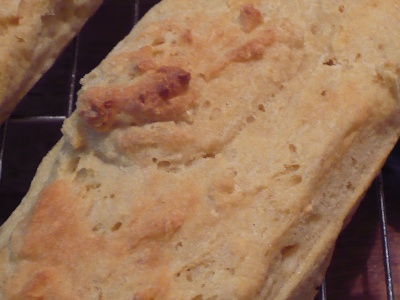 We then put the forms into a large baking dish, along with three ramekins that we filled with water. The ramekins kept the forms from sliding around in the baking dish, and the water increased the moisture in the oven , which helps the bread develop a good crust.   We baked the bread at 350 for 40 minutes, and out came these wonderfully golden, crusty loaves.
Notes
1. Grease the aluminum forms with butter or shortening to make the removal of the forms easier.
2. Remove the forms immediately after baking so that the bread does not get soggy as it cools. But do let the bread cool on a baking rack for at least 15 minutes before cutting.
3. I like to slice my bread all the way through when I make my sandwich. John things that the V cut used by Subway is the way to go.
4. I usually mix my gluten free bread dough with a mixer for several minutes to develop the gluten xanthan gum, but we didn't do that in our haste to get out the door and it turned out just fine.
5. We've also used Bob's Red Mill Gluten-Free Homemade Wonderful Bread Mix
to make these loaves and it worked well. The loaves were a bit more dense and wet (which is typical of that mix) but the flavor is great.
Have you made gluten free breads using forms? What worked well for you?