Would you like some amazing gluten free pie this Thanksgiving? Take our GF Pie Cooking Course, and handle the holidays like a rockstar!
There have been way too many gluten free desserts in our house lately! For some reason I developed quite a sweet tooth while I was pregnant with Grant, and I can't seem to get rid of it! It doesn't help that some fabulous person at Erewhon sent me 6 boxes of cereals to use in my cooking experiments.
I've been wanting to make a gluten free Hershey pie for ages, but haven't been sure how to replace the graham cracker crust from the original recipe. For those of you who are not familiar with Hershey pie, it's basically a melted Hershey bar mixed with whipped cream and frozen. This is the pie that my Grandmother Somerville often made for me after a good report card.
I decided to use Erewhon's Rice Twice cereal
as the foundation for my crust. David and I poured the cereal into a large zip-top bag and crushed it with a rolling pin. We then added in melted butter, pressed the mixtue into a pie plate (the part of it that David didn't eat straight from the bowl) and popped it into the freezer while we made the rest of the pie.
The crust did not end up being anything like a graham cracker crust, but it held togethereally, really well. No crumbles at all! And by the time I finished eating the entire pie (John wouldn't help and I wasn't about to let David eat much of it – he has enough energy without artificial help) I had grown accustomed to the taste and was enjoying the crust of the pie just as much as the filling.
P.S. As far as gluten free desserts go – this is an EASY recipe. It would be a great option for when you're having company.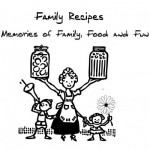 P.P.S. I'm also submitting this recipe to the Family Recipes: Memories of Family, Food and Fun blog event hosted by Shelby of Grumpy's HoneyBunch and Laura of The Spiced Life. If you love good family recipes, be sure to check Shelby's blog after May 23rd for the roundup post.
(Yield: makes one 8 inch pie crust)
3 c. Erewhon Rice Twice cereal
1/2 c. butter (1 stick), melted
Pour the cereal into a zip-top bag and crush the cereal with a rolling pin or the bottom of a heavy glass jar. (scroll down for a picture of the crushed cereal).
Add melted butter to the crushed cereal and mix thoroughly.
Spread the cereal mixture as evenly as possible across the bottom of a pie pan. Then use a fork to press the cereal mixture down and out, so that it gradually moves up the sides of the pie pan.
Freeze the pie for at least 15 minutes before adding the pie filling.
Hershey Pie Filling
Yield: makes one 8 inch pie
8 oz. Hershey milk chocolate candy bar
3 Tbsp. milk (cow, soy, rice, etc)
8 oz. whipped cream (e.g. Cool Whip)
1 8-inch pie shell
Break the Hershey bar(s) into small pieces and place them, along with the milk, in a small glass bowl. Microwave the chocolate to melt it.  Melting chocolate in the microwave is a delicate business so do short spurts of time (10 seconds or so) at 50% power and stir after every 10 seconds.
Let the chocolate cool a bit, and then fold the the whipped cream into the chocolate.
Spread the pie filling into your crust and chill the pie in the freezer for at least 3 hours before serving.
Want some more help on gluten free pies? We're giving away our GF Pie Cooking Class – just in time for Thanksgiving! It's got everything you need to make apple, pumpkin, or chocolate pie for the holidays!