I seem to be on a pancakes kick these days. John's parents and sister are visiting us this weekend, so I needed a relatively easy, big breakfast for this morning. Pancakes seemed perfect and since I wanted to post something today too, I decided to make up a new recipe. Thus were banana nut pancakes born.
Once again, I started with my original pancake recipe and started playing. I added 1/2 c. chopped walnuts, 1 mashed-up banana, and a little pumpkin pie spice.
John's family said that the pancakes were delicious and that they couldn't tell that they were gluten free. Victory!
P.S. David (our 16 month old) loved these too. He's a big fan of bananas these days, and I liked that he got some good fats from the walnuts.
(Yield: one dozen)
Dry Ingredients
2 1/3 c.
2 Tbsp. sugar
2 tsp. baking powder
1/2 tsp. salt
1/2 tsp. pumpkin pie spice
Wet Ingredients
1 1/2 c. soy milk (or cow's milk)
3 Tbsp. canola oil
2 eggs, beaten (or 6 Tbsp. water and 2 Tbsp. ground flax seed)
1/2 tsp. vanilla
1/2 c. walnuts, roughly chopped
1 ripe banana, mashed
Combine the dry ingredients in a large mixing bowl and give it a few whisks. Crack the eggs into a separate bowl and whisk them until they are well beaten. Add the soy milk, oil, and vanilla to the eggs and whisk again.
Pour the wet ingredients into the dry ingredients and stir with a spoon until the ingredients are combined. There will still be a few lumps in the batter, and that's okay. Now add the nuts and mashed bananas and stir those in. Put the batter aside while you heat up the griddle.
Put a teaspoon of butter on your griddle or non-stick skillet and heat on medium. Once the butter has melted, use your spatula to spread the butter over the entire surface of the skillet.
Using a 1/4 c. measuring cup, dip the batter out of the bowl and pour onto your skillet. Let the pancakes cook and do not touch them until you see bubbles popping in the middle of the pancake like this: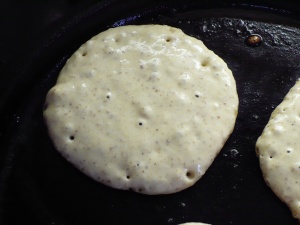 Now, flip the pancakes immediately. They will only cook for a minute or two on the second side, and you can use your spatula to peek and see if they are as brown as you want them. Once they are, take them off the griddle and slip them into a plate that is warming in a 200 degree oven. Put some more butter on your skillet and do it again.