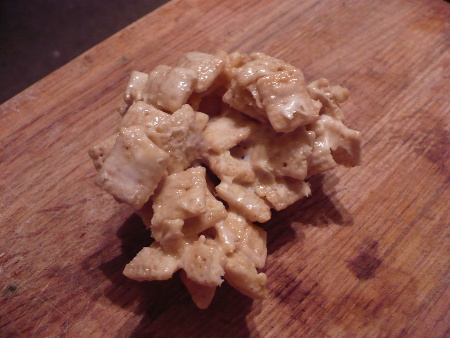 What do you get when you cross Rice Krispies Treats with Rice Chex? A gluten free snack that is even better than the original!
I made Rice Chex Treats when we were visiting my parents over Labor Day. My dad wanted to make Rice Krispies Treats for David . . . and then remembered that Rice Krispies are not gluten free. Luckly the small town grocery store stocked the new Gluten Free Rice Chex cereal and we decided to try that as a substitute.
Were we ever surprised!  Not only did the Rice Chex Treats tast just like Rice Krispies Treats, they were easier to eat.  Do you remember how Rice Krispies Treats can get hard after they sit a while? So that you almost break your teach trying to bite throught them? The shape of the Rice Chex cereal makes it impossible to packthem into  a tight layer so the treats never  get as hard as Rice Krispies Treats. Even after they sit on the counter all day, you can cut a square and bite into without any difficulty.
P.S. I made this photo sometime around midnight last night while in the midst of a most trying tax calculation. The photo didn't turn out well….and John said that I should be embarrassed to post it. So we'll be making another batch this weekend and try to make these Treats look as yummy as they really are.
Rice Chex Krispies
Ingredients:
1 stick butter
1 package (10 oz.) miniature marshmallows*
6 cups Rice Chex
Directions:
1. Melt the butter in a large skillet over medium low heat.
2. Add the marshmallows and stir frequently until they have melted.
3. Add the Rice Chex and stir until all of the Chex are throughly coated.
4. Spread the Rice Chex mixture into a greased 9 x 13 casserole dish and set aside to cool.
5. To serve, cut into squares or just let everybody grab a handful.
*make sure the marshmallows are gluten free