Gluten Free Sourdough Starter
September 10, 2013
Fermenting foods is becoming a slight obsession around here! I've been wanting to try a gluten free sourdough, but have been procrastinating because I thought the getting started process would be complicated. One morning, while seeing what information the blogosphere already has on gluten free sourdough, I had a flash of inspiration: "Maybe I could use my kombucha to start my sourdough!"
Instructions
A quick Google search revealed that others had already tried this with wheat sourdough, so I pulled out a clean glass jar, my flour and kombucha and headed outside to make my first sourdough starter.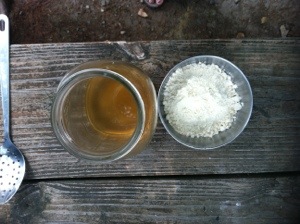 On the left is 8 oz. of home-brewed kombucha. Kombucha is fermented tea and it's full of a lovely colony of good yeasts and bacteria. On the right is 5 oz. of Bob's Red Mill AP GF flour mix.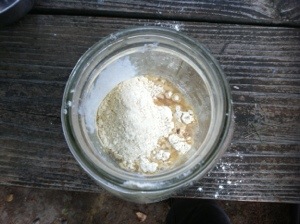 I added the flour to the kombucha….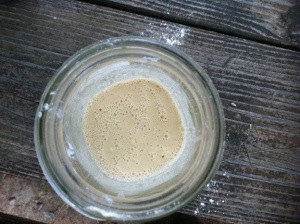 stirred it up….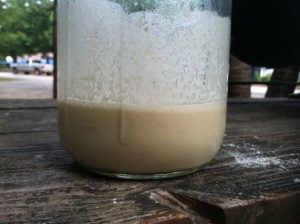 covered the top with cheesecloth, and waited….
After just a couple of days of twice daily feedings, my starter began producing bubbles of gasses!  So, kombucha + flour does make a super-easy gluten free sourdough starter, assuming you have easy access to kombucha =)
I've continued to feed my GF starter and ended up giving it a few flour only feedings to get it to a  a 50:50 ratio of flour and water. I've baked rolls, bread, and waffles that all turned out quite tangy!  Now that I've figured out how to make the starter in a way that's easy for me, I need to do learn more about feeding my starter so that I can get into a good schedule of feeding it and using it.  I've liked the few recipes that I've adjust so that I can use a sourdough starter in them, but my family found them a bit too tangy, so that needs some more work too.