Planning a Gluten Free Weekend Away
To set the stage John, David and I spent the weekend in Memphis to celebrate my brother's wedding. The main events for the weekend were an "Italian Family Supper" hosted by the bride's parent on Thursday night, the bridesmaid's luncheon at an Italian restaurant on Friday, the rehearsal and rehearsal dinner (Cajun restaurant) on Saturday night, and the wedding and wedding reception on Saturday.
My main concerns regarding food and the weekend were:
Having enough food to feed us if there were no gluten free foods at the scheduled events
Making sure that John and David had easy gluten free food options if I was not around to cook. I definitely wanted to avoid urgent trips to the bathroom due to a glutening and a hungry, screaming toddler!
Recipe for Disaster:
3 nights away from home
3 people that need to eat gluten free
a big Italian family supper
a rehearsal dinner
a wedding reception
and a toddler without a schedule
Combine all ingredients with an incredibly supportive family, generous Italian hospitality, helpful restaurant staffs, a stash of gluten free good and a mini-kitchen to create a long weekend of wedding celebrations that was not a disaster at all. Here's how we did it: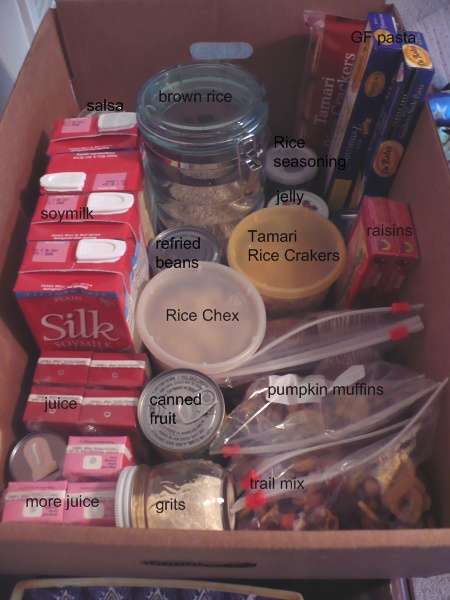 The Plan
To make sure none of us starved or got sick we took a multi-pronged approach to the problem:
We carried a crate a lot of gluten free foods with us. (more details on that below)
We stayed at a hotel that had a mini-kitchen in the room.
We talked to the restaurants in advance and requested gluten free, vegetarian meals and provided any gluten free ingredients they needed.
We shipped our own gluten free pasta to my new sister-in-law's mother who very generously made us our own gluten free baked ziti.
The general plan was to make our own breakfasts and lunch in our room and carry plenty of snacks and sandwiches in our diaper bag just in case the evening meals weren't gluten free. We packed a Whole Foods crate with non-perishable items (see picture above) and gluten free muffins and bread that I baked the day before we left. I also took my rice cooker just in case we really needed to cook a hot meal. We probably only ate about half of the food we took, but I'll go ahead and give you a list of all the things we could have eaten:
Breakfasts:
Grits (quick-cooking)
Fresh Fruit
Rice Chex with Silk*
Pumpkin muffins*
Snacks:
Trail Mix*
Tamari Rice Crackers with peanut butter
Banana slices*
Orange slices
Apple slices dipped in peanut butter*
Chips with salsa and refried beans
Pumpkin muffins*
Raisins
Juice*
Lunch:
Peanut Butter & Jelly Sandwich
Peanut Butter & Banana Sandwich*
Peanut Butter & Apple Sandwich
(All sandwiches were made on slices of Gluten Free Sandwich Bread)
Brown Rice with mixed vegetables
Silk or Juice to drink
* These are the items that were super popular.
In the end, we made it through the entire weekend without being glutened and we all had plenty of food ( as well as great times with friends and family). There were definitely times when we scraped together a meal from several sources, so I was glad that we had brought plenty of food with us.
Notes for next time:
Check to see what the hotel serves for breakfast. David and I were able to eat from the hot breakfast bar each morning, so we never used the grits or most of the fresh fruit that we brought. John wasn't up to breakfast with the extended family each morning, so he got his breakfast foods out of our box.
Google "gluten free Memphis" to find tips on Gluten Free Restaurants in the area. We ended up eating at restaurants for lunch on several days and it would have been nice to have had a list of places that have gluten free menus. Instead we ate at any restaurant that was convenient and managed to put together decent meals once we combined what we ordered with the food we had stashed in the diaper bag.
Always have gluten free bread on hand. Gluten free bread is handy, especially when it holds up as well as the Gluten Free Sandwich Bread that I took with us. Peanut butter sandwiches kept David happy for lunch and we were able to order sandiches without bread from McAlister's and make our own gluten free sandwiches on the fly.
I could have gone into a lot more detail on some of these items, so if you have any questions or would like more information just let me know in the comments. I'd also love to hear how you plan for gluten free vacations with your family. We'll probably do a camping trip and a beach trip during the summer, so any tips and ideas would be appreciated.