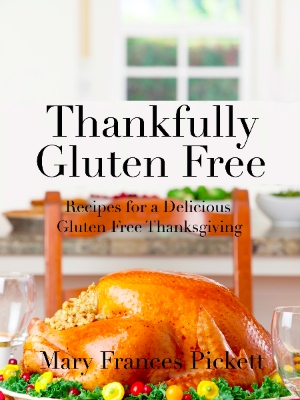 Hi friends! I have exciting news! My first cookbook for Kindle is now available on Amazon's Kindle store!
The cookbooks is Thankfully Gluten Free: Recipes For A Delicious Gluten Free Thanksgiving
and it contains 17 of my favorite gluten free Thanksgiving recipes.
The biggest meal that I cook every year is our gluten free Thanksgiving dinner. The entire meal is gluten free, no matter who we're eating with, and it's always delicious. This year I decided to compile all of my Thanksgiving recipes into a cookbook for Kindle. This is partly selfish. It's much easier to switch between recipes when they're on my Kindle. But, I thought some of you might find it useful too, so we put the cookbook into the Kindle store.
Here's a picture of the cover and I've listed all of the recipes below. Be sure to read all the way to the end of the cookbook, because the last page tells you how to get my next Kindle cookbook for free =)
Chapter 1: The Turkey and Dressing
The Best Brined Turkey
Grandmother Somerville's Cornbread Dressing
Southern Cornbread
Thanksgiving Bread Stuffing
Finally Really Good Sandwich Bread
Cream of Mushroom Gravy
Chapter 2: The Sides
Green Bean Casserole
Mary's Condensed Cream of Mushroom Soup
Sweet Potato Casserole
Brown White Rice Casserole
Finally Really Good Dinner Rolls
Nine Layer Salad
Mom's Thanksgiving Fruit Salad
Chapter 3: Dessert
Impossibly Easy Sweet Potato Pie
Easy Peasy Gluten Free Pie Crust
Chocolate Fudge Pie
Double Crust Apple Pie