I walked into the kitchen this past Saturday morning, babe in arms, and wondered what in the world we were going to have for breakfast. For the past few months our weekend breakfasts have been a regular rotation of my gluten free pancakes or my gluten free drop biscuits, and we were definitely ready for something new. I surveyed the fridge and the cupboards and scanned a few blogs and settled on Elise's Mushroom Quiche. The only problem was that I didn't have a gluten free pie crust, shallots, milk, cream or Gruyère cheese. However, I am quite well known in my family for not letting a lack of ingredients or a lack of recipe stop me. (In fact, due to some unfortunate experiences in high school my brother will only eat something I've cooked if I promise that I followed a recipe. I often fudge on this by writing the recipe down as I go!) And, since I had the mushrooms, we proceeded. (We would be the babe and I – he manages the measuring cups and spoons.)
After a little more blog scanning, I found a gluten free pie crust recipe at Gluten-Free Girl and was getting pretty excited (despite the fact that I didn't have any of the four flour ingredients) until I read this:
Refrigerate the ball of dough, for as long as you can stand. Ideally, you would prepare the dough in the evening and refrigerate overnight.
We were all stomach-rumbling hungry, so time for Plan B: the huge bag of red potatoes that had been sitting in the bottom bin of my refrigerator for longer that I care to remember. I sliced the potatoes as thin as I could, layered them in a pie plate, and voilà – a gluten free potato crust worthy of many baby claps!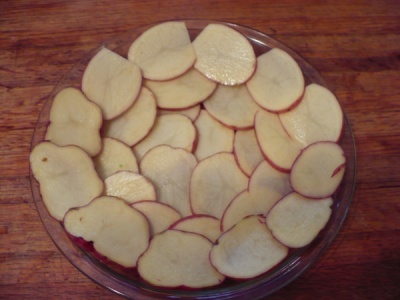 So here is my "Saturday morning with a very empty refrigerator" version of Elise's Mushroom Quiche: