For many years I would attempt to make Irish Soda Bread on St. Patrick's day. The results were generally less than spectacular, and didn't hold much allure after the festivities of the day.
To be honest, I found this quite frustrating and I set out on an attempt to see if I'd just been using bad recipes. After quite a bit of wasted flour, I determined that if anyone did know how to make a gluten free, yeast free bread that rose well, tasted good, and could be used for sandwiches, then they were few and far between.
I set out to be one of them.
And two loaves later I had my recipe down. The sandwich loaf version of this recipe has been included in my Gluten Free Bread 201 class from the beginning. For this St. Patrick's day I scaled the recipe down and made sandwich buns. As you can see below, they turned out delightfully. The recipe in included at the end of this post.
Why Gluten Free, Yeast Free Bread Doesn't Rise
The first problem that I see with most gluten free, yeast free bread recipes is that they got off to a bad start. Ever year at St. Patrick's day there are a flurry of Irish Soda Bread recipes which are generally based off of the traditional wheat bread recipes. Basic wheat bread recipes do not convert well to gluten free flours. Adjustments to the flour/liquid ratio must be made and xanthan gum, or some similar agent, must be added or you end up with a brick.
The second problem is that most people want to make a nice, round, rustic loaf of soda bread and think that a stiff dough is needed if you're baking without a loaf pan or form of some sort. If they're starting with a recipe that was crafted for wheat flour, then they will end up with a nice, kneadable dough that holds it's shape extremely well….and they think they are on the right track. Imagine their sadness when the bread doesn't rise much at all and their bread is more suitable for a giant's hockey game, than an accompaniment to a meal.
The third problem lies with the leaven. Baking soda is tricky. To use it correctly in a recipe (assuming that you're creating your own recipe), you have to know a bit about the proper proportions of acids and bases and do a bit of math. Baking powder is much simpler, an it has the added benefit of being double acting. It works it's magic for the first time when it comes in contact with the liquids in the recipe, and then again in the oven when the dough reaches a certain temperature. Baking soda is a single action leavener, and thus requires more careful attention when it is included in a bread recipe.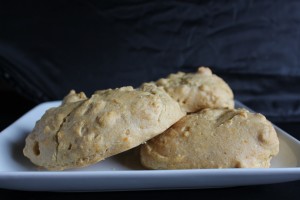 Why My Gluten Free, Yeast Free Bread Does Rise
To counter all of these problems, I started my gluten free, yeast free bread recipe with a gluten free bread recipe that I already knew worked extremely well. Then I chose to substitute baking powder for the yeast, rather than baking soda. Finally, I tweaked the initial recipe so that it works for baking powder. Even if you start with a good gluten free bread recipe, a simple substitution of baking powder for yeast, does not work well. The baking powder needs quite a bit more of a helping hand to do it's work than yeast does.
For all of these reasons, this recipe is a bit more advanced than your general gluten free bread recipe. The last bit of mixing, in which you incorporate an egg white foam, is one of those things that's just easier to do when you've seen someone else do it a few times. And, to be honest, beating the egg white foam will probably be a new step for many home cooks.
Because of these techniques, I've never published my gluten free, yeast free loaf bread recipe on the blog. It's only available in my online cooking class – Gluten Free Bread 201 – so that you can watch the videos and see what the egg foam and dough should look like. The recipe below will give you a chance to take a trial run at the recipe and see if you want to give the full, sandwich loaf version a go.
Yield: 6 large buns
8 oz GFCS gluten free flour mix
1 tsp. salt
2 tsp. baking powder
2 tsp. xanthan gum
a few dashes each of garlic powder and Italian herbs
8 oz. water
4 oz. olive oil
2 egg yolks
2 egg whites
1/2 tps. sugar
Preheat oven to 350 degrees. Line a large cookie sheet with greased foil or parchment paper.
Measure out the flour by weight and to that add the salt, baking powder, xanthan gum, and herbs to taste. Mix these dry ingredients together with a fork, as you want to make sure the baking powder is spread evenly throughout the flour mix.
Separate the yolks and whites of two eggs, placing the whites into a clean and dry mixing bowl, being careful to make sure that the whites do not come into contact with any water, oils or fats. Place the yolks into a separate mixing bowl.
To the yolks add the water and oil and beat these together. To the whites add the sugar, and then beat the whites with a clean, dry whisk until it reaches the soft peak stage.
Add the yolk/water/oil mixture to the dry ingredients and mix this for 3 – 4 minutes with a mixer. Finally, gently fold the egg white foam into the dough so that it is well-incorpoarated.
Spoon the dough out onto the prepared cookie sheet according to the size buns that you want. The dough will rise as it bakes, but it does not spread very much, if at all. Bake at 350 degrees until the buns are firm to the touch and have begun to brown. To encourage more browning, you can brush the tops of the buns with beaten egg whites before they go into the oven.