Yield: Equivalent of two cans of condensed soup, I think
16 oz. Portabella mushrooms (or any mushroom with a hearty flavor
1 tsp. olive oil
4 Tbsp. unsalted butter
1/2 c. gluten free flour (I used brown rice flour because of its subtle flavor)
2 c. chicken or vegetable stock
1 1/2 c. light cream or half & half (or 1 1/8 c. plain soymilk + 3/8 c. canola oil)
squirt of lemon juice
white pepper to taste
a tiny pinch of nutmeg
Sauté mushrooms over medium-low heat in 1 tsp. of olive oil. Set the mushrooms aside once they have released their juices.
In a clean skillet, melt the 4 Tbsp. of butter. Once the butter is melted, gradually add the flour to the butter while constantly whisking.
Once you've added all of the flour, allow the roux to cook for a few minutes while you continue to whisk it.
Gradually began to add the stock to the roux. Add a little bit and whisk it in before you add any more. Once you've added all of the stock begin adding the cream.
After adding all of the cream, bring the sauce to a simmer and let it cook for one minute. Continue whisking since the sauce may continue to thicken. Add the sautéed mushrooms into the sauce, and you're done.
Tutorial
So many of the favorite dishes from my childhood started with a can of Campbell's Cream of Mushroom Soup. Poppy Seed Chicken, Chicken Rollups, Chicken Spaghetti Casserole, my Grandmother's gravy….all unattainable on a gluten free diet until you learn how to make a white sauce.
For more great gluten free recipes like this one, make sure to check out my ebook, The Gluten Free Survival Guide. It's full of all of my favorite GF recipes, like sandwich bread, waffles and tortillas, plus I cover how to make great soups, sauces and gravy. I know you'll enjoy the recipes as much as my family does!
I first discovered white sauce in my great-grandmother's cookbook. My grandmother gave it to me when she was cleaning out her house and there were so many recipes that I had never heard of. The book got packed away in my hope chest until John started eating gluten free during our last year of college. I pulled it out and began making white sauces, otherwise known as Bechamel. We had a lot of fun trying different variations and ended up eating a lot of casseroles and pastas. If you're trying this for the first time, I highly recommend a bottle of wine, good music, and a relaxed evening.
P.S. The picture from the Gluten Free Contest is a close-up of this Cream of Mushroom Soup. Three people guessed correctly, but Natalie at Gluten Free Mommy is the winner and gets to pick the topic of my next post.
Instructions
This post is really about learning technique, so I'm going to post the recipe separately. There are a lots of different bechamel sauces, but the process of making them all is the same. The following is the basic structure – the bones – of making a good sauce. Once you've gotten this down you'll be able to improvise to your heart's content.
Sauté the Mushrooms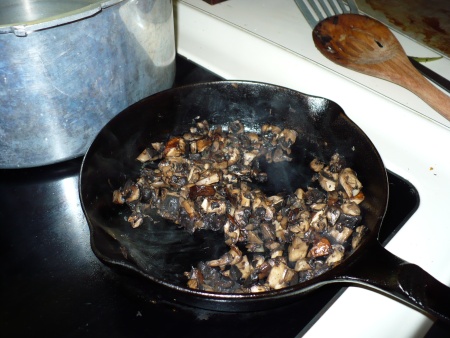 First, dice about 8 oz. of portabella mushrooms and sauté them in a little bit of olive oil until they release their juices. Set the mushrooms aside, we're going to stir them in at the end.
Melt the Unsalted Butter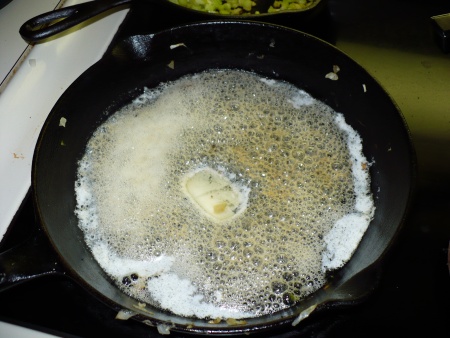 Over medium-low heat, melt 4 tbsp. of unsalted butter. Go ahead and splurge and use the really good stuff =)
Whisk in the Gluten Free Flour
Once you've started whisking in the flour, you're officially making a roux. This is the same stuff that Louisianians' use to make gumbo, but we're not going to let ours get that dark. The traditional recipe for bechamel sauce uses equal measurements of flour and butter. The recipe that I followed here called for quite a bit more, so your roux may not get as thick. I've used brown rice flour, but feel free to use your favorite gluten free flour. Just be sure that you like the taste of it because it will come through in the sauce. So now, just add a little flour to the butter and whisk it in. Once that flour is mixed in, add a little bit more and whisk again. At first it will look like this: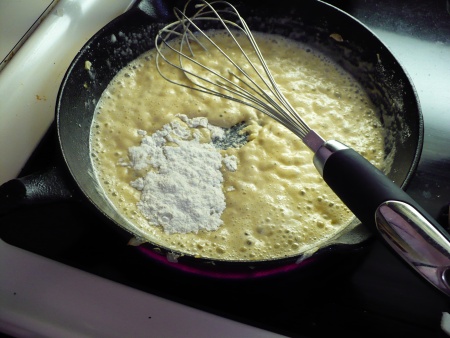 However, it will eventually form a paste that is somewhat like the consistency of cake icing.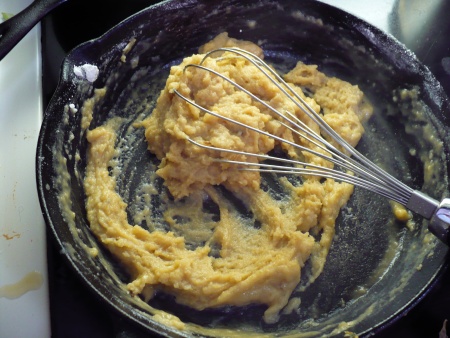 Keep whisking the roux over the heat and allow it to cook until the floury taste has lessened.
Now Start Adding the Liquid
Once you've added all of the flour, you can start adding the liquids. In fact, I think that I had already started adding vegetable stock in the picture above and the roux had started to expand a bit. When you're making a bechamel sauce you should either add cold liquid to a hot roux, or cold roux to a hot liquid. In this case our roux is hot, so the liquids should be cold. In the recipe that I'm making in the picture, I added vegetable stock and then cream. Many bechamel sauces will only call for cream. After I had whisked in all of the stock my sauce looked like this: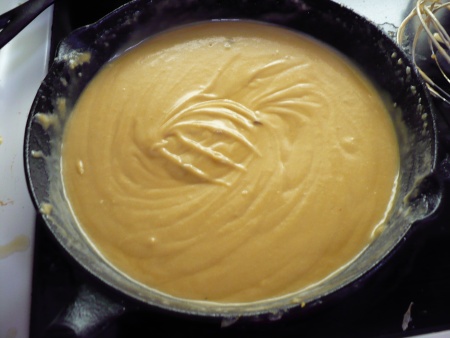 After adding the cream it looked like this: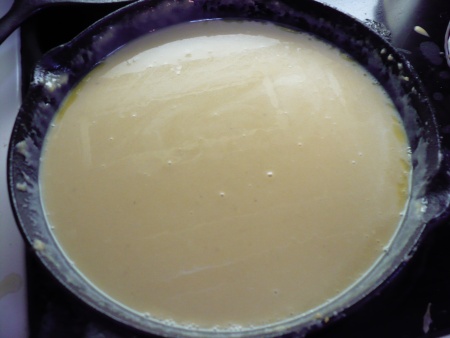 When you add the liquids it's important to just add a little bit and then whisk it in. Once that liquid is incorporated, add a little bit more. At first the roux will absorb all of the liquid and it will seem to be making something almost like dough. Just keep adding liquid a little at a time, and keep whisking. If you think you've added too much liquid, keep whisking. Roux is an amazing thickener and it will keep thickening as you cook. The only times I've gotten in trouble with a Bechamel sauce is when I've added more flour at this point – don't do that unless it's been cooking for a really long time and is just not getting thick again.
Add the Mushrooms Back to the Soup
Once you've finished adding the liquids, you can stir the mushrooms back into the soup.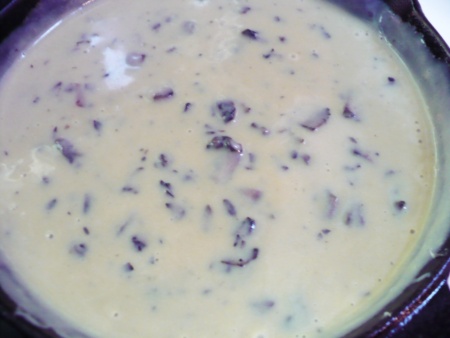 Feel free to let the soup sit over low heat while you finish the other parts of your meal. A thick skin may form on the surface of the soup, but you can easily reincorporate it by whisking the sauce.
Proceed with Dinner
If you were planning on having the soup as soup, then serve up some bowls and enjoy! Otherwise, go ahead and add it to any recipe that calls for cream of mushroom soup and continue that recipe according to its instructions.