Gluten Free Cooking Contest
The first Bake Gluten Free Challenge ended on May 7th and it was a resounding success! I had so much fun reading the entries and looking at the photos that I've compiled a bunch of them here for you to read too.
The Winner
Sahra White is the winner of the Bake Gluten Free Challenge and she'll receive all 15 of my gluten free cooking classes. Join in the fun and start a cooking class today!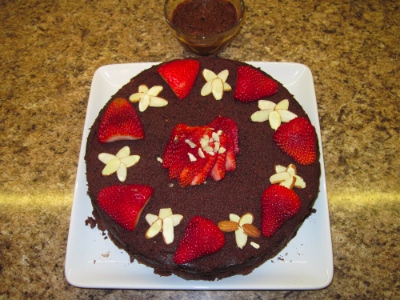 WOW!!! I don't even like Chocolate cake and this was delicious. I did have one problem with the baking time. I had planned the 30 minutes and it was not done so I had it in for another 30 minutes and it was still not done but I had to go to work so I shut off the oven and left it in there. It seems done now that I'm home but the top is all broken from trying to get it out so I just flipped it over so no one will know. I cooked it in a 10 round so maybe that had something to do with it. I had enough to make a small one in a little ramekin and that one is the one I tasted…delicious. I am serving it to friends tonight with caramel sauce. I'm not going to tell them it's gluten free. Thanks for a wonderful recipe. I am hoping to try the biscuits tomorrow.
We cut into the cake that was left in the oven (while it was off) tonight and it was amazing. So a 10 inch round in the oven on convection 325 for 60 minutes then off and left to sit for a couple of hours…magnificent. Everyone was amazed at how delicious it was. Thanks again for the recipe.
— Sahra White
The rest of the entries. Thanks to everyone who wrote in!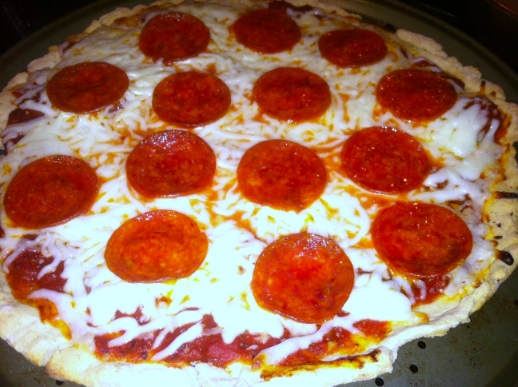 Hi Mary,
First of all thank you for the easy recipe. I had a craving for pizza tonight-you had great timing.
I made two pies – one cheese and GF pepperoni. The other with fresh mozzarella, GF sausage, yellow sweet peppers and onions. (My husband's favorite.) I used Bob's flour, but only had 6 oz left in the pantry, so I had to also use King Arthur GF -which I like for cakes… and used xanthan gum instead of guar. I topped the crust with an organic tomato basil sauce before adding my extra toppings.
I am gluten free for the last 5 months. Both my husband and daughter are gluten eaters. I have to admit I really miss pizza and bagels. I grew up on Long Island NY, so these were staples in our household. My husband has been very good and has not pushed to have these things in the house. He is my guinea pig, my taste tester and while he is
not usually very adventurous in his foods he has over the last 5 months been a willing participant. He took it with such grace to try my pizzas.
The pepperoni crust I cooked until lightly brown and thought I overcooked it, but when tasted it had a thin crispy, crunchy crust that seemed to go well with the toppings. The sausage pizza on the other had a softer chewier crust. I took the crust out before browning (as I was fearful of overcooking both). While both were good, my hubbie enjoyed the crispy crust. I was just grateful for the feast before me and stuffed myself by eating a 1/4 of each pizza. Thank goodness they were small slices.
Again, I thank you for your recipe and look forward to making it again. I think I would like to try making it a deep dish next time.
Sincerely,
— Kristine Ostensen
***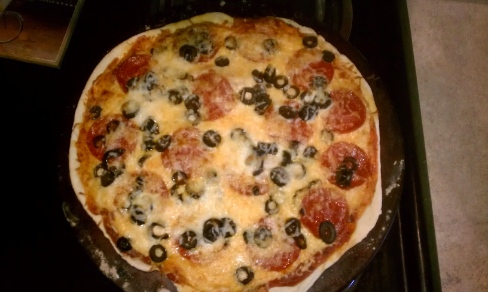 Here's my first attempt at GF pizza from scratch. I usually do bisquik. I had some problems rolling it out because I tried to put wax paper to make it easier….it wasn't.
The most like my moms homemade biscuits that I've had in years! Thanks for the recipe.
— Heather Larsen
***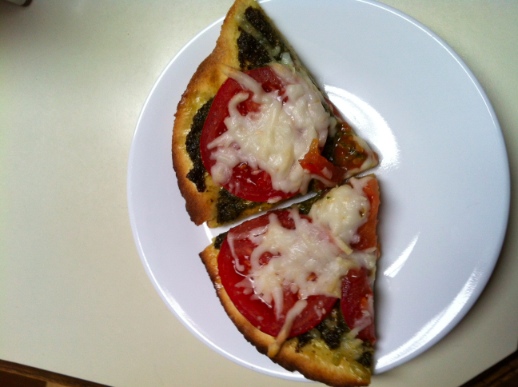 Made your pizza crust tonight. We had one with pesto, tomatoes, & mozzarella and the other with peppers, onions, tomatoes, mozzarella and a bit of turkey bacon. I really enjoy a thin, crispy, cracker-like crust, with crunchy edges, and rolling the dough thin for the pizza stone made a lovely crust! Really loved the pesto pizza. Hint for the pesto topping, during the summer when basil is plentiful, make up your favourite pesto, then freeze in a silicon muffin pan. Put the separate "muffins" in a freezer bag and take out just what you need later on.
— Elisabeth Green-Streeter
***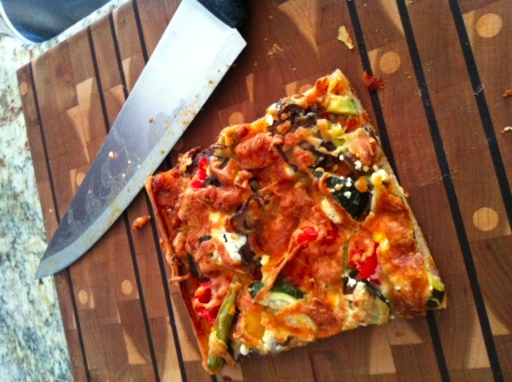 Hi Mary,
Well, I tried the pizza recipe and it was fabulous. I would have taken a photo of the whole pizza, but by the time I got to it this was all that was left. The night before we had this, we had a BBQ and I had cooked too much steak and grilled veggies which had been topped with goat cheese. Well, when I saw the left overs I knew right away that I'd be trying your pizza recipe for dinner the next night. I sliced the leftover steak into thin strips, added the veggies, a bit more goat cheese, and some mozzarella and popped it into the oven. It's the first time I've put green beans on a pizza, but they were part of the mixed grilled veggies so I used them. It was the best pizza we have ever had!!!
Thanks for the gf recipe for the crust. I hope I win the Bake Gluten Free Challenge drawing. Thanks for the opportunity. :o)
— Linda Kittmer
***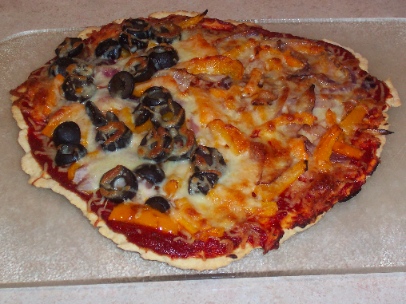 Hi. Thank you for sharing your recipe. I had been making one with yeast so this was a LOT quicker. Also it rolled out pretty well as opposed to the sticky yeast recipe. I admit that I did not have a pizza stone, so used a round pizza pan in a 450 degree oven. I probably should have cooked the crust a little bit longer. It was not quite crispy enough. I don't have much counterspace and had a hard time rolling it out so will have to work on that. I have since purchased a pizza stone and will try the crust again next Friday. Except for the shape, I thought it didn't look bad and I am not going to sweat the small stuff!
I've got a lot going on in my life between cooking/baking without gluten, working and the big one – cancer. Anything that make my food preparation easier is great!
Thanks again for sharing.
— Kathie Farris
***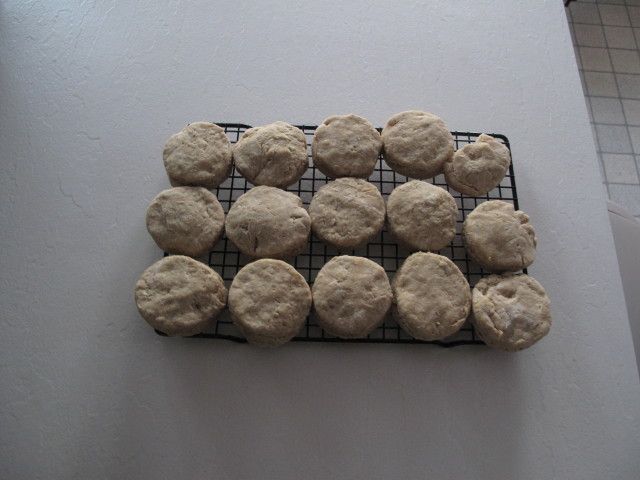 These biscuits were awesome – so tender and light. I'm trying to attach the photo. There were 16 before they were sampled right out of the oven! I did not roll them, but just patted the dough into shape on the cloth, and used the biscuit cutter.
Thanks for the great recipe.
— Bonnie Svetlik
***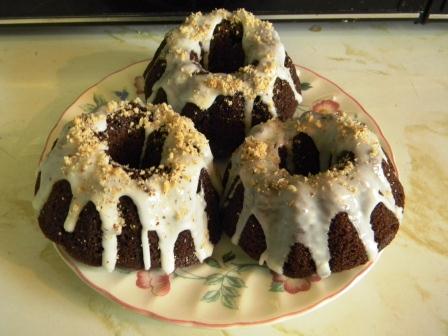 I made your chocolate cake and it was wonderful! My non Celiac husband loved it as well. I made mini bundt cakes, drizzled icing and ground hazelnuts on top. I would love to win the cooking lessons. Your recipes and explanations are great!
— Marianne Kay
***
Mary Frances,
All I have to say is "delicious"! I could eat the whole cake in one sitting. It takes a little while but the end result is worth it. I did use a combination of cocoa and Dutch cocoa 'cause I wasn't paying attention to what I was buying. Thanks for the nummy yummy.
Marie Posey
Hi, my family loved these with carrot soup for dinner tonight. I used GF oat flour instead of sorghum because I do not like the after taste. The dough was wet…I did not use all of the milk but used one of our duck's eggs….they are large. They took a lot longer to bake almost 30 mins so I turned up the heat! Thank you for your emails.
— Teresa
***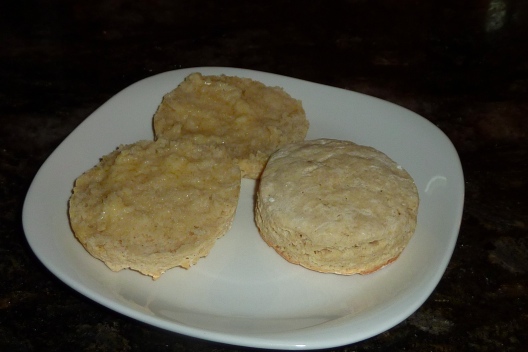 Mary Frances,
Thanks for sending out the recipes – and the challenge to actually get me to try them right away instead of just saving the recipe for later 🙂 I made the biscuit recipe to have with a chicken dinner tonight – we live in the land of Bojangles (chicken and biscuits) and my son has really been missing having biscuits. I was fairly happy with recipe, but can tell I will need to make it a few more times to get the right feel. I am curious about the vinegar mentioned in step 4 since there isn't any stand alone vinegar called for in the ingredients. Anyway, attached is a picture of my biscuits – I would really like to win your cooking classes!
— Jeanne
***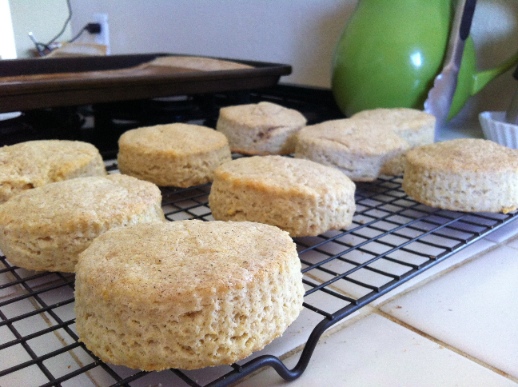 Hi Mary,
I made the Gluten Free Biscuits this morning and they were a hit! My husband who is allergic to gluten even said he couldn't tell they were gluten-free and he's never said that about anything I've baked since he found out he had the allergy. A success! Thank you so much!
Take care,
— Erin Jurnove
***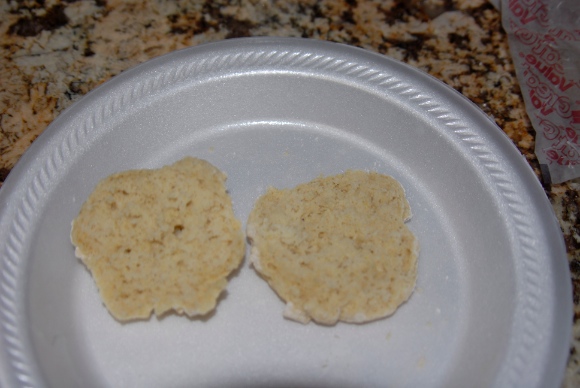 Mary Frances,
Yesterday, I baked your GF Biscuits! All I can say is AWESOME! They were great. There was only one step that was confusing and that was where it said to add the vinegar to the mix. The only place I saw vinegar was if you were going to clabber your milk or dairy substitute instead of using buttermilk. I opted to consider the vinegar for adding to the milk and omitted that step. Also, I'm sure you can tell by my pictures, but I chose to not roll out the biscuits but to choke them off like my grandmother taught me so many years ago. I think I should have left them in the oven to brown a tad more, but the bottoms were perfect, and they tasted divine. Thank you for providing recipes like these so that we all can eat a bit more "normal" or a bit more like we used to.
I would love to win this contest and have the opportunity to complete all your cooking school classes! Have a wonderful week!!
— Kim Whaley
***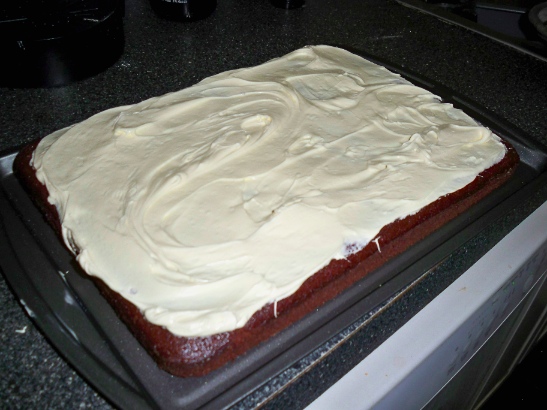 Hi, Mary Frances –
I'd like to enter the GF Baking Challenge drawing. I made the chocolate cake and it came out really well (picture attached). I am enjoying reading your emails and learning about the science of baking and ratios, etc.
Looking forward to your next emails. Thanks for doing what you do!
— Judith Reilly
***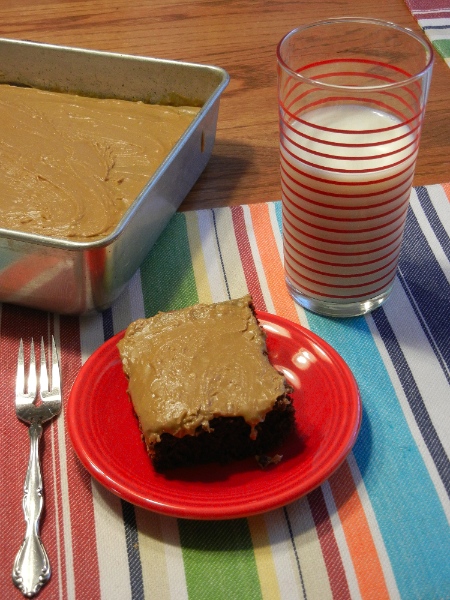 Hi Mary Frances –
Well, you were right. I made your gluten free chocolate cake, and it was the best gluten free chocolate cake recipe ever! I found I had a problem with gluten and started gluten free in January. I had made a chocolate cake from a mix for my husband's birthday in January and for mine in February. The Bob's Red Mill chocolate mix wasn't too bad, but it did have a funny aftertaste. Needless to say, yours doesn't! Yay! It tastes almost like the chocolate cake I was used to, before my gluten free days. I found your website several months ago, and today was the first time I have ever tried baking gluten free from scratch. It took me a long time to make the chocolate cake, but it was well worth it. I made my favorite caramel icing to put on top and am very pleased with the end result. My husband even had to admit that it was good. Last week I printed out all the recipes from your website that I like, organized them and have put them in a 3 ring binder. Of course, I call it Mary Frances' Gluten Free Cookbook. I really appreciate all the time you have put into perfecting your recipes. If you say it is good, then I believe you and now am anxious to try your other recipes. I plan to make your biscuits this coming week. Anyway, attached is the picture of my cake. After I took the picture, my husband wanted to eat it. I told him he could, but not the whole piece. That big of a piece was just for the picture so you could see it. Ha! Thanks again for the fabulous website, all the work you have put into it and the tasty recipes.
— Ruth Jeffords
P.S. Thanks also for doing this baking challenge. It made me try baking from scratch for the first time. Now I see it isn't so difficult, and I will not be afraid to keep baking gluten free. A lot of those store-bought mixes are just not that good.
***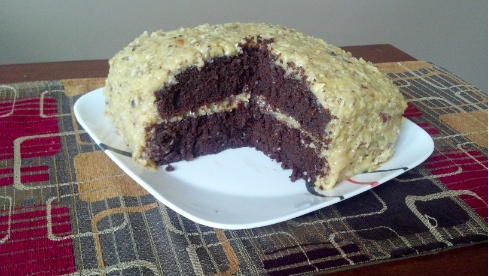 One of the things I miss the most is a really good tasting cake! I have tried several GF cake recipes and a couple of prepackaged mixes and I have been very disappointed in the texture when you take that first bite. Your mouth has been watering all day, and it is so disappointing to have the urge to spit it out!
This cake is really good! It looks good, smells good and tastes good! I chose to put a coconut pecan frosting on it, which made it terribly rich…but we loved it. If I were to make this cake again, I would probably try it with the extra egg. I would prefer it a little lighter, if that doesn't make it too crumbly.
I used a thermometer to judge when it was finished cooking. I think my cakes may have been slightly over-baked. I should check my oven, but I also wonder if the type of pan makes a difference. When they were done, they DID pull away from the sides of the pan. I have baked some GF items that end up unbaked in the middle, so I'm a little uneasy about not baking them enough.
Thank you for the recipes! We had pizza last night and I will be making biscuits for dinner tonight!
— Jean Edeal
***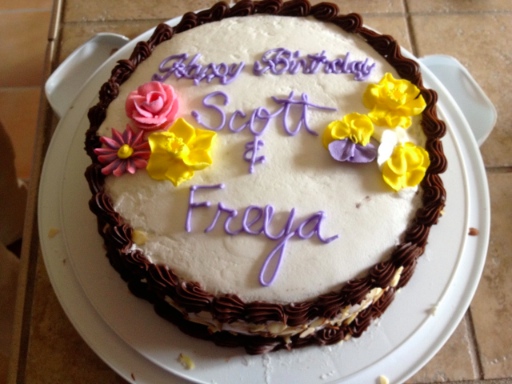 Hi there,
Your baking challenge couldn't have come at a better time. I was looking for some cake recipes for two birthday cakes that I had to make, one for a family party and one for a kid party.
I chose to try the chocolate cake recipe to make for my family's party celebrating my husband and my daughter's birthdays, which are one day apart.
I wanted a gluten free cake so I could eat it, and something the family wouldn't know was gluten free until I told them.
The picture of the decorated cake was how I presented it to the family. The second picture was what was left after I came back from the kitchen but before sitting down to eat some. It was at that point they all realized that it was a gluten free cake but no one knew from simply tasting it. That made me very happy.
Thank you for such a great recipe!
The cake has had an encore request as a mother's day cake this weekend, so I'll be making it again some time this week.
— Renee Banzhaf
***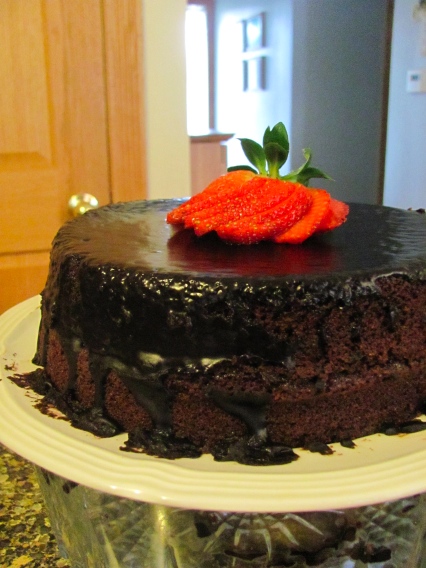 I made the Gluten free Chocolate Cake for my Daughter's 16th birthday party.
It looked beautiful and was so moist. Because she also has sensitivity to corn I used the tapioca starch though I think it has a slightly different taste and wonder if I might use potato starch instead. I replaced the millet or sorghum flour with almond flour because I didn't have those two. It was a little grainy but since I am new at making gluten free It was much better than anything else we have tried. Strawberry fruit spread went between the layers and again it was so beautiful. She was thrilled!!!
Thank you
— Sheila Robbe
***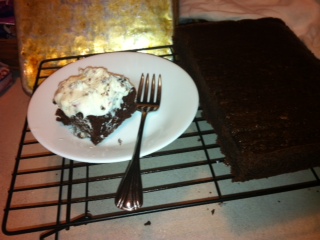 I finally purchased a scale so I could try this cake tonight.The experience went quite well and the cake is wonderful in taste and texture. I used the 9×13 pan. I put some frosting on while it was still warm so not picture perfect!Thanks for all your help and emails. I look forward to learning more.
— Linda King