Gluten Free Bread Experiments: Free Form
March 12, 2011
Loaf #7: Gluten Free, Soy Free, Corn Free Trial #4:
So, the best laid plans all fail when you realize that it's 2:30 and that you need to be out of the house, with bread in hand, by 5:00. I had planned to make a double loaf of bread today and bake one in the bread machine and the other in the oven after a 2 hour rise on top of the stove. That did not happen.
When I started to measure out the flour I discovered that I only had 20 oz. of the flour mix made up. Two full loaves would require 25 oz. I'm not really sure why, but rather than just making one 12.5 oz. loaf, I decided to make one 20 oz. loaf and just back in the water measurements based on the ratio of flour:water that I had been using.
After a little math on the back of a scrap of paper, I determined that I needed 15 oz. of water for 20 oz. of flour or a 4:3 flour to water ratio. This is still a little off from the 5:3 ratio that wheat bread uses (see yesterday's newsletter on more about that). In Ratio, Ruhlman says that the amount of yeast and salt in a recipe can be variable, so I didn't bother to measure those out with measuring spoons. (I has in a hurry!!) I still wanted a pretty quick rise so I estimated about 1.5 Tbsp yeast, 1 tsp. sugar and 1.5 tsp. salt. I did measure the xanthan gum and used a heaping tablespoon.
By this time, I wasn't following any recipe strictly and I still needed to make a decision about how many eggs to add and how much oil and vinegar to use. Ruhlman does not address whether water portion of the bread ratio (5 flour: 3 water + yeast and salt) needs to be adjusted if you add eggs and oil, so I wasn't sure what do to. I ended up just sticking with the 3 eggs and 1 tsp of vinegar that is in my usual recipe and leaving the oil out.
The dough was a little on the dry side (for gluten free dough) when I mixed it all up, so I added 1/8 c. water (1 oz) and that got the dough to just the consistency that I was looking for. Since I wasn't sure if my loaf pan would hold this much dough, I put it all into my largest bowl, which I had greased first, and left it out to rise for 1.5 hours.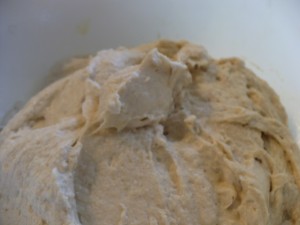 This first picture is the dough before it has started to rise.
The dough rose magnificently. I didn't get a picture, but it easily doubled. Maybe more than that. I had this bright idea that I'd separate the dough into 4 pieces and make little round mini-loaves.
That was a disaster!
I ended up with hands covered in sticky dough that would not come together into anything.  The children also chose this time to squash one another's fingers in the cabinet, explore electrical outlets and try to climb up my body.
Thankfully, my sweet husband rescued them and me, and fixed up a baking sheet with a nice thick layer of GF cornmeal. I scraped all of the dough back into the greased bowl, formed something of a round shape with a wet spoon and then dumped it onto the baking sheet.
Into the oven at 400 with a prayer that something edible will result and some time later this is what came out of the oven.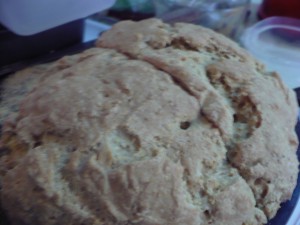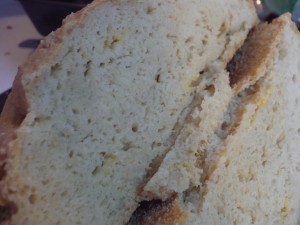 We headed out to the car immediately after I took these pictures, but I managed to snitch a couple of bites with Lucy while we were driving. The crust was so crunchy! And the interior was so soft! It was the perfect loaf of bread to just tear a hunk off of and dip in olive oil. Which is what I expect that we will be doing today =)