Pudding has always been one of my favorite "easy" desserts. My mom always kept a few boxes of pudding mix in the pantry and my brother and I would often mix up a batch when we wanted a dessert. It wasn't until I was an adult that I made pudding from scratch.
It's still amazingly easy. And it thickens up even more quickly than the sort that comes in the box!
My children have been gluten free for much of their lives, and while I know they ate vanilla wafer cookies during their non-gluten free year, I don't think they'd had Banana Pudding until this past weekend. We were blessed to spend the past three weeks camping near a grocery store that had a huge selection of gluten free boxed foods, and one of the kids new favorites are the Mi-Del Arrowroot Cookies. While we were shopping for our weekly Saturday baking, I had a flash of inspiration and decided to see how those cookies would work in a Banana Pudding.
Yield: approximately 10 servings
The pudding came together very easily, and all three of my little taste=testers agreed that it was, "Yum, Yum, Yummy!" I was going to try to make the recipe corn and dairy free, but the cookies contained corn and dairy so I didn't attempt to remove them from the pudding. However, if the amount of corn and dairy is what you're concerned about, then you could easily substitute tapioca starch for the cornstarch and a non-dairy milk for the cow's milk.
Oh, and one word of warning. This recipe is supposed to chill for 4 hours. I did not realize that until much too late in the day, so I chilled my pudding with an ice bath. If you need to do that too, just get a large bowl;fill it about half-way with ice; sprinkle the ice with salt; add then water until the ice will move around a bit. Now, pour the pudding from the saucepan into a smaller bowl and set the smaller bowl down in the ice water. Stir the pudding every few minutes and it will cool very quickly.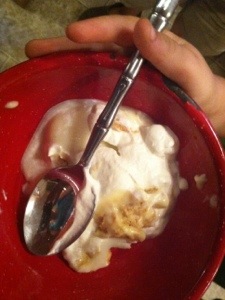 Ingredients:
2/3 c. sugar
3 Tbsp. gluten free cornstarch
1/8 tsp. salt
3 c. whole milk
3 – 4 egg yolks
3 Tbsp. butter, sliced
1 1/2 tsp. vanilla
3 – 4 bananas
1 8 oz. bag Mi-Del Gluten-Free Arrowroot Animal Cookies
1 1/2 c. heavy whipping cream
2 Tbsp. confectioners sugar
1/2 tsp. vanilla.
Combine the sugar, cornstarch, salt, milk, egg yolks, and butter in a saucepan. Stirring frequently with a whisk, bring the mixture to a boil. Turn the heat down so that the pudding simmers and whisk the pudding constantly for the next two minutes. The pudding will thicken up very near the end of the two minutes. Turn the heat off and stir in the vanilla. Set the pudding aside.
Line a pie dish with arrowroot cookies. Top that with a layer of pudding, then a layer of bananas, sliced into coins. Lay down a 2nd layer of cookies, pudding, and bananas. Top it off with a third layer of pudding to cover the bananas. Place the dessert into the refrigerator to cool for 4 hours. Before serving, top the pudding with whipped cream.
To make your own whipping cream, first chill the cream, mixing bowl and whisk or mixer beaters in the freezer for 2 hours.* Then pour the cold whipping cream into a large mixing bowl and use a mixer or whisk to beat air into the cream. When the beaters or whisk began to leave tracks in the cream, pour in the sugar and vanilla. Continue to beat the cream, but frequently lift the whisk straight up so see if the whipped cream is firm enough to hold a soft peak, i.e., it looks like a small mountain with a curled peak.
*This step is not strictly necessary, but it does reduce the chances that you'll accidentally turn the whipped cream into butter.