"First GF Bread" Pics from my July 300 Students
July 8, 2013
We've mentioned several times over the last week or so that we've updated and expanded our cooking classes. So today I wanted to tell you exactly what is in your first class: Gluten Free Bread 101, so that you'll a better idea of what to expect and whether it's right for you.
The Goal: The goal for this class is pretty simple, but really awesome at the same time.
You are going to bake a loaf of amazing bread that you can eat in your own kitchen.
If it's been a while since you've had a loaf of really great bread right out of the oven, you have no idea how good that first slice is going to taste. And it doesn't matter if you're a complete newbie, or if you have additional allergies to worry about. We will teach you how to bake a loaf of amazing bread right in your own kitchen.
The How: We've broken GF Bread 101 into 3 sessions, so you can plan ahead for when you're going to have time to focus. In Session 1, you're going to read about the basics of bread making, choose a recipe that works for you, and then make your Gluten Free Shopping List.
In Session 2, you're going to watch the video on how to make GF bread, and then read the most frequently asked questions that we get about GF bread. Then in Session 3, you're going to bake your own loaf. It's simple, easy, and pretty much foolproof.
The Recipes: We've got three different recipes in GF Bread 101 that are designed to help those of us with multiple allergies or intolerances. The class has the regular GF bread recipe, a gluten free and corn free recipe, and a gluten free, yeast free recipe.
And if none of those work for you (like say, you can't eat rice), we've got you covered with an entire article full of additional substitution ideas.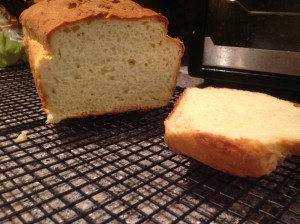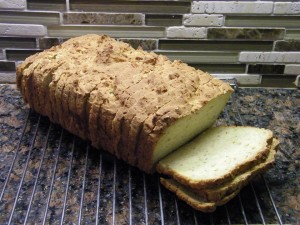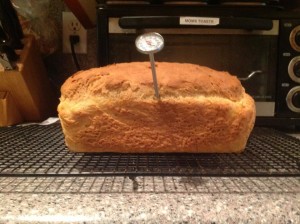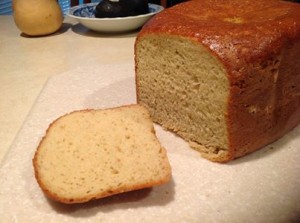 The Results: Several of the July 300 students have already finished their first loaf of bread (pics above). Let them tell you about it in their own words:
"Wooohoooo…it smells wonderful… Now cooling…oh my goodness. I am dying here!" and then a few minutes later, "Couldn't wait any longer…my kryptonite was calling! Here is the bread sliced off end…never looked so pretty and tastes amazing with butter smeared in it!"
"I use to make loaves of sourdough bread that I've really missed since having to go gluten free. This gluten free sandwich bread was so tasty, coming out of my bread machine, that I have a feeling it definitely will be made more frequently. I'm waiting on my shipment of flour to make the "corn free" bread and can't wait to try that recipe out soon. Now back to butter another slice before my husband gets home…"
"This is my first attempt at sandwich bread without corn. As you can see, this bread came out beautifully and was amenable to my slicer!"