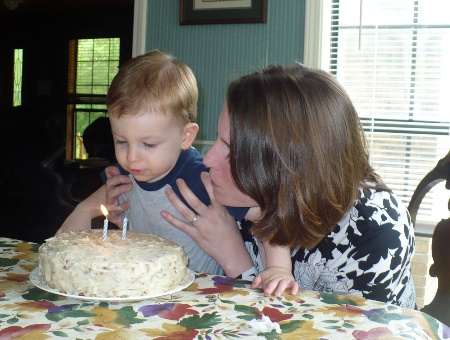 This, my friends, is a picture of a birthday cake. A gluten free Red Velvet Cake with Cream Cheese Frosting. David and I share a birthday, and my gift to myself this year was a homemade cake. For a first try I thought it turned out extremely well. No one could tell that it was gluten free. I want to do a little tweaking before I post the recipe, but it will be up within the next few weeks.
Allergy Update
In other news, I've given a considerable amount of thought as to how to proceed regarding my pollen/wheat allergy. The anithistamine (Xyzal) and steroid spray (Nasonex) that the doctor prescribed are helping the nasal symptoms that I didn't realize I had. I'm also feeling better overall. The stomach symptoms have seen some improvement, but I've not seen as definite a change as I have in the nasal symptoms. The acne, which I've had since I was a teenager, is worse. Overall I'm not sure the improvements I've seen can justify staying on the meds.You see, I don't really like to take medicine. There have been too many doctors that have prescribed medicine for my symptoms instead of looking for a solution to my ailment. And while I think this doctor is better than average, I'm not to the point where I'm willing to live on medications or take allergy shots before trying some other routes. Besides, all drugs are toxic to some degree and I'd rather not take those that are harmful during pregnancy while I'm in my child-bearing years. You just never know when that might become an issue =)
After doing some reading I've decided to try a nutritional approach to this problem . For 6 months, starting June 1st I will be eating a vegan diet. For at least the first 6 weeks I will also be following the Eat to Live guidelines. My main reasons for doing this are as follows:
Going Vegan: Adopting a vegan diet will eliminate two more highly allergenic foods from my diet. I already know that dairy causes digestive issue for me, and I'm hoping that completely eliminating the dairy will cause some improvement in that area. The good news for some of my readers is that most of my recipes for the next 6 months will be egg and soy free.
Allergies & Acne: I read Eat to Live
by Dr. Joel Fuhrman a couple of years ago and reread it this week to remind myself why I shouldn't be eating animal products. (I needed a pep talk to help me give up cheese!) In his book and on his website, he mentions that many of his patients have been cured of allergies and acne by following his dietary guidelines. Cured!!! Without prescriptions or allergy shots or tons of facial products. I'm willing to give it a try.
Weight Loss: I am 5′ 7″ tall and weigh 172.8 pounds. My BMI is 27.1 which means that, technically, I am overweight. I tend to carry this weight in all the right places, so if you know me you'd probably tell me that I'm not overweight. But let's face it; I am. I have fat rolls, and jiggly arms, and a tummy that has yet to recover from childbirth.
According to the BMI calculator, my weight should be somewhere between 118 to 159 lbs in order to be in the "normal" category. Dr. Fuhrman's formula says that I should weigh approximately 124 lbs. For anyone that's counting, that means I need to lose approximately 50 lbs. The Eat to Live program seems a reasonable way to lose the weight, but I'm allowing myself to reevaluate that decision after 6 weeks. (Mom, I know that I looked pretty thin at 150 lbs. John's promised to not let me get too skinny!)
What Will Change
This week I'm working on using all of the dairy products that I have on hand so that I'm not tempted to eat them after June 1. I'll still buy some shredded cheese for John, but that's it. I'll also probably keep some eggs on hand until I come up with a new sandwich bread recipe. John often makes bread while I'm at work and I think he prefers chicken eggs over flax eggs.
I'm also trying out some of the Eat to Live guidelines so that I will be prepared to succeed next week. For those who haven't read the book, the Eat to Live program diet calls for you to eat 1 lb. of raw vegetables, 1 lb. of cooked green vegetables, 1 c. of beans, and at least 4 pieces of fruit every day. This is a bit more than I'm used to even on a vegetarian diet so I decided I needed a few days of experimentation.
For instance, yesterday's breakfast was a 16 oz. fruit smoothie and I was starving by 10:00 AM. Today I had a 32 oz. smoothie and scrambled tofu (counts as beans) and wasn't hungry until noon. Tonight I made sure to add 2 lbs. of veggies to our Quinoa Stir Fry (1 lb. for each adult) and made a 1.5 lb. salad. And since I love salad dressing, I experimented with making my own dressing from 1 tomato, 1 Tbsp. tahini (1 Tbsp. of nuts is allowed per day), the juice of half a lime, and some honey. It was delicious and I didn't feel guilty that I was drenching my salad with it.
I think that I will probably focus on salad, bean and vegetable recipes on the blog this summer. I know many people do not eat these foods because they do not know how to prepare them so that they taste good. Since we don't allow non-tasty food in this house, I'm going to be making some good new recipes. And maybe I can help you eat more healthfully by sharing the recipes and how-to articles here on the blog.
Questions & Comments:
If you have any questions or advice, I'd love to hear from you in the comments. I don't mind talking about any of this stuff, so feel free to ask whatever you want. You can even tell me I'm completely off base with the veganism, and I'll still love you =)