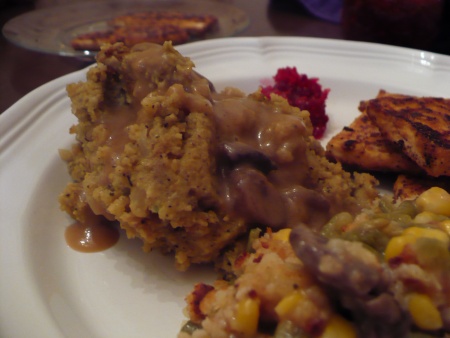 It looks like I'm getting a lot of first time visitors due to the holidays. If this is your first time on the site, I hope you'll take the time to look around a bit or bookmark the site so that you can come back later. You can also subscribe (for free) to the Gluten Free Cooking School blog. Everything you need is at the top of the right sidebar. There is also a recipe index at the top of the page, if you haven't found what you're looking for. Thanks for visiting and have a safe and happy Thanksgiving!
Thanksgiving Turkey and Dressing is just not the same without some yummy gluten free gravy. We're about to head out so I'm just going to give you the recipe. If you've never made a roux or cream of something before check out this lesson first.
Gluten Free Mushroom Gravy
(with casein free and vegan substitutions)
16 oz. mushrooms (whatever kind you want)
1 tsp. olive oil
4 Tbsp. unsalted butter (or the appropriate casein free or vegan substitute)
1/2 c. gluten free flour (I used brown rice flour because of its subtle flavor)
2 c. chicken or vegetable stock
1 1/2 c. light cream or half & half (or 1 1/8 c. plain soymilk + 3/8 c. canola oil)
squirt of lemon juice
white pepper to taste
a tiny pinch of nutmeg
1 to 2 Tbsp. gluten free Worcestershire sauce
2 to 3 tsp. of Better than Bouillon*
1. Sauté mushrooms over medium-low heat in 1 tsp. of olive oil. Set the mushrooms aside once they have released their juices.
2. In a clean skillet, melt the 4 Tbsp. of butter. Once the butter is melted, gradually add the flour to the butter while constantly whisking.
3. Once you've added all of the flour, allow the roux to cook for a few minutes while you continue to whisk it.
4. Gradually began to add the stock to the roux. Add a little bit and whisk it in before you add any more. Once you've added all of the stock begin adding the cream.
5. After adding all of the cream, bring the sauce to a simmer and let it cook for one minute. Continue whisking since the sauce may continue to thicken. Add the sautéed mushrooms into the sauce. Cook on low for twenty minutes.
6. Add the gluten free Worcestershire sauce and concentrated broth to the gravy. Stir well.
7. Add water to the gravy to thin it down to the consistency that you like. I usually just pour the water in gradually while whisking the gravy. Taste the gravy to see if it needs any additional seasoning; if so, add it.
8. Pour the gravy over the turkey and dressing on your plate and enjoy!
*1 tsp. of Better than Bouillon mixed with 1 c. water makes 1 c. broth. If you don't have any, maybe you can use this information to figure out how many bouillon cubes to add.
Would your Thanksgiving be less overwhelming if you knew the gluten free recipes that you're planning would turn out wonderfully? Would it help to have a shopping list and cooking timeline to follow? Would you like to have someone to go to when you have questions? If so, then my Gluten Free Thanksgiving Made Easy Kit may be just what you need.