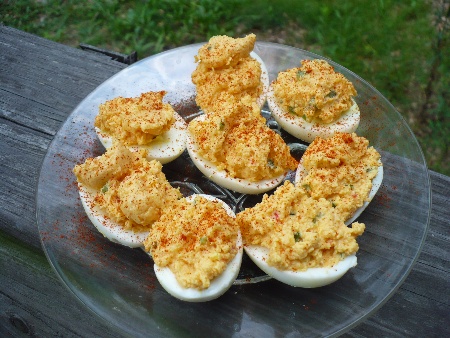 Kate at Gluten Free Gobsmacked is hosting a virtual Gluten Free BBQ and I'm invited! The menu goes from A to Z, and in a moment of uncertainty I used a random number generator to pick "D" for my contribution. Days later as I racked my brain for BBQ appropriate recipes starting in D, I came to the somewhat disappointing conclusion that I was going to have to do Deviled Eggs. Disappointing because Deviled Eggs are so old hat (at least to me) and I don't always like them. Nevertheless I simply could not think of anything else to make.
Late one night I was drifting off to sleep when a thought suddenly came to the forefront of my mind. "Cheese, put cheese in the deviled eggs. Pimento cheese!". This was my intuition speaking and since my intuition rarely fails me in the kitchen I went with it. I also researched the cooking term "deviled" and found that it means to "to chop food finely and mix with hot seasoning or sauce, usually after cooking". That doesn't sound like any deviled egg I've ever eaten. It was time to kick things up a notch =)
Diabolically Deviled Eggs
4 eggs, boiled
1/2 c. pimento cheese spread
1/2 jalepeno, diced
1/4 tsp. prepared horseradish
lemon juice, to taste
salt, to taste
paprika
Directions: Slice the boiled eggs in half and remove the yolks. Blend the yolks and pimento cheese spread in a food processor or blender until the mixture is smooth and almost fluffy. Stir in the diced jalepeno, horseradish, lemon juice, and salt. Using a small spoon, scoop the mixture back into the egg halves. Sprinkle the eggs with paprika.
Now, in all honesty I didn't think the eggs were that great. I'm going through an anti-egg phase, and these just didn't do it for me. Too much egg white. However, the affirmed egg-hater in the household thought these were quite good and ate two!  The little man wouldn't even touch them.