---
Easy Gluten Free Coconut Ice Cream In a Bag - A Casein Free Dessert


By: Mary Frances Pickett

Date: July 11, 2013

Prep Time: 10 Min

Cook Time: 5 Min

At some point in every person's life, they should make ice cream in a bag. Turning a bag of liquids into frozen solids in a matter of minutes is pretty awe-inspiring for anyone who's familiar with how long ice takes to freeze. The feat reaches the level of miraculous when the end result is a bag full of ice cream that you get to eat on a hot summer day.

This past weekend I was in the mood for an experiment, so I decided that we would try canned coconut milk as the base for our ice cream. After all, those sweet kids on the autism spectrum should get to eat ice cream in a bag too! The coconut flavor is discernible but very mild. When someone my younger children what kind of ice cream they had, they simply replied, "Vanilla!"
Instructions
5 Minute Coconut Ice Cream
(Yield: 5 bags)
2 10 oz. cans of coconut milk (GF)
5 tablespoon sugar
1 ¼ teaspoon vanilla extract
2 cups ice cream salt or kosher salt
20 – 25 lb bag of ice
5 gallon-sized Ziploc bag
5 pint-sized Ziploc bag
Combine the coconut milk, sugar and vanilla extract in a large mixing bowl. Stir.
Fill each of the large gallon backs to the halfway point.
Have the children hold the pint-sized bags open and pour equal amounts of base into each one.
Seal the pint-size bags, removing excess air as you do, and place it down inside the ice so that the ice cream bag is surrounded.
Put the ice cream salt in a bowl and have each of the children sprinkle 6 Tbsp of salt onto their ice.
Seal the gallon sized bags and then shake, toss, and throw the bags around for 5 minutes, by which time the ice cream should be frozen.
Take the ice cream bags out and rinse them so that little hands with boo-boos don't get a salt water bath, and then hand everyone a spoon and dig in.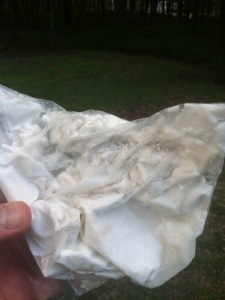 A Few Notes on the Ingredients
Traditional ice cream can be made from milk, half and half, or whipping cream and the richness of the ice cream increases with the amount of fat. The same principle applies to coconut ice cream. The canned coconut milk contains quite a bit of saturated fat and makes a very rich ice cream. "Lite" canned coconut milk would be the equivalent of half & half. Coconut milk from the dairy section provides the least fat.
While I'm not in the least bit worried about the fat content of my ice cream, especially when it's coconut fat, the amount of fat does change the mouth feel of the ice cream. We used the full fat canned coconut this time, but I'll probably try the "lite" canned coconut milk next time just to see the difference.
You can also add any sort of flavorings that you want to the ice cream. We tried almond extract and vanilla extract in ours and the vanilla was my hands-down favorite.
---
This recipe has been brought to you by the Gluten Free Cooking School.
Be sure to visit www.GlutenFreeCookingSchool.com for more great recipes and information about Gluten-free living!