Are you stressed about being Gluten Free?
Are you struggling with being gluten free? There are few things more difficult than being told you have to change your entire diet, and going gluten free is even more difficult given the prevalence of gluten in our society.
John and Mary Frances have been gluten free for nearly a decade, and they know what you're going through. In their ebook, The Gluten Free Survival Guide, they detail how to go gluten free, how to stay on the GF diet successfully, and how to make sure that you're not accidentally still eating gluten.
Your health is one of the most important things you have, and if you are overwhelmed with questions about the gluten free diet, you owe it to yourself to check out this book.
Are You Depressed About Being Gluten Free?
If you have to eat a gluten free diet, chances are that you are in a funk. Living on a gluten free diet can be miserable, limiting, depressing, boring, tasteless, and time-consuming. All of us who eat a gluten free diet have felt this way at one time or another.
But I have good news for you.
Eating a gluten free diet is going to make you feel so much better. And your new GF diet can be amazingly delicious and abundant. And you can enjoy this abundance of good health and delicious food without all of the stress and frustration you are currently experiencing.
Don't believe me? It's true. My family has been enjoying a gluten free diet for over seven years. John and I both have zero symptoms of Celiac Disease and wheat allergy now that we do not eat gluten, and we feel great! We eat delicious foods at every meal. Every Friday night is pizza night and we often have homemade pancakes, waffles, scones and bagels for breakfast. Fresh vegetables and fruits are in abundance.
I know exactly what we will be eating for supper every night and my pantry, refrigerator and freezer are stocked with all of the foods we need. And we do all of this with three small children at home and while we are both working.
How? Well, it's simple really. Any problem or issue that you have on a gluten free diet can be solved with four simple steps. Learn, plan, act, talk.
I've used these four simple steps to develop strategies and systems that allow our gluten free household to operate like clock-work. And I can teach you to do that too. And, you know what? When you have strategies and systems in place, you can embrace a gluten free diet. Because at that point, the only part of being gluten free that you notice is how great you feel and how delicious your food is.
Save Your Time For More Important Things
When we first went gluten free, I can't even tell you how much time I spent trying to figure out what to feed us. I looked online, in cookbooks, I read books at the library, I talked to friends, you name it. I probably spent 5 to 10 hours each week just trying to figure out what to feed us! The biggest problem was that I didn't have one source of information that had everything that I needed to know. I had to get bits and pieces from a lot of different places to figure out how to feed us good, healthy, GF food on a daily basis.
The great news for you is that my book has everything that you need to know. You won't have to look online for more info or read every book at the library. My book tells you exactly how to go gluten free, what to eat and what to avoid, so that you can spend your time on more important things instead of planning out your menu.
Feel Great and Have More Energy! No More Cheating
One of the biggest issues with not eating gluten is doing it faithfully every day. When I was a tax accountant, I did really good about staying gluten free most of the time. Unfortunately, every year March and April would roll around, bringing the busy tax season along, and I would get so busy that I barely had time to think, much less time to make sure I was eating right. I would be hungry, but with deadlines looming there was no time to find any gluten free alternatives to the pizza, pasta or sandwiches in the break room.
I think everyone who is gluten free can relate to my story, and you know how bad you feel after eating gluten. If you're nodding your head, you need my book. I'll show you how to handle these situations so that you can stay gluten free. No more cheating, ever.
No More Embarrassing Gas At Parties
Let's face it: For most people, one of the more cringe-inducing aspects of eating gluten is problems "down there" (I'm pointing in the general area of my tummy). It's not pretty, it's sure not fun, but we've all been there. That uncomfortable feeling you get when you suddenly realize (in church, or class, or at your friend's dinner party) that you've been gluten-ed. What do you need to know to avoid having this happen? We'll tell you in Chapter 5.
Lose Weight and Look Great!
The best thing about going gluten free is that your new diet is going to be so much healthier than the Standard American Diet (SAD). You're going to be eating more fresh fruits and vegetables than you ever have, and you're going to find a wider variety of delicious whole foods than you ever thought possible. There are great, healthy foods in the grocery store that are naturally gluten free, and you've never even heard of them! I'll tell you where to find them, and, believe me, you're going to love eating them.
The bottom line is that going gluten free is healthier than the SAD for a lot of reasons, and losing weight is just one of the many benefits.
Here's what one of our readers had to say when she read the book:I was so excited to get my copy of The Gluten Free Survival Guide from Mary Frances. For years, I have struggled with wheat allergies and stomach "issues" and have tried to go gluten free with little success. This book finally gave me the answers I needed – in an easy-to-read format.
Mary Frances and her family have "been there, done that" and have lived to tell the tale. Switching to a truly gluten free lifestyle isn't easy, but the steps outlined in this book make it MUCH easier to accomplish than going it alone. The Survival Guide is well worth the price and the time needed to implement the lifestyle. Plus, my stomach for the first time in years, agrees with me!
–Patti L, Georgia
The Book, The Cookbook and The Bonuses
So, let's talk about what you'll find in our book. The Gluten Free Survival Guide has 10 chapters. Some of the chapters are focused on what you need to learn, others are focused on tips and strategies that will help you plan more effectively. At the end of each chapter are assignments, 24 in all, for you to complete. Once you have, we guarantee that you will be much, much happier on a gluten free diet.
In addition, when you buy our e-book, you will also receive several bonuses. The largest of these is the Essential Gluten Free Cookbook, where I've organized the 22 recipes that I cook for my family all of the time. There are also ideas for 32 easy suppers for those nights when you want to cook something that doesn't really require a recipe.
The other bonuses are
* a list of safe and unsafe food ingredients,
* a week's worth of supper recipes complete with a shopping list,
* a menu planning worksheet that you can copy
* food journal templates for you to copy,
* our review of Triumph Dining's "The Essential Gluten-Free Restaurant Guide" and Dining Cards,
* a list of vitamins and minerals that may be missing from your diet now and naturally gluten free foods that you can eat to get these essential nutrients
When you purchase the book, you'll also receive a special offer for membership in our online Cooking School, where you can learn how to cook lots of delicious gluten free food yourself. This offer is only for my e-book readers, so make sure to get your copy.
Sneak Preview of What's Inside


110% Money Back Guarantee
The Gluten Free Survival Guide costs only $20. You can order right now and download the book immediately.
If you read the book and don't think it will make your life less stressed, email me at maryfrances (at) glutenfreecookingschool.com and I'll refund 110% of your money. No hassle, no questions asked. There's absolutely no reason not to give the book a try.
Compare Packages

Basic
Premium
The Gluten Free Survival Guide
The Essential Gluten Free Cookbook
List of Safe and Unsafe Food Ingredients
Meal Plan with Shopping List
Meal Planning Worksheet
Food Journal Template
Diet Nutrition Checklist
BONUS
Audio Recording of the Gluten Free Survival Guide
| Basic Package – $20 | Premium Package – $22 |
| --- | --- |
| | |
Still not sure? Here's the bottom line. This book will save you time, it will save you money, and it will save you needless hours of frustration.
Time – Instead of reading dozens of different books, looking for good information on how to go gluten free, wouldn't you rather just read one book that has it all?
Money – Have you ever bought a new flour mix or a new loaf of GF bread, only to find that you can't stand the way it tastes? Then you're faced with the dilemma of throwing the rest away (and wasting your money) or choking the rest of it down. In my book, I discuss the foods that we eat and enjoy, so you can have a guideline for choosing your own food. Even if you're gluten free, life is too short to not enjoy what you are eating.
Frustration – If you're looking for help on going (or staying) gluten free, the last thing you need to do is waste time on recipes that don't work, don't taste good, or that may have hidden sources of gluten. There's nothing more frustrating than trying a new meal or food, only to have it fail miserably. The recipes and strategies in my book are tried and tested, and they will work for you. I promise.
On top of all that, when you go gluten free, you will feel better, you will have more energy, and your body will be able to heal. You owe it to yourself to give this a try.
About The Authors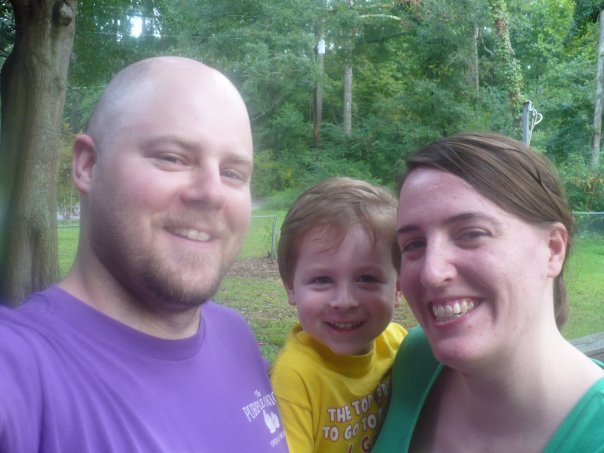 Mary Frances and John Pickett have been married for 7 years, and live in the Southeastern US. John was diagnosed with celiac disease in college, and Mary Frances also found out several years ago that she has a wheat allergy. Due to both of these issues, they have been completely gluten free for several years.
Mary Frances started Gluten Free Cooking School as a free blog in 2006 to share her recipes with other people struggling with a gluten free diet. Her site quickly became very popular, and today she is one of the most popular gluten free bloggers online, with over 80,000 people reading her recipes and advice every month.
| Basic Package – $20 | Premium Package – $22 |
| --- | --- |
| | |