I have a confession. I'm a last-minute Thanksgiving planner. Very last minute. And that's really just not a smart thing to be when you want to have a delicious Thanksgiving meal that is gluten free. Preparation is needed. So, because I need to plan for Thanksgiving and I'm sure there are some fellow Thanksgiving slackers among my faithful readers, we will now commence the 14 days until Thanksgiving countdown, complete with daily assignments.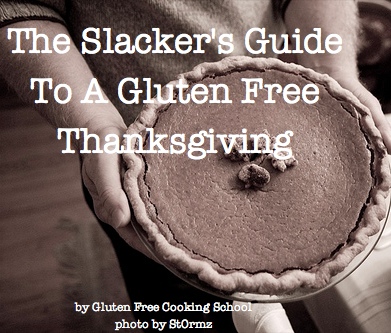 This page will serve as an index for the series, so come back to this if you get behind!
2nd Thursday Before Thanksgiving Who's Coming To Thanksgiving
2nd Friday Before Thanksgiving Finalize the Recipes
2nd Weekend Before Thanksgiving Make Your Pie Crust Dough
2nd Monday Before Thanksgiving Calculate Your Turkey Size
2nd Tuesday Before Thanksgiving Make It Easier for Yourself
2nd Wednesday Before Thanksgiving Prepare The Veggies Early
The Thursday Before Thanksgiving Figure out When Everything Needs To Go In the Oven
The Friday Before Thanksgiving
The Weekend Before Thanksgiving: Make Gluten Free Bread For Your Stuffing
The Monday Before ThanksgivingMake Croutons For Bread Stuffing
The Tuesday Before Thanksgiving
The Day Before Thanksgiving
Thanksgiving Day!