Since today is the day that our family celebrates Christs' resurrection and the new life that we have in Him, I thought it would be a good time to let you know about the new life that God has placed in our lives. Grant finally arrived a few weeks ago (weighing 7 lbs 13 oz and measuring 20.5 inches long). We are all doing well and enjoying figuring out how to weave this little one into the fabric of our lives. And as you can see, David is very happy to be a big brother.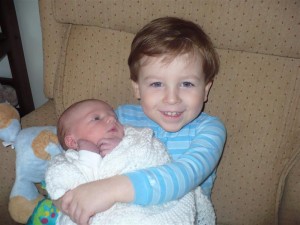 I'm sure there will some new recipes on the site soon. We've been enjoying homemade gluten free hoagies for the past couple of weekends, and we made some great gluten free cupcakes for John's birthday. More on that later as time and energy allows =)
Happy Easter everyone.