---
Mushroom & Broccoli Quiche Recipe


By: Mary Frances Pickett

Date: July 11, 2007

Prep Time: 15 Min

Cook Time: 35 Min

I walked into the kitchen this past Saturday morning, babe in arms, and wondered what in the world we were going to have for breakfast. For the past few months our weekend breakfasts have been a regular rotation of my gluten free pancakes or my gluten free drop biscuits, and we were definitely ready for something new. I surveyed the fridge and the cupboards and scanned a few blogs and settled on Elise's Mushroom Quiche. The only problem was that I didn't have a gluten free pie crust, shallots, milk, cream or Gruyère cheese. However, I am quite well known in my family for not letting a lack of ingredients or a lack of recipe stop me. (In fact, due to some unfortunate experiences in high school my brother will only eat something I've cooked if I promise that I followed a recipe. I often fudge on this by writing the recipe down as I go!) And, since I had the mushrooms, we proceeded. (We would be the babe and I – he manages the measuring cups and spoons.)

After a little more blog scanning, I found a gluten free pie crust recipe at Gluten-Free Girl and was getting pretty excited (despite the fact that I didn't have any of the four flour ingredients) until I read this:
Refrigerate the ball of dough, for as long as you can stand. Ideally, you would prepare the dough in the evening and refrigerate overnight.
We were all stomach-rumbling hungry, so time for Plan B: the huge bag of red potatoes that had been sitting in the bottom bin of my refrigerator for longer that I care to remember. I sliced the potatoes as thin as I could, layered them in a pie plate, and voilà – a gluten free potato crust worthy of many baby claps!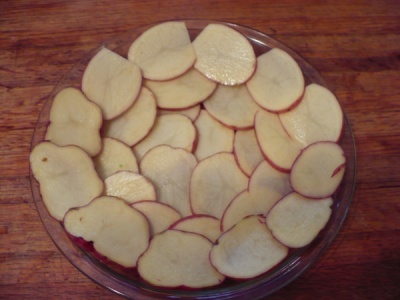 So here is my "Saturday morning with a very empty refrigerator" version of Elise's Mushroom Quiche:
Instructions
3 or 4 red potatoes, sliced
2 tablespoons olive oil
3 scallions, chopped
1 pound mushrooms, quartered
1 head of broccoli
Salt and freshly ground pepper
1 c. soy milk (or whatever type of milk you have)*
2 large eggs
2 egg yolks
Pinch nutmeg
up to1 1/2 cups cheese, grated (use whatever you have on hand)
Preheat your oven to 350 degrees. Slice the red potatoes very thinly – somewhere between 1/8" and 1/4" thick. Layer them around a pie plate, starting in the middle and trying not to leave any spaces where the filling might run through. Pop in the oven for 15 minutes.
Begin heating the oil in a non-stick or cast iron skilled over medium heat. Clean the mushrooms with a slightly damp cloth. Remove the stems and then quarter them with a sharp knife. Add the mushrooms to the skillet and stir frequently until they are golden brown.
While the mushrooms are sauteing, chop the florets off of the head of broccoli and separate into small pieces. Then use scissors to finely snip the green part of the scallions. Add the broccoli florets and saute until they are bright green, and then remove the skillet from the heat.
In a medium size mixing bowl, whisk the milk, eggs, and egg yolk together until they are slightly frothy. Season the egg mixture with salt, pepper, and nutmeg.
Now it is time to contruct the quiche. Your potato crust should be ready by now, so evenly sprinkle 1/2 of the cheese over the crust. Then spread the mushrooms and broccoli over the cheese, and top with the remaining cheese. Finally, pour the egg mixture over everything else, and place the dish in the over for 30 to 35 mintues. When the quiche is ready, the center should be firm, and the top should have started to brown. (I probably could have left mine in a bit longer, but we were really, really hungry!) Take the quiche out of the oven, and let it cool on a wire rack for 10 mintues before slicing.
Enjoy!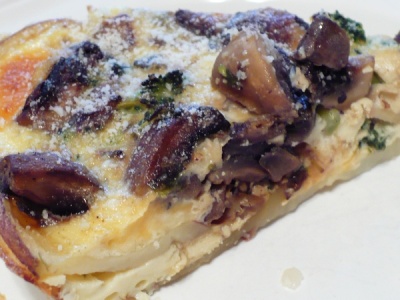 *except chocolate
---
This recipe has been brought to you by the Gluten Free Cooking School.
Be sure to visit www.GlutenFreeCookingSchool.com for more great recipes and information about Gluten-free living!