---
Orange Halloween Cupcakes for Your Gluten Free Dairy Free Trick-or-Treaters


By: Mary Frances Pickett

Date: October 21, 2011

Prep Time: 45 Min

Cook Time: 25 Min

Gluten free baking mixes have their place, and for me the perfect use of a box of Betty Crocker's GF Cake Mix is a surprise batch of cupcakes for the kiddos. Last week I whipped up a batch and made a few alterations to the recipe on the back of the box, so that we could have some gluten free, casein free, and very orange Halloween cupcakes.
Here's how to do it for yourself:
Start with: 1 box Betty Crocker GF Yellow Cake Mix. And, follow the box instructions except for the following:
Substitute: Coconut Oil for the butter.
Add: 4 g red food coloring & 6 g yellow food coloring
Then, Bake according to the directions on the box.
If you aren't using a scale, then just measure the food coloring by drops and keep a 4:6 ratio of red to yellow.
I'll also grudgingly admit that these cupcakes would be perfect for Tennessee, Auburn and Florida fans.
Here's a comment from Sara, a nutritionist and one of my newsletter readers, about food colorings:
I wanted to let you know that there are all natural alternatives to artificial food colors – go to www.naturalcandystore.com. Many autistic and ADHD kids have gut dysbiosis and should avoid artificial colors. I think the same is true for everyone – we try to avoid them, and I would never willingly buy food colors and add them to homebaked goods!
I hope your trick-or-treaters enjoy these cupcakes as much as my kiddos did =)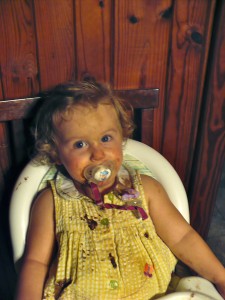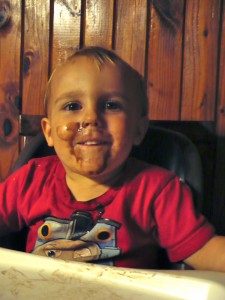 ---
This recipe has been brought to you by the Gluten Free Cooking School.
Be sure to visit www.GlutenFreeCookingSchool.com for more great recipes and information about Gluten-free living!