---
Gluten Free Banana Nut Muffins Recipe


By: Mary Frances Pickett

Date: October 31, 2007

Prep Time: 20 Min

Cook Time: 20 Min

Monday morning I was attempting to clear a path through the dirty dishes when I came upon an extremely ripe banana. With no idea what we were having for breakfast, I took this as a sign that we should have Banana Nut Bread. What followed was a typical early morning cooking experience in the Pickett household.

I whipped out my Joy of Cooking
(complete with burn marks on the back cover and loose pages near our favorite recipes) and my apron only to discover, upon glancing over the Banana Bread recipe, that a mixer was required. There is no time for a mixer on weekday mornings. I decided to wing it and ended up completely changing the cooking instructions, besides freeing the recipe from it's gluten bondage.
And wouldn't you know that the recipe called for two bananas. Luckily I was able to find a frozen banana in the depths of my freezer and it worked well enough after a brief stint in the microwave.
By the time I had everything mixed up David was getting frantic for some food. I checked the recipe to see how long the bread had to cook and discovered, to my horror, that it was 50 minutes. Out comes the muffin pan and twenty minutes later we were sitting down to eat.
By this point David was really ready for some food and in his book nothing beats bananas or muffins for breakfast. Combine the two and you have one little excited muffin man.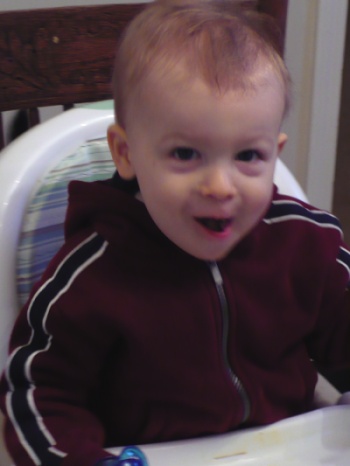 Instructions
Yield: 6 large muffins.
1 1/2 c. Gluten Free All Purpose Flour
3/4 tsp. salt
1/2 tsp. baking soda
1/4 tsp. baking powder
2/3 c. brown sugar
4 Tbsp. ground flax seed*
4 Tbsp. butter, melted
2 large eggs, lightly beaten
2 very ripe bananas, mashed
1/2 c. chopped nuts (optional)
Combine all of the dry ingredients in a large bowl.
Combine all of the wet ingredients in a smaller bowl. If you're short on dishes as I was, melt the butter in the bowl first, then add the bananas and mash them, then add the eggs, and stir all of it really well so that eggs end up being lightly beaten.
Add the wet ingredients to the dry ingredients and stir until combined.
Spoon the batter into a lined muffin tin and bake at 350 until golden brown, depending on your oven it will be 15 – 20 minutes. (If you take one out and realize it's not done, don't freak. Just pop it back into the oven for a few minutes.)
* If you don't have flax seed, increase the butter by 1 1/2 Tbsp.
---
This recipe has been brought to you by the Gluten Free Cooking School.
Be sure to visit www.GlutenFreeCookingSchool.com for more great recipes and information about Gluten-free living!