---
Gluten Free Pizza Recipe


By: Mary Frances Pickett

Date: July 6, 2007

Prep Time: 15 Min

Cook Time: 30 Min

Friday night in our house is a date night of sorts. We often put the babe to bed and then make homemade gluten free pizza while sipping on a cold gluten free beer. When the pizzas are done, we top them with Parmesan and red pepper flakes and head to the den to watch a movie together.

If you'd like more easy, fun recipes like this one, I've included all of my favorites in my ebook, The Gluten Free Survival Guide. I know you'll enjoy cooking them as much as we do!

I usually save my longer gluten free recipes for Friday or Saturday nights because I find it very relaxing to putter around in the kitchen making yummy food. Although, now that I've made this particular recipe…hmmm, it must be around five times now, it's getting a lot easier, and I could probably make it on a weeknight. But, then what would I look forward to all day on Friday while I'm at work?
Instructions
Our goal is to be very full. This may be enough for three or four if you're serving salad as well.
1 Tbsp. yeast
1 1/3 c. milk (soy, cow, or rice)
1 tsp. sugar
1 1/3 c. brown rice flour (I use Bob's Red Mill)
1 c. corn starch
2 tsp. xanthum gum
1 tsp salt
1/2 tsp. fennel seed
1/2 tsp. rosemary (dried)
1/2 tsp. garlic powder
1/2 tsp. oregano
2 tsp. olive oil
2 tsp. cider vinegar
Pizza Sauce
1 14.5 oz can diced tomatoes (w/ Italian seasonings)
1/2 of a 6 oz. can of tomato paste
1/2 tsp. oregano
1/2 tsp. garlic powder
1/2 tsp. fennel seed
1/2 tsp. rosemary
6 fresh basil leaves, minced
Start by putting all of the ingredients for the pizza sauce, except for the basil, into a saucepan and heat over medium low. The sauce should simmer while you make the crust and prepare the toppings. We'll come back to it when later after the spices have had time to get happy.
Preheat the oven to 400 degrees.
Heat the milk in the microwave so that it is warm (not so hot that it would burn your finger, just warm). Combine the milk with the sugar and yeast in a small mixing bowl. If you stir the mixture while you slowly pour the milk, then it should all dissolve very nicely. Let this sit while you proceed to the next step – it needs to have time to get bubbly.
Combine the brown rice flour, corn starch, xanthum gum and spices in a larger mixing bowl. If the rosemary is not crushed, then I usually chop it up a bit with a knife before I put it in the bowl.
Add the oil and vinegar to the yeast mixture, which should have some air bubbles by now. Then pour all of that into the flour mixture and stir well. Once you've done this, the dough will be somewhat sticky, and now is a good time to sprinkle some extra rice flour on it. Now that the rice flour is cutting down on the stickiness, form the dough into a ball and let it sit while you get your pans ready.
If you're using pans or a cookie sheet to cook the crusts, you will need to grease them, so that the pizza crust does not stick. Spread butter, olive oil, shortening, or cooking spray on the pan and then sprinkle a bit of rice flour on top of that. ( I use one round and one square cake pan for the pizzas. To me, it's easier than rolling it out so that I can use my pizza stone. But if you have a pizza stone, feel free to use that, or a cookie sheet.)
Split the ball of dough into two pieces – one for each pan. Starting from the middle of the dough, use your fingers to press down on the dough and spread it out towards the edges of the pan. I usually work my way from the center to the edges in a circular pattern. When you get the dough to the edges, continue to push the dough up onto the side of the pan, so that you will have a nice crust. Here are some pictures of me making the crust last weekend.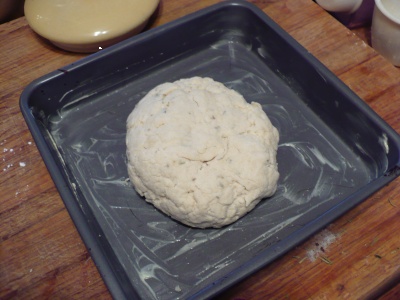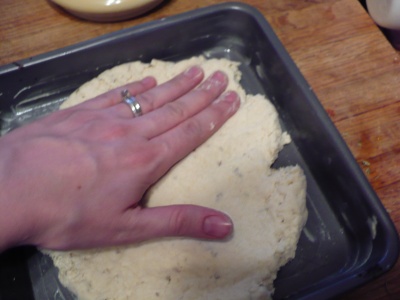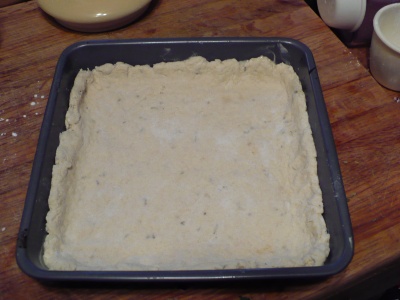 8. Pop the crusts into the hot oven for 8 minutes. While they are cooking, add the basil to the sauce and prep your pizza toppings. Tonight we used diced onion, diced bell pepper, mushrooms, and black olives.
9. Take the crusts out of the oven. While they cool for a second, use your stick blender to puree the pizza sauce if you do not want it to be chunky.
10. Drizzle some olive oil onto your crusts and spread it over them evenly. (This will keep the pizza sauce from making your crust soggy.). Now add the toppings starting with the pizza sauce and ending with the cheese.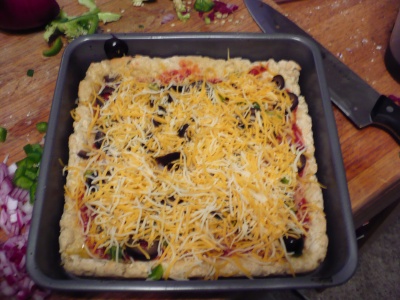 11. Pop the pizza back into the oven for 10 – 15 minutes. The time is not specific, you just want the pizzas to stay in the oven until the cheese starts to brown a bit. Pull the pizzas out, cut, and serve.
P.S. After I put the crusts into the oven tonight, I realized that I had left out the oil and the vinegar!!! Everything turned out fine though, so if you want to reduce the fat in this recipe, feel free to leave out the oil.
---
This recipe has been brought to you by the Gluten Free Cooking School.
Be sure to visit www.GlutenFreeCookingSchool.com for more great recipes and information about Gluten-free living!