Eliminate the Stress…
about the huge change in your food choices
Remove the Struggle…
with what TO eat and what NOT to eat
Stop the Frustration…
because gluten's even in your favorite foods
Dear reader, we feel your aggravation,
Having been there, done that, we understand very few things are more difficult than learning you must change the entire way you eat!
Removing gluten from your everyday eating can seem so difficult because gluten is in so many of your favorite foods; even those you can't believe have gluten in them!
Bread… Pasta… Breakfast Cereal… Baked Goods… Soups… Sauces… Seasoning Packets… Gravy… Salad Dressing… Ice Cream… Hard Candy… Shampoo… and even Make Up!
Looking at the list above, no wonder you're confused!
If you've been told you need to seriously consider eating gluten free, chances are you're in a well-deserved funk.
Living gluten free can be miserable, limiting, depressing, boring, tasteless and seriously time-consuming. ALL of us, who now live gluten free, have felt this way at one time or another.
But we have
Great News
for you!
The GLUTEN FREE Survival Guide throws open the doors to the delicious, new world of living Gluten-Free…
Eating Gluten Free (GF) will make you feel so much better
Your new GF diet will be amazingly delicious and abundant
You'll enjoy an abundance of good health and delicious food without all of the stress, struggle and frustration you're might be currently experiencing
How! You Ask?
Well, it's simple really. Any problem or issue you've found going gluten free can be solved with these four simple steps:
Learn – to develop strategies for eliminating gluten from your kitchen (and keeping it out), planning meals and buying groceries… starts on page 15
Plan – gluten free, semi gluten free or a mix of both. You'll find the perks to these on page 21
Act – follow the 4 simple steps to: clean out your pantry, make your first menu and grocery list, clean your kitchen equipment, your first grocery trip. See these step-by-step instructions on page 25
Talk – once your Learn, Plan and Act steps are sorted, Talk about what's working or not. Page 28 gives an idea of how to make it simpler
I've used these four simple steps to develop strategies and systems allowing our gluten free household to operate like clockwork.
And we'll teach you how to do this too!
You know why? When you have strategies and systems in place, you can embrace gluten free living. Because at that point, the only part of being gluten free that you notice is how great you feel and how delicious your food is.
Don't believe us? We understand your doubt and hesitation, but…
It's Absolutely True.
Who Are
Mary Frances and John
AND
Why Should You Listen To Everything
We Have To Say?
We've lived happily, for nearly a decade, gluten free and we know exactly what you're going through. Here's our story…
Finally, A Diagnosis and a Beginning
John's diagnosis with celiac disease came in college after several months of uncomfortable and painful stomach issues (
sound a bit familiar?
)
Back then, not much was known about celiac disease and John's doctors advice boiled down to, "Try not to eat wheat."
So Not Helpful!
Long story short, John found it nearly impossible to avoid gluten when eating. It was fairly easy to avoid the big three – bread, pizza, pasta – and he felt enough improvement to realize he was on the right track, but…
His stomach issues did not completely go away for several more years.
The New Bride Learns to Cook
Right after our honeymoon, I really tried to learn how to cook great GF meals we'd both love to eat.
I experimented with GF bread mixes, learned to make meals with out Campbell's Cream of Mushroom soup and mourned the loss of biscuits, Oreos and Papa John's pizza.
Even though my efforts significantly improved John's symptoms, I wasn't satisfied.
Honestly, it wasn't until I was diagnosed with IBS and a wheat allergy, shortly after I gave birth to our son, that I made the no-turning-back decision to figure out how to create our old favorites, (bread, pizza, and cake) deliciously… the Gluten Free way.
Gluten free seems natural to us now after all these years. I don't miss wheat and there really aren't many foods that I haven't found a GF version or figured out to make it myself.
However, we both remember how aggravating it seemed to eat gluten free; to walk the aisles of a grocery store realizing we couldn't eat about 90% of the food on the shelves!
We really remember how frustrated we were trying to figure out how to live Gluten Free.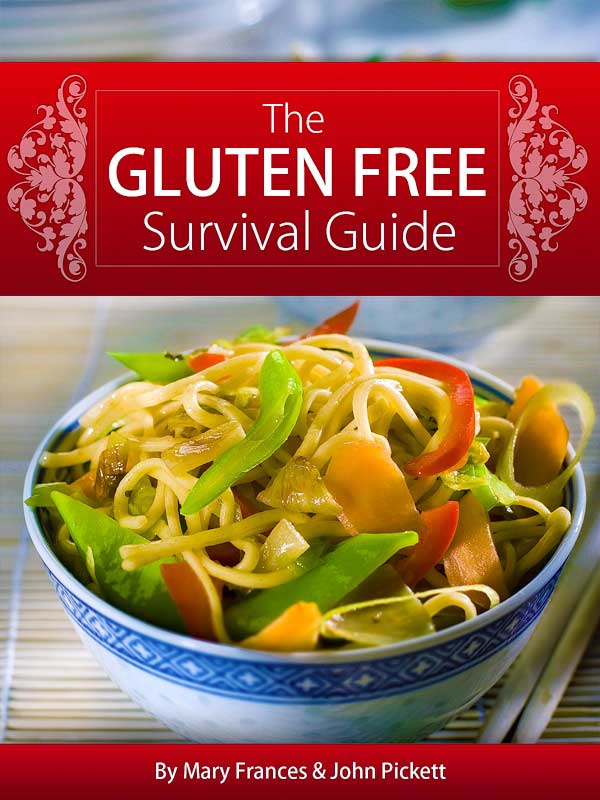 In our ebook,
The GLUTEN FREE Survival Guide
, we detail:
How easy you'll find going gluten free… How you'll love to live GF and do so successfully… and How to make sure you're not accidentally eating gluten.
These three things might seem unobtainable right now,
but there is A SIMPLE WAY FOR YOU to embrace your new way of eating!
We've enjoyed gluten free life for over nine years now and both of us have zero symptoms since we learned how to NOT eat gluten and we feel great!
We eat delicious foods at every meal!
Every Friday night is pizza night at our home, and we often have homemade pancakes, waffles, scones and bagels for breakfast. Fresh vegetables and fruits are in abundance.
We know exactly what we're eating for supper every night and our pantry, refrigerator and freezer are stocked with all of the foods we need.
And we do all of this with three small children at home and both of us working.
We share these facts not to impress you, but to impress upon you that we are more than capable of helping you love your new GF life just as we have for countless others.
Save Your Time For More Important Things
We can't even tell you how much time Mary Frances spent trying to figure out what to feed us.
She looked online, in cookbooks, read books at the library, talked to friends, you name it. If there was even a hint of something showing her the way to a GF life, Mary Frances was on it searching, sorting and putting her list together.
She probably spent 5 to 10 hours each week just trying to figure out what to feed us!
The biggest problem…
There wasn't ONE SOURCE for information with everything we needed to know.
She had to get bits and pieces from a lot of different places to figure out how to feed us good, healthy, GF food on a daily basis.
That's Great News For You!
She's done all the hair pulling… the teeth grinding… and spent her time and energy
to put together everything you need know about living a gluten free life and loving it!
And it's all in one place.
The Gluten Free Survival Guide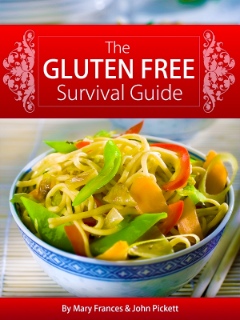 Feel Great and Have More Energy! No More Cheating
One of the biggest issues with not eating gluten is doing it faithfully every day. When I was a tax accountant, I did great about staying gluten free most of the time (might this sound familiar?).
Unfortunately, every year March and April would roll around, bringing the busy tax season along, and I would get so busy that I barely had time to think, much less time to make sure I was eating right. I would be hungry, but with deadlines looming there was no time to find any gluten free alternatives to the pizza, pasta or sandwiches in the break room.
I think pretty much every person trying to live GF can relate to my story, and you know how bad you feel after eating gluten.
If you're nodding your head, then you need The Gluten Free Survival Guide.
I'll show you how to handle these situations so that you can stay gluten free. No more cheating, ever.
No More Embarrassing Gas In Public!
Let's face it, for most people; one of the more cringe-inducing aspects of eating gluten is a problem "down there" (I'm pointing in the general area of my tummy).
It's not pretty, it's sure not fun, but we've all been there.
That uncomfortable feeling you get when you suddenly realize (in church, or class, or at your friend's dinner party) that you've been gluten-ed.
What do you need to know to avoid having this happen? You'll find, on Page 34, ideas giving you a plan, a way to stand up for yourself and how to be prepared for temptation.
"I was so excited to get my copy of
The GLUTEN FREE Survival Guide
from Mary Frances. For years, I have struggled with wheat allergies and stomach "issues" and have tried to go gluten free with little success. This book finally gave me the answers I needed – in an easy-to-read format.
Mary Frances and her family have "been there, done that" and have lived to tell the tale. Switching to a truly gluten free lifestyle isn't easy, but the steps outlined in this book make it MUCH easier to accomplish than going it alone. The Survival Guide is well worth the price and the time needed to implement the lifestyle. Plus, my stomach, for the first time in years, agrees with me!"
Patti L. - Georgia
The Book…
The Cookbook…
and The Bonuses…
What is it that you'll actually find in The Gluten Free Survival Guide's Silver Package?
How To's
– Yep
What To Do's
– Naturally
Strategies
– You Bet!
Just wait until you see these…
I promise you – not only will you come away from them with a much better understanding of what if really takes to live Gluten Free, you'll have a new level of confidence when it come to preparing meals and snacks for you and your family… and how simple it is to put them together.
The GLUTEN FREE Survival Guide's
Silver Package comes packed full of all of these helpful and informative items:
It focuses on what you need to learn and tips and practical strategies to help you plan more effectively so living a GF life is simple, easy and rewarding.
Here's a brief peek at what you'll learn:
The Book…
The Gluten Free Survival Guide
Gluten Free Basics – Gluten What!?
This covers the basics of what you need to know when you've been told you should start eating gluten free. There's nothing complicated here,

just the essentials you need to know to get started on your new GF lifestyle

The Learning Curve for going GF used to be really complicated. With The GLUTEN FREE Survival Guide you'll jump over this learning curve hurdle by simply following the info on what foods are GF, where to buy GF foods, how to cook them and do all this while staying within your budget.
Sooner or later you'll be in a situation where your options are Eat Gluten or Go Hungry at home, work or away. This isn't fun,

but a little planning can go a long way to making these situations workable

.
Eating with Friends and Family. Sharing meals with friends and family is an essential part of a fulfilling life. These simple steps will

save you the grief

of begging off another get together.
Traveling and Restaurants used to be one of the difficult issues of going GF. Not any more! A little planning and you'll be traveling down the highway enjoying yourself with

these simple things you can do to prepare for road trips

.
Those Gluten Free Celebrations just got a whole lot easier. Most, if not all, of your favorite holiday foods can be made gluten free. The recipes and strategies in The GLUTEN FREE Survival Guide will let you enjoy successfully holidays and keep your sanity.
Eating Healthy and Gluten Free is a discussion on the issue of nutrition in living GF and

what you need to know

to ensure your GF life is actually healthy.
How to Cook the Foods You Can't Live Without is a great introduction into how to cook foods that usually have wheat as a major component,

recipes to get you started

and some tips and tricks when trying these recipes.
Gluten Free Kids share how a bit of planning and knowledge go a long way to helping your and your child love GF.
The Essential Gluten Free Cookbook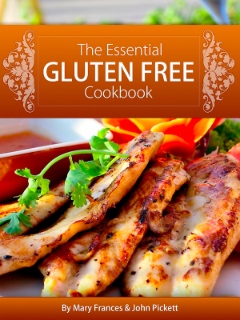 The Tried and True Equivalent of Family Favorites!
22 recipes converted from my Mother and Grandmother's recipe cards, community cookbooks, family cookbooks, Garden Clubs and PTAs, to name a few, that I cook for my family all the time.
Put together with variations of many of the recipes giving you a larger variety all in an easy to print format so you can add them to your own kitchen and have them handy.
There are also ideas for 32 easy suppers for those nights when you want to cook something that doesn't really require a recipe.
The simple to use Meal Plan Worksheet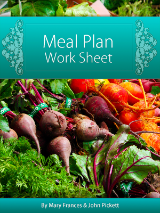 Talk about making things easy, Mary Frances and John have created the Gluten Free Toolkit to make meal planning and shopping easier with their Meal Plan Worksheet. You just print it out, fill in your weekly menu choices, create your grocery list and head off to the store well armed with the list of things to get for a full weeks' worth of meals.
This 7 day – Breakfast, Lunch and Dinner worksheet makes putting meals together quick, fast and easy.
Food Journal Template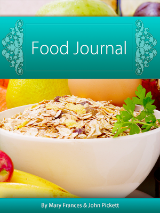 You've probably heard about keeping a Food Journal, but have you ever taken the time to actually keep one?
A Food Journal will help you spot patterns on how your body reacts to certain foods. so you can learn which foods help you feel great and which don't.
Food Journals are also a terrific way to keep you from falling in a food rut (eating the same things over and over and over) by showing you what you're eating and what you've been eating. Includes an example to follow so you can get started right away.
A Conclusive Review of Triumph Dining's Gluten-Free Restaurant Guide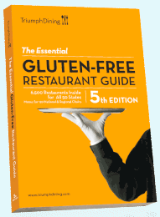 Our personal take on how the book shows you where and what to eat when dining out. Triumph Dining covers:
Over 6,500 delicious gluten-free restaurants
100 gluten-free lists from chains like P.F. Chang's, Panera, and Subway
Covers all 50 states in an easy-to-use state-by-state directory
Our best deal… The Gold Package. You'll Find Yourself Living Gluten Free Far Easier Than You Ever Thought
The Gluten Free Survival Guide's Gold Package includes all you see below…
plus these amazing additions!
Safe and Unsafe Ingredients
Every GF family needs to know which ingredients are safe to consume in their every day lives.
Print it out and take it with you on your trips to the grocery store. It'll save you time and stomach ache and that's a great thing.
Our Complete Meal Planner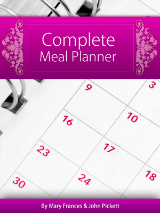 The super cheat sheet for Gluten-Free shopping. Select a recipe (all ingredients are included for each recipe), cross off ingredients you already have, mark the ones you need and off to the grocery store with menu and items together in one easy to read location. These sheets are simple to print off and carry with you.
It doesn't get much easier than this!
Straightforward Nutrition Checklist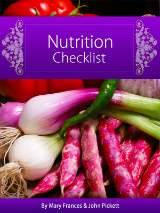 Eating Gluten-Free may leave you missing the vitamins and minerals you would get eating another way. This inclusive list of vitamins and minerals shows you the nutrient and which naturally gluten free foods you can eat to get these essential nutrients from. A quick and easy reference for you.
Audio Recording of
The Gluten Free Survival Guide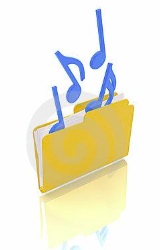 Listen in as Mary Frances reads through The GLUTEN FREE Survival Guide. It never hurts to have another way to learn.
Simply download to your computer, transfer to your MP3 player and you can take it with you! Listen in your car, at the beach or park, taking a walk… anywhere you can listen to your iPod or MP3 player.
No question, between our collection of The GLUTEN Free Survival Guide and the eight bonuses that have been created especially for you, The GLUTEN FREE Survival Guide will be a life-transforming experience for you.
What is this kind of advice worth?
It's hard to put a number on it, really.
After all, if you make the effort and follow this plan, it could easily be the difference between a "comfortable" life and a brilliant one … the difference between having to keep figuring out what you can eat (and finding out the hard way you shouldn't have) and having literally all your meals put together and ready to go.
What would you pay for that? Doctors charge tens of thousands of dollars for office visits and medicines — and people happily pay it.
But don't worry …
This comprehensive gluten-free program won't cost you near that much. Or even a fraction of it.
So what will you pay to own The GLUTEN FREE Survival Guide Silver Package, will all of these added bonuses:
The GLUTEN FREE Survival Guide
The Essential GLUTEN FREE Cookbook
The simple to use Meal Plan Worksheet
The Food Journal Template
The conclusive review of Triump Dining's "The Essential GLUTEN-FREE Restaurant Guide"
Amazingly, just $23 for everything.
However, if you'd like to bump your lifestyle up to the truly spectacular, then it's time to go for the GOLD!
The GLUTEN FREE Survival Guide GOLD Package – complete with Mary Frances and John's collection of:
The GLUTEN FREE Survival Guide
The Essential GLUTEN FREE Cookbook
The simple to use Meal Plan Worksheet
The Food Journal Template
The conclusive review of Triump Dining's "The Essential GLUTEN-FREE Restaurant Guide"
Safe & Unsafe Ingredients
Our Complete Meal Planner
Straightforward Nutrition Checklist
Audio Recording of The GLUTEN FREE Survival Guide
Amazingly, just $27 for everything in the GOLD Package.
Why such a fantastic value?
Well, we already told you how we think this is a natural "leg" in the journey we're on together … a way for you to parlay the new knowledge you're receiving (or soon will be receiving) into a brilliant lifestyle for yourself … so you can get back to enjoying those things you thought were out of your reach if that's what you want to do.
But also, the timing couldn't be better, given Mary Frances' newest mission in her life, which is to teach people the real and proven ways to get healthy with Gluten-Free.
Remember — as a gluten free individual, you have a very unique opportunity.
You can choose how much or how little of your time you want to dedicate to learning about removing gluten from your life.
You can focus on developing your new found culinary skills and keep learning more as your skills improve.
You can take on more difficult recipes and eat the foods you thought lost to you if you want to …
No matter how you look at it — you have control over how much you go gluten free and how much you add to your life.
But with a smart learning strategy, you truly can turn this guide into a personal reclaiming of the way you want to eat.
And this Guide is your blueprint for doing it.
Gold – $27
Silver – $23
Let me quickly recap everything you get with your GOLD package (when you decide on this incredible offer):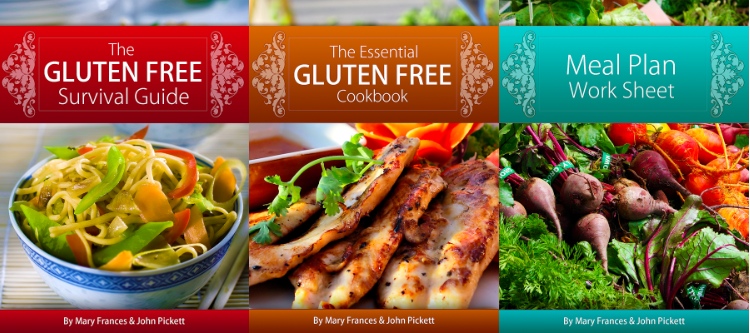 The Gluten Free Survival Guide, one source for gluten free living
A $99 value
The Essential GLUTEN FREE Cookbook, the tried and true equivalent of family favorites
A $37 Value
The simple to use Meal Plan Worksheet, make meal planning and shopping easier
A $29 Value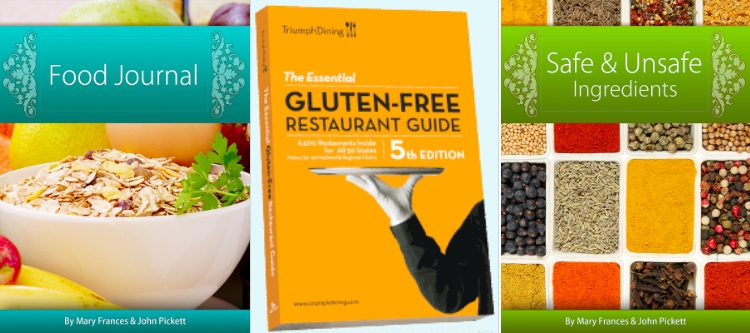 The Food Journal Template, a terrific way to keep you from falling in a rut
A $17 Value
The conclusive review of Triump Dining's "The Essential GLUTEN-FREE Restaurant Guide", our personal take on where and what to eat when dining out
A $47 Value
Safe & Unsafe Ingredients, which ingredients are safe to consume
A $27 Value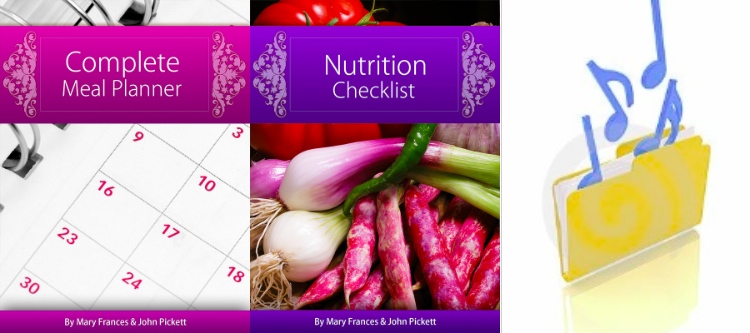 Our Complete Meal Planner, the super cheat sheet for Gluten-Free shopping
A $49 Value
Straightforward Nutrition Checklist, inclusive list of vitamins and minerals
A $17 Value
Audio Recording of The GLUTEN FREE Survival Guide, it never hurts to have another way to learn
A $27 Value
TOTAL VALUE: $349
That's 10 amazing resources that can transform your knowledge of what successful GLUTEN-FREE Cooking is all about and have a profound impact on your future health — a $349 value — all for just one payment of:
$23 for the SILVER PACKAGE
or… our best deal
$27 when you go for the GOLD
Your Satisfaction 100% GUARANTEED
Plus, if for any reason what-so-ever you're not absolutely thrilled with this exciting new program – even if you've had it and tried it for a full year – simply call us up and we'll give you a 100% REFUND – no questions asked.
Once your order is processed, you'll receive download access and instructions for The GLUTEN FREE Survival Guide including all bonuses you're to receive (depending on your choice of package).
We'll add your name to our newsletter so you're set you up as a subscriber and send you everything you're entitled to, including:
Our Top 10 Gluten Free Recipes… including a free week's menu plan
The most recent issues
And my Gluten Free Email Course, packed with powerful strategies, helpful advice, and great tips to help you go (and stay) gluten free
You'll get all the "how to and where" details concerning everything in a special welcome email from Mary Frances shortly after you make your purchase.
The important thing is that you take advantage of this offer now.
This is a super deal. Remember, The GLUTEN FREE Survival Guide, alone is a $99 value — and our collection of 8 bonuses could easily be sold as a series of seven "special reports" and and audio recording totaling $250. That alone puts the value of this offer at $349 …
But you get it all for a fraction of that price
Just

$27 for the Gold

or $23 for the Silver
Gold – $27
Silver – $23
Please don't delay.
Now's the time to make the decision to live gluten free… with happiness… feeling better… and healing your body. You owe it to yourself to give the Guide a try.
Order your SILVER or GOLD Package of The GLUTEN FREE Survival Guide today — and take a very large step towards living Gluten Free for life.
Sincerely,
Mary Frances and John Pickett
The Gluten Free Cooking School