Don't you sometimes wish that you could have a slice of cinnamon raisin bread for breakfast? Or a nice whole-grain bread with your Reuben sandwich? Or maybe you're still looking for a bread that is gluten free and yeast free?
You won't find all of those gluten free breads at the store (if you can find any gluten free bread there at all). And let's face it. Buying gluten free bread is an expensive endeavor, and it doesn't even taste all that good. What if you could bake all of these breads in your own kitchen and eat them while they are still hot? Wouldn't that be pretty awesome?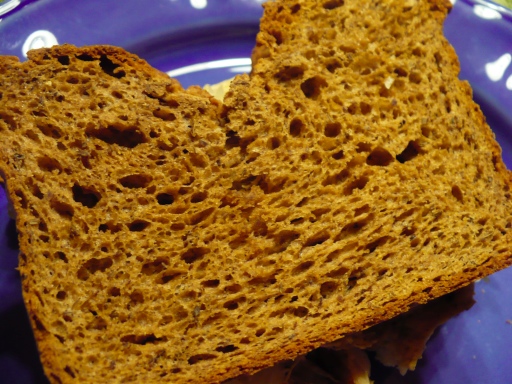 Whole Grain Gluten Free Bread!
"My husband, who is not a sweet eater, and my kids completely devoured half a loaf of the cinnamon bread this afternoon. They didn't even save me a slice! Thanks for making this family's tummies happy."
-- Cindy
The Bread That I Cook In My Own Home
I've taken my favorite gluten free sandwich bread recipe (which took over 3 years to perfect) and played with it until I developed 3 delicious new versions:
Brand New Recipes

Cinnamon Raisin Swirl – Perfect for Breakfasts and Afternoon Snacks
Whole Grain Bread – Hearty, Whole Grain, Brown Bread
Irish Cousin Bread- Gluten Free, Yeast Free Bread
Let me tell you, developing new gluten free bread recipes is not easy. I tried numerous versions of these recipes, spent hours doing research, and then still ended up having to create some new techniques to get these bread recipes to meet my high criteria.
In fact, I've decided not to share the recipes, by themselves, on the blog, because you really need to SEE these recipes being made.
Watch As I Show You How To Make The Bread
In addition to the 3 brand new recipes, I've included everything that you need to have to make sure that you get great results in your kitchen. First, I wrote two jam-packed articles that talk about the aspects of gluten free bread baking that you need to know for this class:
Gluten Free Whole Grain Breads - If you've been wanting to make healthier bread, but haven't been sure how to do the flour substitutions, or how to get the bread to "be" brown, this article will tell you how.
Gluten Free, Yeast Free Breads – Yeast free bread is a completely different beast than regular gluten free bread. If you've ever wondered why yeast free bread is always horribly heavy and dense, this article explains why. And it also explains how you can bake gluten free bread that is incredibly light and fluffy and perfect for sandwiches
Most importantly, the cooking class includes nearly 20 minutes of video where I walk you step-by-step through the techniques that you'll use to make these breads. You can see the exact ingredients I use, watch me mix it up, see the consistency of the dough, and gaze at the finished product!
Bread recipes are temperamental and it takes practice to learn what gluten free bread dough should look like. If you've not baked hundreds of loaves of gluten free bread, then it's hard to know if you're doing it right until 20 minutes after the loaf is out of the oven. But, by watching this video, you'll be able to see what the dough should look like and make adjustments accordingly so that you don't waste your ingredients.
Multiple Allergies? No Problem!
I know that many of you struggle with multiple food allergies. The recipes included with in Gluten Free Bread 201 were written with you in mind. Before you purchase the class, check the ingredients below to see if one or more of the recipes will work for you.
Recipe 1 – Gluten Free, Soy Free, Nut Free and Casein Free Substitutes provided

Recipe 2 – Gluten Free, Casein Free, Soy Free, and Nut Free

Recipe 3 – Gluten Free, Yeast Free, Soy Free, Nut Free, Casein Free

If these recipes use ingredients that you are allergic to you can still sign up for the course. I'll be happy to give you suggestions as to what substitutes you might want to try on your own.
Of course, every cooking class you buy is covered by our 60 Day Money Back Guarantee, so if you buy the course and find out it won't work for you, feel free to email me and get a refund.
Our 60 Day 100% Money Back Guarantee
Every cooking course that I offer has a 60-day money back guarantee. I'm confident that Gluten Free Bread 101 and 201 will answer your questions about baking delicious GF bread, because so many of my students have told me that they love the courses. But if you don't find them helpful, just email me and I'll refund your money.
No questions, no hassle. Just a quick and complete refund.
I sell these two courses together on the main website for $80, but I'm going to give my email subscribers a discount. You can get Gluten Free Bread 101 and Gluten Free Bread 201 for just $47 today. That's a total of 6 different recipes, 5 jam-packed how-to articles, and nearly 40 minutes of video showing you exactly how to make the bread.