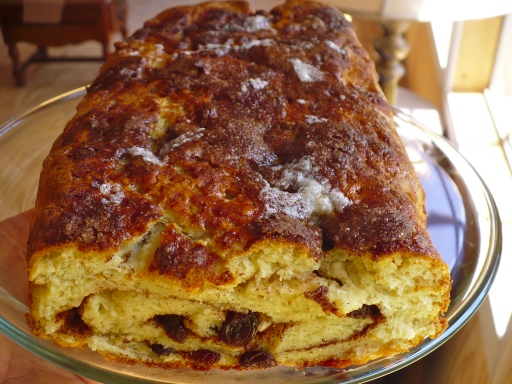 That's a loaf of
cinnamon raisin bread
that I pulled out of the oven not too long ago. I slathered some butter on the top, and then called my family into the kitchen to eat some. Our kids ate about half of the loaf in a just a few minutes, and John and I were responsible for several slices on our own!
I got such a great response to the recipes in my Gluten Free Bread: 101 class that I took the recipe and played around with it until I had three more variations of delicious gluten free bread. I put the new recipes, along with some new how-to articles and videos, into a brand new cooking class – Gluten Free Bread: 201. Since so many people have told me that they've loved GF Bread 101, I've decided to make both classes available to my email subscribers as a bundle.

3 New Recipes!

Delicious Cinnamon Raisin Bread – Great For Breakfast
Hearty Whole Grain Bread – Whole Grain and Gluten Free? Yes!
Irish Cousin Bread – Gluten and Yeast Free
I'm calling this class Gluten Free Bread: 201 because the recipes in here are a little trickier than the recipes in 101. To make sure that everyone who buys this class is able to enjoy all of the recipes, I've included two new how-to articles plus two new cooking demonstration videos. My students tell me that the videos are key – being able to watch the bread being made makes it so much easier to get the results you want in your own kitchen.
"When I peeked in the oven and saw how well the yeast-free bread had risen, I actually did a little dance. I've tried so many gluten-free, yeast-free recipes and they were all complete duds. I can't believe I'm actually eating bread again!"
-- Mary
No, thanks?
Not interested in getting both classes? Click here to get just Gluten Free Bread: 101 for $27.
Questions?
Readers often write me with questions about my bread cooking classes, wondering if the recipes will work for multiple allergies, how my cooking classes work, and stuff like that. If you have more questions, check out this page to find out more about Gluten Free Bread: 201.