Stop Being Stressed About Eating Gluten Free!

If I told you that eating gluten free can be easy, would it seem strange to hear the words "easy" and "gluten free" in the same sentence? What if I told you that not only can gluten free be easy, but actually enjoyable? Would you think I'm crazy?
I understand why you feel that way. Eating gluten free can be a huge source of stress in your life. It can be incredibly difficult, and it can turn your life upside down.
But it doesn't have to be.
The Gluten Free Survival Guide has everything you need to know about eating a gluten free diet – and how to stay sane in the process. You'll learn how easy it can be to eat gluten free, and you'll learn proven strategies to make sure you stay GF – without driving yourself crazy.
What Will You Learn From The Survival Guide?

The Gluten Free Basics

Remove All Gluten From Your Kitchen
Handle Your First GF Shopping Trip
Eating With Family and Friends
Staying GF When You Travel
Avoid "Eat Gluten or Go Hungry" Situations
Dining At Restaurants Safely

Enjoy Being Gluten Free At The Holidays
Taking Care Of Children Who Are GF
Make Sure Your GF Diet Is Healthy
The Gluten Free Essentials Cookbook
In addition to The Gluten Free Survival Guide, you'll also learn how to make all of your old favorite foods in
The Essential Gluten Free Cookbook
.
Pancakes, pizza, waffles, scones, bread, biscuits – it's all in here! In it, you'll find:
20+ easy recipes that your family will love
Over 30 delicious supper ideas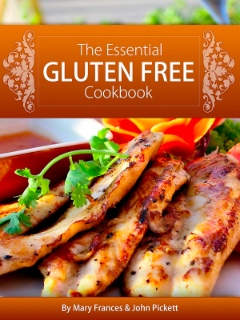 Time-Saving Bonuses!
On top of The Gluten Free Survival Guide and The Essential Gluten Free Cookbook, you'll also get these bonuses:

One Week of GF Meal Plans, complete with shopping list

Meal Planning Worksheet
Safe and Unsafe Ingredients List
Audio recording of the Survival Guide so you can listen on your iPod or in your car

And More!
These bonuses are designed to help you save time (and your sanity!) as you start on a gluten free diet. Many readers have told us the bonuses were worth the cost of the ebook by themselves!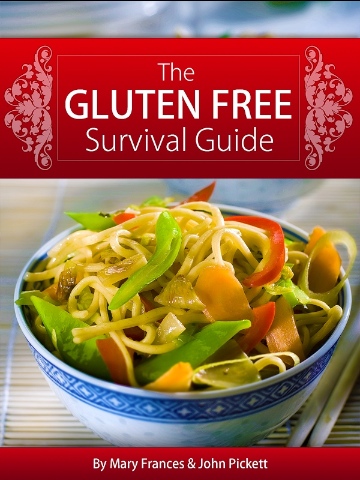 What Do Our Readers Think?
Two words – Love It!! :) Very helpful and useful, thanks for taking the time to write a book that is easy to use and has great ideas and tips!
– Kelly B.
The "Hidden Sources of Gluten" in your book has been so eye opening. I have thought I was eating gluten free but was eating hidden sources. No wonder I have no energy – so much for my taco seasoning and soy sauce! Thank you for sharing your wisdom and experience.
– Tracy C.
The Gluten Free Survival Guide was a great help to me as a newly diagnosed celiac. Thank you! Thank you!!
– Andrea B.
I purchased your Gluten Free Survival Guide ebook, and found so many helpful resources. The Safe and Unsafe Ingredient Lists were so helpful. The recipes look delicious and I look forward to trying them. Thank you!
– Jo H.
Gluten Free Survival Guide
– $27 Value! –
Get the knowledge and strategies you need to eat gluten free and reclaim your health
Essential GF Cookbook
– $19 Value! –
50+ recipes and meal ideas to make eating GF easy – and delicious!
Time-Saving Bonuses
– $17 Value! –
GF ingredient lists, meal-planning worksheets, and more!
– Sale Ends –
Tuesday, June 9th
Here's My Promise To You
If you apply the strategies in The Survival Guide to your diet, you'll find eating gluten free is easy, enjoyable, and even fun.
And most important, you'll feel great. No more stressing out about what to eat, your body will be able to heal, and you'll have more energy than ever!
So here's my promise to you: If you buy the Survival Guide and don't absolutely love it, you can return it for a full refund.