Now YOU can make better-than-boxed Gluten Free food, with a little help


Master new skills in your own kitchen

Learn the whys and the hows of gluten free cooking

Follow along with our step-by-step videos

Easy month-by-month payments



How Does The Cooking School Work?
With the monthly subscription plan, you get full access to a new class every month. You'll start out with our most popular class – Gluten Free Bread 101.
You get to watch me, Mary Frances, create delicious looking masterpieces in my kitchen – and then you'll do the same in yours! Be warned… when you watch the videos, you'll get hungry and probably wish you had some food for a nibble, especially when the bread comes out of the oven all hot and ready for butter. I recommend having some snacks on hand!
Each class includes in-depth articles, delicious recipes, printable recipes that you can add to your collection, and how-to videos that show you step-by-step exactly how to cook amazing gluten free food.
On top of that, you can work through each class at your own pace, and on your own time. You can take a class at 2 AM in your pajamas if you want to! (I'm not the only person who's ever gotten a late night craving for cinnamon rolls, am I?)
How Is It Different?
I'll take you through all of my recipes… step­-by-­step and ingredient-­by­-ingredient. We'll make sure you understand what you're doing and why you're doing it. That's the beauty of the Gluten Free Cooking School's classes! It's like having me right in your kitchen walking you through each recipe!
This is our BIG difference.
Unlike other Gluten Free recipes from a book or online, you get to actually see how it's put together. No more guessing. I've has actually figured out the why and shows you how. This is your key to successfully preparing these recipes in your own kitchen.
Is It Right For Me?
No matter what level you're at in your kitchen – ­ from the newbie to the advanced – ­ you can learn to create outstanding Gluten Free recipes. Just follow along with our classes and amaze yourself! Then pat yourself on the back for a job well done.
It's Flexible and Affordable

It's up to you how much time you devote to each class. You can follow right along with the lessons, or take your time and use all the class options to learn about the whys and hows of the recipes.

From Our Students…

My 11 year old daughter made her second loaf of GF bread this weekend.
She was so happy with the results!
The bread stayed moist all week, and it tasted so good. I am so grateful not to have to figure this out alone. Thank you for this great recipe! To quote my daughter, "it's so good, even my friends like it!"
— L. Meyers -­ Orlando, FL

"Just a note to say how much my family loves the gluten free sandwich bread (from Gluten Free Bread 101). I have had very good results in making this bread and I live at a high altitude. I use the scale to measure like you did in the class.
This bread is so easy to make
and my grandkids and family just rave about it."
— P. Hall ‐ Denver, CO
"I was not gifted with any cooking/baking abilities, and that is an understatement. I have tried half a dozen times to make gluten, egg free bread but every time it came out awful. Boat anchor would be a starting point.
After watching your video and seeing the consistency of your dough, it all started to make sense. The end result was bread that not only rose appropriately but also tasted awesome!
A 100% improvement on the bread I was buying before
(and cheaper than the $6 price tag)."
— J. Simmons – Panama City Beach, FL
"
I just wanted to tell you how successful I feel making bread
with your bread class. It was such a learning curve, but I feel very powerful now.
Wanted to tell you that I made hamburger buns by dropping the bread dough into oiled ramekins, rising and then baking for 15 – 20 minutes, then toasting the circles for a sturdier hamburger bun.
You made me feel normal again, eating bread and hamburgers. Thank you!
— A. Dawn – Terre Haute, IN

Monthly Subscription Plan

Start with GF Bread 101 – our most popular class!

Get full access to a new class every month

Only $24.99 per month – less than one meal eating out

Your First Class – Gluten Free Bread 101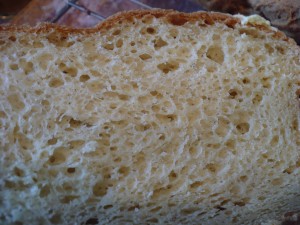 Your subscription will start off with a bang as you take our most popular cooking class and learn how to make amazing gluten free bread in your own kitchen! No more spending tons of money on store-bought loaves that are dry and not very tasty anyway.
And if you have additional allergies or intolerances besides just gluten, we've got you covered. Included in the course are recipes for corn-free and yeast-free versions of the GF bread plus even more substitution ideas!
What Else Is Included?
What else is included with your subscription? In addition to GF Bread 101, all of these classes are included as well. Read below for a full list.

Homemade Gluten Free Tortillas – Hot, homemade tortillas are a delicious, easy gluten free bread option. They're also delicious! Much more so than the tortillas that you buy at the store. In this class I'll show you how to make gluten free flour and corn tortillas.

Fresh, Hot Gluten Free Bagels: Bagels, hot out of the oven, may be one of the world's best breakfast foods. Make your own gluten free bagels at home (plain and cinnamon-raisin recipe included). If you've never had a freshly baked bagel, you will be amazed!

Gluten Free Pizza: Thin Crust to Deep Dish – This class covers a whole range of pizza, from St. Louis Thin-Style to Chicago Deep Dish. There are easy pizza crust recipe for the beginning baker, and difficult recipes for the gluten free baker that wants a new challenge.

Gluten Free Cakes 101: Having a good yellow and chocolate layer cake recipe is what makes a great cake baker. In this class you'll learn how to make delicious, moist cakes that no one will realize is gluten free.

A Gluten Free Thanksgiving: The Whole Meal: In this class I share all of my family's gluten free Thanksgiving recipes and a marathon video session of my cooking all of them! This class also includes a timeline to help you avoid the day before Thanksgiving cooking crunch.

A Gluten Free Christmas: Gingerbread House – Your favorite Christmas tradition can be continued in gluten free form. We'll go through every step of gingerbread house construction from cutting out the patterns, to baking the gingerbread, to putting it all together.

Gluten Free Bread 201: Easter Bread, Cinnamon Raisin Swirl, and Brown Bread – Building on what you learned in Gluten Free Bread 101, you'll learn how to make 3 different loaves of bread: Cinnmon-Raisin Swirl, Slovakian Easter Bread, and Brown Bread, for those times when you want a more "whole-grain" flavor. And last, but not least, I'll share my master formula for gluten free bread, so that you can make a perfect loaf with any GF flour mix.

The Best Gluten Free Waffles Ever! Crispy, crunchy, buttery waffles will be on your breakfast menu every week once you take this class. If you do not say "mmmmm….this is amazing" when you take a bite of the gluten free waffles you use now, then you definitely need to take this class.

Gluten Free Crepes – Learn to make delicious French crepes for a decadent gluten free brunch. Top the crepes with fresh fruit, syrups, or whipped cream. Or, for a savory breakfast, wrap the crepes around sausage and scrambled eggs.

Flaky & Fluffy Gluten Free Biscuits: Flaky biscuits fresh out of the oven are one of my favorite indulgences. Take this class to learn how to make gluten free biscuits from scratch.

Eggrolls and Empanadas – This class features two of my favorite ethnic dishes – eggrolls and empanadas. While they may not seem similar – they both start out with the same dough. In this class, I'll show you how to make the dough, roll it out, and the wrap and fry the eggrolls and empanadas.

Gluten Free Yeast Rolls : 6 Ways – Missing dinner rolls? In this class you start by learning to make a basic gluten free yeast roll. But we don't stop there. Once you've mastered the base recipe, I'll show you how to shape the dough (and in some cases, tweak the recipe) to make 5 other kinds of gluten free yeast rolls….including Hot Cross Buns!

Gluten Free Fried Chicken and Onion Rings – Every now and then I indulge in a good fry-up, and when I do I always make fried chicken (just like my grandmother taught me), fried onion rings, and fried okra. In this class, I teach you how to make all three of our fried favorites.

Cinnamon Rolls & Sticky Buns: Stop being tantalized by the smell of cinnamon rolls at the mall. Come home and bake your own. In this class, you'll learn how to make cinnamon rolls topped with a delicious cream-cheese icing, and sticky buns that are covered in hot, buttery, sugary goodness.

Subscribe Now!

Just $24.99 a month – less than a dollar a day!

60 Day Money Back Guarantee

Get started with your first class right away!


More Thrilled Students…
"I just wanted to tell you that I got brave and made your sandwich bread recipe.
Was I ever impressed!
I had been making bread from bread mixes, but never again! It was moist and did not crumble and makes wonderful BLT sandwiches."
— C. Costello – San Antonio, TX
"I just subscribed to your GF Cooking School.
I am very pleased with the first class on biscuits
…I had given up on ever enjoying the flaky, buttery goodness of biscuits with a hot bowl of stew and now I can! I like your format of video instructions and recipes. I am not a neophyte to GF cooking/baking, but I still need a little hand-holding from someone who has taken the time to research and experiment. Thank you.
— L. Nelson – Macon, GA
Thanks for all you do for all of us who must eat gluten free!
Your videos are amazing. Your recipes are for real people in the real world.
You don't include 12 exotic ingredients the average person does not have in their pantry, beyond the necessary gluten free ingredients. The cinnamon rolls alone are worth the price of the course!
— C. Morninweg – Pittsburgh, PA


We just made 2 loaves of your bread, the GF sandwich bread and the corn free bread.
Both turned out marvelous!
We will be very busy baking every weekend from now on!
— V. Birgy – Springfield, MA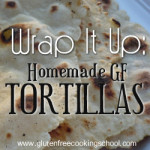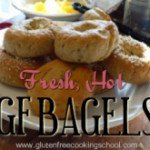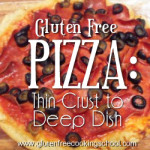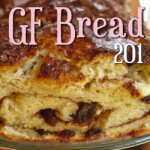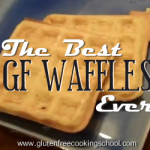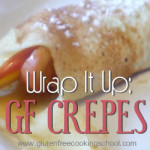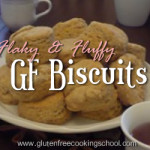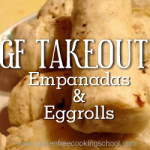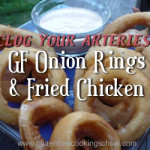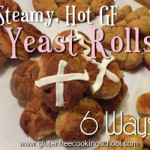 Join 300 People In July As We Make

The Best Gluten Free Bread Ever!

$25 To Stock Your Gluten Free Kitchen

Win A Prize Every Month

Start With Our #1 Most Popular Class

All 15 Classes – Updated and Expanded



We've been working hard on the Cooking School for the past few months, and we've been focused on making cooking gluten free food fun, easy, and as simple as possible. After all, the food that you're going to be eating is delicious, so making the food should be just as enjoyable!
$25 Amazon Gift Card

A big roadblock for a lot of people when they learn to cook gluten free is buying ingredients and equipment. The sheer variety of options out there can be very overwhelming. Is this scale better than that one? Do you really need an oven thermometer? And what about gluten free flours?
We're going to make it simple for you. We'll provide you with specific product recommendations so you can get started cooking that much quicker. And what's more, we're going to send you an Amazon gift card equal to your first month's payment, so you can apply that money towards whatever you need to get started in the first class.
Yes, that's right. We're going to send you your first month's payment back in an Amazon gift card that you can spend on anything, along with specific suggestions of products that we recommend you buy to make your first cooking class even easier.
Monthly Contests and Prizes

To make things even more fun, we're going to hold monthly contests based on the current cooking class that you're learning from. To enter all you have to do is work your way through the course, cook the food, and send in a written or video testimonial of your experience.
So in July, you'll be learning to cook gluten free bread. When you've baked an amazing loaf of bread in your own kitchen, take some photos or film a quick video, and send it in to us to let us know how it went! We'll share your experience with others to let them know how they can learn to cook great gluten free food as well.
Each month we'll also pick the best testimonial and send the winner a prize that will help with the next month's class! In July, the prize is a tortilla press that will help you in the next class – making amazing gluten free tortillas
Our Most Popular Class First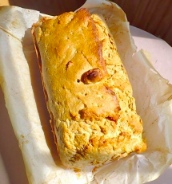 Having run the Cooking School for a year now, one thing has definitely become clear. Gluten free bread is the food that people most urgently want to learn to bake at home.

So now you get to take that class first! Start things off with a bang and make some yummy GF bread in your own kitchen right now! You won't believe how good the bread that came out of your own oven can taste!

New Updates Make It Simple

To make our classes easier and even more simple, we've broken each course up into separate Sessions – along with a time estimate of each one. So now you can take a quick glance at the start of each class, and know how much time you'll need to pencil in on your calendar to work all the way through the course.
We've also included easy-to-read ingredient and equipment lists, so you can go ahead and add items you need to grab to your shopping list.
New (and Easier) Payment Options

If you're one of the dozens of people who have contacted us in the last year about a different way to pay for the subscription, then you're in luck. We've added some new payment options so now you don't have to have a Paypal account. You can now easily pay with a credit or debit card – no Paypal required!