Welcome to the Gluten Free Bagel Cooking Class! Bagels are one of the most unique cooking experiences that you'll ever have. Have you ever boiled bread before? You will in this class!
Goal:
Your goal for this class is to make one batch of awesome GF bagels using either of our recipes. (And then eat them.)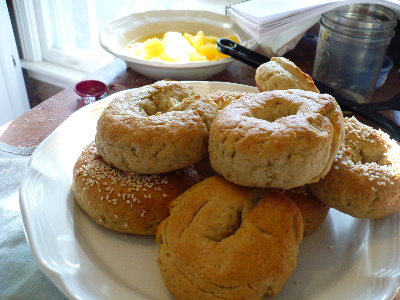 What To Expect:
Expect to be amazed and have fun! Making bagels is a mix of kindergarten play dough time and highschool chemistry experiments. Even though I've made bagels plenty of times, I'm always amazed at the change they undergo during the boiling process. The skills that you'll be working on in this class are:
#1 Dough handling skills: During the tortilla class we practice making dough balls. In the bagel class, we're going to make a circle of dough with a hole i the middle. There are a couple of ways to do this, so you'll get to play around with it and see which method you like best. My kids are particularly fond of swinging the bagel around on the wooden spoon handle!
#2 Cooking Chemistry: Don't worry, this is not going to get very intense. However, we are going to use chemical to change the color of our finished bagel and get a quick look at how small changes in the recipe can have a big impact.
Session 1: Approx 20 minutes
Start by reading this article on the ingredients, substitution suggestions and the how-tos of making gluten free bagels:
How to Make Homemade Gluten Free Bagels
Here's a second article about How To Make Bagels with a Smooth Surface
Then watch the video on making bagels: Bagel Video
Now choose one of the recipes to shop for and cook in the next session.
#2 Cinnamon Raisin Bagel Recipe
Gluten Free Bagel Recipes in grams – Printable
Gluten Free Bagel Recipes in cups – Printable
Session 2: Making the Bagels (approx 2 hours)
Making homemade bagels takes a while, but it's completely worth it. You'll need to allow a minimum of 2 hours for this project – 30 minutes for making the dough and forming the bagels – 30 minutes for rising – 30 minutes for boiling and 30 minuted for baking.
If your family gets riled when hungry and you're making these for breakfast, then you may want to get an early start! I don't like to get an early start, so I fend off the restless natives with bananas, peanut butter and cartoons, and serve the bagels for a late brunch.
Bonus Article: You can have a lot of fun with bagel toppings. Here's a bonus article to spur your imagination. This is not required reading for the class; it's just for fun!Ideas for Bagel Toppings