It's hard to top a hot sub-style sandwich, if you want to make a meal that will really please someone on a gluten free diet. Luckily, it's pretty easy to make sub-style bread using your usual sandwich bread dough. Here's how I do it.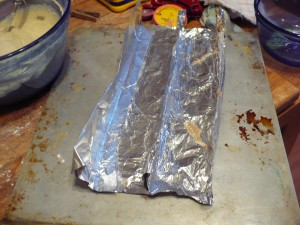 1. Start by making a mold for your roll. I used 12″ aluminum foil and made a 2 loaf mold. Place the mold on a flat baking sheet.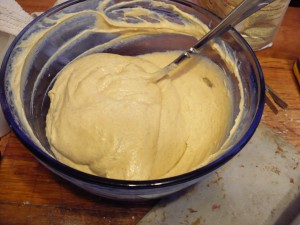 2. Prepare a recipe of your favorite bread dough. I used my Finally Really Good Sandwich Bread recipe, but any dough that is at least as thick as cake batter should work.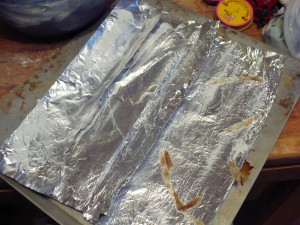 3. Grease the mold with butter, shortening, or a gluten free non-stick spray.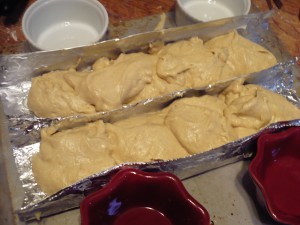 4. Place small oven-safe dishes on each side of the mold to hold the sides up. Scoop the bread dough into the molds. I did four large scoops on each side.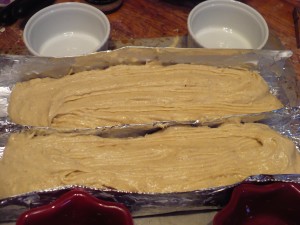 5. Smooth the dough out with the back of a spoon and then sprinkle with a topping, like sesame seeds, if you desire.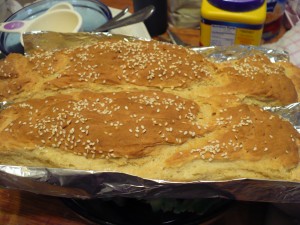 6. Let the bread rise in a warm place until it reaches the tops of the molds. Then bake according to the recipe instructions for the bread dough that you used. Note that the cooking time will probably be less since these are basically half-size loaves.
I put my bread into a 170 degree F oven to rise, and then baked at 375 degrees until the tops were a deep brown color and the bread sounded hollow when I tapped on it.
Remove the foil mold as soon as you're able and let the bread cool on a rack. This prevents the bread from becoming soggy on the sides and bottom.