100+ Testimonials for the Gluten Free Survival Guide
Two words – Love It!!
Very helpful and useful, thanks for taking the time to write a book that is easy to use and has great ideas and tips!
– Kelly B.


The "Hidden Sources of Gluten" in your book has been so eye opening. I have thought I was eating gluten free but was eating hidden sources. No wonder I have no energy – so much for my taco seasoning and soy sauce! Thank you for sharing your wisdom and experience.
– Tracy C.
I bought your eBook a few days ago and spent quite a while slowly taking in all of the information. A few weeks ago, I was diagnosed with non-celiac gluten allergy, and so I had the experience of eating pizza one day and the very next facing a gluten-free future. It was terrifying.
Your book provides so many different pieces of the puzzle for me from your strategy of Learn, Plan, Act, Talk, to talking about how to make your home GF and the plan for how to enact that, as well as the Safe and Unsafe food lists. Your recipes look easy and good, and I'm looking forward to giving them a try.
All of your personal tips and hints are extremely beneficial, especially the pieces discussing how to manage your life at work, at family homes, on trips, etc. while being conscientious about a GF lifestyle. There is just SO MUCH to digest in your book; I know I have not yet been able to process it all. But I'm grateful to have the ebook waiting for me, whenever I'm ready to tackle the next step. Blessings to you.
– Lana W.

The Gluten Free Survival Guide was a great help to me as a newly diagnosed celiac. Thank you! Thank you!!
– Andrea B.
I have the Gluten Free Survival Guide and I periodically go back and read sections again. It contains so much wonderful information that each time, I learn something new! We started eating gluten free for my boys, who have ADHD, and have seen an improvement in their symptoms.
I also discovered that when I cheat and eat gluten, my GI system doesn't like it so I don't often cheat anymore. I never would have realized this if we hadn't tried the diet for our kids. Thanks for making the transition to eating gluten free easier and less stressful.
– Peg H.
Thanks for the Gluten Free Survival Guide. Because of it, I know I have a friend to help out with making things easier and to me that is worth quite a bit. Thanks for being there for all of us.
– Al K.
When I first found out I have a gluten intolerance, I was devastated. Reading the survival guide gave me permission to grieve the loss of my favorite things and helped me find find delicious substitutions for them! Many of which I can make right at home. Thank you!
– Jessica H.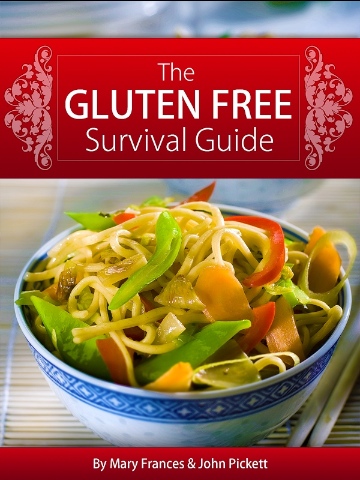 Since I have been following Mary Frances' emails, I decided to try going without grains 6 days a week (I decided to try it after her email about veggies). So far I feel tons better, more energy, brain fog gone! And I have lost 8lbs!!! I look forward to getting my email updates and trying new foods or cooking food in a new way!
– Sherry M.
Last year, after reading a few of your blogs and the comments your readers posted helped me decide to go gluten free. Still later, I decided to give up all grains, dairy and most carbohydrates, as well as gluten. It has been tough, especially with self-pity and the thoughts of never being able to share in a birthday cake celebration, or eat a lemon square, etc. But I've begun my new diet, with a cup of steamed and 2 cups of salad-type vegetables and so far, I've lost weight every day that I've been on it and my body is not wracked with near as much pain as I was experiencing.
Now, I notice that when I eat grains, or off my very low carbohydrate diet, that my heart goes into fibrillation and I feel horrible. Who could have ever thought that my extreme obesity and inability to lose weight on most every diet around was as simple as food intolerances? I have hope again for a normal body size and more active life without so much pain and foggy-brained days. Since I have to be more severe with my diet than just eliminating gluten, I cannot use most of your recipes and advice, but thank you for your help and that of your readers who posted their experiences that helped me throw my fear to the wind and start down this life-style changing path to vivacious health.
– Joan B.
Yes, my whole family went gluten free about 3 months ago. What a difference in how we all feel. Less stomach issues, sinus troubles, and much more. We are also casein free too. I've slipped up a few times by having bread and I sure did pay the price. It's just not worth it to me anymore. I thank you for the great book that helped me along the way.
– Kelly
I am the grandmother of a 5 year precious little girl who is not only diabetic, but also has celiac disease. Her parents are divorced, which may have precipitated one or both of these diseases. Food has become a major issue. She has two other siblings who do not have her dietary restrictions, so making appealing meals for all is quite a challenge. Your assistance has been greatly appreciated.
– Vicki C.
Quite honestly I have to tell you that going gluten free is a very scary to me. I am one of those people who actually believe that the pain and discomfort is probably worth the opportunity to eat some great fresh bread or stuffing with my turkey. I unfortunately have being following this gluten on, gluten off lifestyle for the past little while and have finally reached a point where I really believe I need to figure out how to make this gluten free lifestyle a way of life. It is for this reason I bought your book.
Thank you for making this scary process such a straight-foward process. I look forward to being able to write back and tell you just how wonderful I am doing. It may be a while, but i plan to make it a reality. Wish me luck, here I go!
– Caroline C.
Thank you for the Survival Guide!
– Katie N.
I use the safe and unsafe lists all the time!
– Cindy P.
After 12 weeks on our gluten free diet, our G.I. performed the TTA test and it came back negative! Yeah, no gluten here!!!
– Rick C.
I purchased your Gluten Free Survival Guide ebook, and found so many helpful resources. The Safe and Unsafe Ingredient Lists were so helpful. The recipes look delicious and I look forward to trying them. Thank you!
– Jo H.
I bought your ebook and have found it very helpful. I was just diagnosed with celiac about a month ago, so you've definitely helped me learn much about this new lifestyle I am living and given me some great recipes and great information that's helped make this transition easier. Very much appreciated! Thank you!
– Christine Coleman
I love your recipes! I use the sandwich bread recipe every week, and I use your flour combo frequently. I love your cabbage rolls too. Thanks for your work.
– Robert B.
Thank you so much! You have helped me so much. I love to cook and bake, and learning to do all of this g-free (as you know) can be very daunting! Thank you for helping all of us make this transition! You are awesome! Have a blessed day!
– Lisa Bowden
Yes, we (my wife and I) love your Gluten Free Survival Guide ebook. She looks forward daily for your materials. Thank you and GOD Bless you and all your loved ones.
– John J.
I love the Gluten Free Survival Guide! It made this new life manageable. Thank you!
– Chandra M.
Finding your site and getting this survival guide has changed my world!! I've battled the adventure of creating yummy gluten free foods, but now there are so many options I can't believe it!! I love to eat again!! THANK YOU!
– Carla R.
Your Gluten Free Survival Guide has been invaluable. Not only have several of your recipes become my "go to" recipes, it also helped me get through my wedding reception without a gluten related incident. I printed out the safe and unsafe ingredient lists and gave them to my caterer so we could have an entire wedding reception (for 100 people) that was gluten free. Thanks for for the great resource.
– Kara P.
I just started your survival guide and am so excited! I have been gluten free for a few years but I know I'll still benefit from your guide. Thanks!
– Linda O.
It's great having this book, just to know I am not alone in this gluten free world of mine. Thanks.
– Claudia C.
This book was so helpful! Not only did it give me the tools to be gluten free, it provided knowledge and science behind gluten and wheat allergies. Thank you for starting such an amazing website and for writing the ebook!
– Bri H.
I was diagnosed with gluten allergy in April 2011 followed by a DNA test that was positive for Celiac Disease. The first info I bought was the Gluten Free Survival Guide. I can't say it has been easy as I did not cook previously. But I am learning. And I follow Mary Frances' blog which has helped so very much. The information about cross sensitivity to other things like corn helped me to refine my diet and figure out why my symptoms increases instead of getting better without gluten in my diet.
I am totally overwhelmed with going gluten free, but I have found your book so helpful. I am hoping as time goes it will become easier.
– Amy B.
I really appreciate your down to Earth approach to staying gluten free! I have referred to the ebook numerous time. I have listened to the audiobook several times, especially when I get a little tired of of the extra effort it takes to stay GF. Thanks for everything you do!
– Carrie T.
I love the GF Survival Guide! I was just going GF when I got it, and it helped tremendously. I have now lost at least 10 pounds, and I feel amazing! Thank you for for writing your book!
– Ashley D.
I love the recipes in the book. They have really helped me stay gluten free! Thanks!
– Shannon D.
I think you have a top website, and your book was an inspiration.
– Kiara H.
I use the Gluten Free Survival Guide almost every day. The waffle recipe is our favorite for breakfast. Your's was the first website I found after being diagnosed as gluten intolerant, and it made me feel like I could do this just fine. Thank you.
– Barbara M.
I am fairly new to gluten-free cooking. This week I made my first attempt at baking my own bread using your bread recipe. My house smelled terrific and the bread turned out great! It is soft and moist =) I can now enjoy a sandwich once again!. Thank you so much.
– Deb G.
I have not finished reading the whole book but what I have read has been great. My daughter and I are both newly gluten free and it is helping me tons! Thanks!!
– Kristin S.
I really LOVE your All-pourpose flour mix from the Essential Gluten Free Cookbook! I thought it might taste too "corn-y" from the masa and I was a bit skeptical. I now have 2 giant tubs of your mix and use it regularly. I am transitioning away from bean flours like soy and garbanzo and I like all of the alternatives you offer. Keep up the great work. I like your writing style too! Thanks again!
– Fi P.
I purchased your Survival Guide several months ago, and it was money well spent. You have provided a wealth of valuable information for anyone wanting to eliminate gluten from their diet and still eat well. I especially love the fact that your information is based on your personal experiences, has been thoroughly tested by you and your family, and will work for anyone. Your recipes are well written, easy to follow, and taste great! In short, your Survival Guide has been a god-send.
– Lori N.
Thank you for this book.
– Linda R.
Recently, after my son was diagnosed as gluten intolerant, our family took the challenge to become gluten free. Since we always have a hot breakfast of pancakes, waffles or French toast, I knew that breakfast was going to be my biggest challenge. Thanks to your survival guide, the task has not been so daunting. You have spelled everything out in a very personal, straightforward way in your Survival Guide. Now I have the GF flour mix on hand and can continue our tradition of pancakes and waffles in the mornings. The Essential Cookbook is ESSENTIAL.
Thanks so much for passing along all of your hard work to make my life a little easier!
– Laurie V.
Thanks for the Gluten Free Survival Guide. It is full of great info and tools to keep me going on this Gluten Free mission! Thanks for such great resources!
– Michele G.
The Gluten Free Survival Guide is awesome! It has allowed me to cook gluten free meals — even holiday feasts — that even the gluten eaters enjoyed. I highly recommend it!
– Celeste R.
Living Gluten Free has been so much easier since I started using the Survival Guide. I was floundering trying to determine what was gluten free and how to cook a decent gluten free meal. The recipes and shopping ideas have been a life saver! Thank you thank you!
– Dawn F.
Since being diagnosed as gluten intolerant, I was having trouble planning meals. I didn't know what was safe and what wasn't. The Gluten Free Survival Guide helped me to understand what gluten was and how it affected my health.
– Jennifer C.
Just the thought of a gluten free diet scared me because everyone talks about how hard it is. The Survival Guide saved me. With the Guide I had the appropriate resources to plan and start on the right foot. It really hasn't been that hard and I like the food. Thanks for the information and resources.
– Karen G.
We were new to a gluten free diet this when I ordered the Survival Guide. It has been extremely helpful in dealing with our children's food issues. Thanks, Mary Frances – you are a God send!
– Nikky A.
I am excited to be learning from your ebook. I have foster kids that have gluten and wheat allergies and your Guide is helping me to learn how to take better care of them all. We also love vegetables and are chomping at the bit to get our garden going….. Thanks for all your fabulous ideas.
– Mimi T
I bought your GF Survival Guide and was amazed and excited by the wealth of information. It has been so much help to me! I still get overwhelmed at times, but with your help I am gradually figuring out that a GF lifestyle is not as hard as I thought it would be.
– Marianne K.
I love the Gluten Free Survival Guide. I bought it at least 6 months ago. Much of what you write I have learned slowly over 10+ years of going gluten-free but your Survival Guide puts everything together in one easy-to-find format. Thank you.
– Theresa D.
Just some quick feedback on your fantastic book…. You have helped my focus when I was floundering on a dimly lit path. I've listened to the MP3 player version of your Survival Guide and ventured on a weekend get-away fully prepared with no stress about what and when to eat GF.
Thank you for taking the journey many steps ahead of the rest of us. I am passing on some helpful hints here and there to others as they are on the same path and directing them to your website for the best common sense approach out there. Hugs

– Ilene G.
Both my mom and daughter are gluten intolerant so I purchased the Survival Guide. Thank you for all the information that you have put into it. They both use it every day. Thanks again.
– Sharon D.
I love that right off in reading the Survival Guide you make me realize I am not alone, and that giving up gluten is not the end of the world.
– Kelly T.
I can only start by saying you helped me in so many ways. I was having some stomach issues last year, so I decided to look into it. I have had some major problems through the years and thought it was time to learn what I could do to help myself.
I looked on the Web and your name popped up, it was the first time I have ever read or heard about Gluten and Celiac Disease. It was my light bulb moment.
I found out that I don't have Celiac, that I am the unlucky winner of not 1 but 2 Colon Diseases, put that with all my others like Gerd, Acid Reflux, IBS well I think you get the idea, anyway just wanted to let you know that you were the one that put a light at the end of the tunnel for me…..Thank you so very much (I know my husband would like to thank you too) for helping me thru my dark days.
Always reading what you send
– Levena T.
When my daughter (10 yrs) and I realized we needed to go Gluten Free we had no idea what it was all about. I searched the website one night and came across your ebook. I am so glad I did.
The information was easy to understand and gave us a great knowledge of what it means to be gluten free. Your recipes are awesome too! My daughter especially loves your pizza crust and tortilla recipes.
I refer back to your ebook quite often when I'm not sure about something. It is a great resource to refer to and keep at hand all times. I've refered you to many of my friends new to Gluten Free. Thanks!
– Cheryl S.
Loved the book! Really explained everything and calmed me after I was diagnosed with Celiac. I am now able to make informed choices and am no longer intimidated by the grocery store! Plus my entire family loves the recipes.
– Janessa S
I purchased the Gluten Free Survival Guide about a year and a half ago. It has been tremendously helpful to me in planning meals, knowing how to deal with restaurants, traveling, etc.
I was successful in maintaining a gluten free diet for well over a year, up until I moved overseas. At that point, it became very difficult to maintain it until I learned how to navigate my new culture. The symptoms soon became unbearable, so after I got settled, I picked up my survival guide and started back on my gluten free journey.
I am so thankful for this resource and for you newsletter/emails! My favorite part of the guide is the recipes, and I use them constantly. A couple of months ago, I started my children on an allergen elimination diet to see if there were any foods that were exacerbating their skin conditions. Your recipes were essential in our survival of that difficult time.
Thank you for all you do to help us!! Blessings
– Amy N
I enjoyed the book…lots of helpful tips and what to really look for when shopping. Thanks for the tips on when eating out for that has definitely been a struggle…few choices- salad, salad or salad. I am the only one in my family who has to eat gluten free-thank goodness for my family would starve- for they never try anything new. I am actually finding that the gluten free items I have purchased are actually quite tasty. But am looking forward to trying some recipes of yours. Thanks!
– Lynn E
I purchased the book today and have only had time to skim it. From what I can tell, it is really going to be a big help. Just diagnosed with CD almost 2 months ago and am struggling! Can't wait to go through it this weekend. Thanks for the help.
– Lisa H.
I just wanted to let you know how much I appreciate the time, effort and information you put into your Gluten Free Survival Guide. It was the first gluten free informational resource I purchased after I was diagnosed with Hashimoto's autoimmune disease and realized that gluten was one many culprits causing ongoing problems.
The good and bad ingredients lists are the most wonderful gift. It was and has been a great resource to start with and helped me understand the importance of verifying whether a product contained or might be contaminated by gluten.
I continue to use it and share information with others when I find myself at a loss for explaining what 'gluten free' represents to those of us who must be gluten free compared to those who choose to be gluten free. Thank you for your continued website and resources.
– Terri B.
Your book helped me a lot when I first found out I was gluten-intolerant. You helped me figure out where to start and that was a huge step. Yours was the most comprehensive e-book for the novice gluten-free eater and I am most appreciative. – Sandra
I bought the survival guide and love it! It has helped me find ways to cook food that I can eat without having to really think about it. Thank you for all the work you put into creating this guide.
– Dana B.
I've read the book and am going to ask my doctor if she feels that with Multiple Sclerosis, I should try this out. I'm looking forward to trying other recipes besides the bread, which we enjoyed very much.
– Marcia
I was diagnosed with gluten intolerance a few days before a vacation trip. Panic time. I purchased your guide and read all I could before we left. As we traveled down the road I continued to read. Your book was a blessing to me. I was able to plan for our trip; on the road, at motels and at my son's house.
I packed chicken breasts, boiled eggs and veggies (and my favorite raw almonds and pecans) in an ice chest for on the road travel. My husband joined me in the program with an occasional "treat" for him. With advice from your book, I was able to enjoy the trip and eat the way I was supposed to. I'm continuing to learn and have tried some of the recipes.
My doctor wants me off ALL grains for a few weeks. As soon as I can eat the non-gluten baked goods, I have several recipes ready to try. Thank you for your comprehensive lists and great "survival" tips.
– Sherian C.
Mary, I can't thank you enough for the survival guide. It has made for an easy transition to the gluten free lifestyle. I had immediate effects when eliminating gluten from my diet. I know have more energy. I am also more upbeat, and stomach issues are completely gone. It has made an amazing impact on my cycling. No more stomach cramps, and longer distances are much easier.
– Chad B.
Gluten Free Survival Guide is awesome. I enjoy reading it whenever I need a motivational reminder to stay the course.
– Chika K.
I just downloaded this today and am already loving it! I'm on Ch.5 and I love how you have your book laid out, taking me thru step by step what to expect

Thank-you!
– Jo-Al J.
The survival guide is very helpful. Especially when trying to figure out what is available. Helps keep to stay out of a rut when it comes to meal planning.
– Judy S.
Gluten free has been much easier with the survival guide. I went to the doctor one day and I was told I was fine. The next day I was told to go gluten free. So, without you…I would have been LOST! Thanks!! LOTS OF LOVE!!
– Kristina G.
I purchased the 'Complete Gluten Free Survival Guide' latter part of last year. I really like the section which outlines the Safe Ingredient List and the Unsafe Ingredient List. Also the chapters on how to eat with friends and family as well as eating in restaurants are really helpful. Thanks again for gathering all this information and incorporating it into the Gluten Free Survival Guide ebook. It makes life more bearable.
– Ivi S.
I have been eating gluten-free since January and quickly realized that my first challenge was my husband's birthday on the 26th. Thankfully, I found your website and purchased the Survival Guide and discovered the secret to a homemade gluten-free cake – xanthan gum. I made a carrot cake substituting gluten-free flour and xanthan gum. My husband and daughter loved the cake. It disappeared as quickly as my previous carrot cakes.
I appreciate your advice on eating gluten-free on the road. This is where I struggle the most. Not just avoiding wheat/gluten in restaurants but explaining to my friends and family the hidden sources of wheat/gluten. Your suggestions have been very helpful for me. Thanks
– Deanne J.
I just purchased the Gluten Free Survival Guide today and all I can say is THANK YOU!!! I have been struggling to provide gluten free meals for my family for several months now. I was thrilled to see that you listed things to avoid as well as your safe/unsafe list that I can take to the grocery store. I also signed up for your gluten free email course. I can't wait to try out your recipes! Thanks again!
– Sandy N.
Awesome book! I found lots of helpful ideas and appreciate all the hard work you put into this book. I know many have benefitted from your experience and will continue to do so. I don't have Celiac but decided because of allergy issues to try gluten free to see if anything would change. I've decided it's been a good change and I'm sticking with it! Thanks for all your help!
– Beth B.
I bought your Gluten Free Survival Guide ebook a few months ago. I became aware of my gluten intolerance and searched the internet for information. I found your website and bought the ebook.
I was very encouraged by your book. It is nice to know that there are others who are going through this journey. You helped me to know what I can and cannot eat. I appreciate all the information and the recipes. I have successfully made bread and a few others. I try to eat low carb, so I don't really do much baking.
We have since determined that my 19 year old daughter is gluten intolerant. I have been able to help her understand it and manage her diet by using the information provided in your Survival Guide.
Thank you for writing and sharing your ebook. I have enjoyed it and the other things on your website. Thank you.
– Donna S.
Thank you so much for this awesome book. I am newly diagnosed with celiac's disease within the last 8 months. I have been trying to learn how to live a gluten free lifestyle. It has been so hard with all the conflicting information out there. I so appreciate your book in being able to answer my questions & send me in the right direction. Your book is a lifesaver!
– Jenny Y.
Hello Mary, I have had your ebook since 2 Thanksgivings ago. I printed it out & my binder is my GF Bible. I have been GF for 4 years now, it would be much longer had I figured out what was making me so sick everyday. Before I got your ebook, I simply felt deprived of the things I couldn't have, because I never liked the taste of the ready made flour mixes.
My kitchen has been back to "normal" since I discovered your basic flour mixture. I always have large canisters of it mixed & on hand. I never feel deprived anymore, especially now that I can make a great pizza. I have written in the past, as I also discovered that I feel much better by keeping all grains to a minimum. I really enjoy your emails & love to hear about your families adventures!
– Linda N.
I just purchased your book and I can't wait to dig into it. I quess I am still little bit of a newbie. I was diagnosed about 2 years ago. I am still struggling with it and my willpower needs to improve! Thanks so much
– Ann N.
I am fascinated with this gluten free movement. I'm very much enjoying the survival guide, and all the info it is has to offer. I'm currently compiling a list of my favorite items, and where they've been purchased from. It's taking a little more time when shopping, but well worth it. My stomach cramping and bloating has reduced significantly…..more good things to come! Thank you for your work!
– June
When change hits and it's scary because you don't know where to start, it is just the greatest benefit to find a trailblazer to follow! When I got a diagnosis of gluten intolerance the first thing that came to mind is: "oh no! I eat a sandwich every day!" Then: "my breadmaker!"
When I did peel off the ceiling of doom and gloom I found some very basic gluten free items at the grocery store. I tried every pizza crust and loaf of bread out there. Pasta wasn't an issue and the boxes I purchased still sit on the shelf, but bread? No! there has to be a good bread. Those were very narrow thinking days.
Somewhere in those days I did purchase the Gluten Free Survival Guide ebook and expanded my horizons to see that so much more is there for the exploring. I'm also thankful to you for the generous number of recipes that you post for free on your web site.
I applied the Learn/Plan/Act/Talk part of the book and while I cook for a gluten capable husband, I don't have any emergencies [fear of going hungry]. Also while I do not need to be as stringent as getting rid of wooden spoons that come in contact with gluten etc., I keep learning and applying so that eventually all this will be second nature to me.
I still need more blood tests to see if I am accomplishing health with the changes I have made. Your book is still a reference guide for me and my review is 5 stars. The story of how you began your own journey, the humor of being 'real' with friends and family and the practical planning/steps make it a readable usable resource. Thanks!
– Joanne R.
Just wanted to say this guide book has helped me a lot in my journey with going gluten free! I can now enjoy food I thought I could never have again.
– Sharis S.
I have mostly used the lists to avoid gluten in products!! Thanks for those. We have been mostly eating raw fruit and veggies but may be ready to swing back to more "normal" eating. Your help is great!!!
– Ruth
Just been diagnosed in the last two months to eat gluten free for joint issues. Slowly learning how to go gluten free. Thanks for all you do to help with gluten free cooking.
– Debbie P.
I have already purchased the Gluten Free Survival Kit and have found it to be more beneficial than anything I have tried in the health improvement area. Your emails are wonderful, your recipes test proven, and I can count on your critiques. I mixed up my own gluten free flour according to your recipe and I use it for everything now. Thanks for your knowledge and expertise. A gluten free convert!
– Barbara K.
I just purchased the Survival Guide yesterday. No one in my family has to eat gluten free, but, I am currently a culinary student, planning to open a personal chef service when I graduate. Undoubtedly, there will be a need for gluten free cooking for potential clients, so this guide will be very helpful when shopping and cooking for them. I also have two good friends that must eat gluten free, one with celiacs and one with an intolerance. So, I've been practicing my skills on them!
– Lorrie G.
The information and newsletters have been very help and I have been sharing the information with my brother who's granddaughter has been diagnosed as gluten sensitive. Please continue your good work.
– Kathy B.
After struggling with stomach issues for a long time, I learned about gluten intolerance. I am on a 30 day trial of no gluten (and no dairy) to see what happens. After only 1 week, I can tell you I already feel amazing. Over the first weekend, I slipped back into old eating habits and paid dearly.
I have started again this week and your survival guide has been a true blessing. It is a wealth of information in a amount of learning. Thank you for sharing your life and cooking lessons with all. It is a true gift that you have chosen to share.
– Kelley T.
I bought the Gluten Free Survival Kit because my granddaughter has Celiac. I am responsible for a lot of her care, so your recipes and ideas have been extremely helpful. Now, my daughter with Lupus, was told by her doctor that going entirely gluten free might help her feel a lot better also.
– Tati P.
Your gluten free survival guide was extremely helpful when I had to transition to a gluten free lifestyle. There is a steep learning curve and your guide made it much simpler. Thanks so much
– Jerye
I am newly diagnosed with gluten intolerance and I am still learning, still going through the withdrawal period and still hoping this change will bring relief in my life.
I am also still wading through all the wonderful information I have from you and others. I just appreciate everything you have done and do everyday for us out here in Internet land with gluten issues. Thanks you once again and thank you so much for the Gluten Free Survival Guide. I Love It.
– Debbie
Being Gluten Free has done great things for me. I use your survival guide all the time. Thanks for helping.
– Cheryl E.
I have appreciated the information in the Survival Guide. I do not have celiac disease but have been following a gluten free meal plan since dealing with a hyperthyroid issue last spring. My nutritionist/chiropractor gave me information from research that was done by another chiropractor about celiac and thyroid and possible wheat involvement.
Your guide has been very helpful – especially for the hidden sources of gluten. Thank you so much
– Mary Ann D.
I was diagnosed with Celiac's Disease about 9 mos ago. The Gluten Free Survival Guide has been a godsend for me, who was generally clueless about what I could and could not eat. My husband, son and I have to do a fair amount of traveling, so the tips included about traveling have been a great help.
We are on a very tight budget, so the recipes I have gotten through this site have been such a help, as I tend to make everything myself. I also don't feel so 'deprived' of things my family eats if I can have a 'gf' version for myself. Thanks so much for your information and help
– Victoria G.
Gluten Free Survival Guide: The entire ebook was helpful. Chapter two help set us up –it contains great reminders such as non-food items that could be contaminated with gluten. Chapter ten "Gluten Free Kids" is a must read for parents. I have gleaned so much information that is easy to apply to everyday life. – Tee
I absolutely love the Gluten Free Survival Guide! I can't wait to start making some of the amazing recipes. I also learned so much about gluten free food I didn't know.
– Paris R.
Really enjoy your information! Have an 8 yr old who is gluten intolerant so your info has been most helpful!
– Anne G.
Although I've not finished the book yet, you have already calmed many of fears about being Gluten Free. I feel odd in that I seemed to have developed a Gluten allergy at age 40. Secondly I was horrified to see how expensive "Gluten Free" food product were. The thought of eating just fruit and vegetables or paying through the nose for gluten-free alternatives depressed me greatly. In just the first few chapters, your organized and simple language style has given me hope that yes, I can follow this guide and be able to make alternatives for myself and survive, without feeling deprived or broke.
– LaDonna M.
Thank you, Mary Frances, for all the work that went into the G-F Survival Guide. I've been working at a gluten free diet for 10 years. Nowhere else have I found so much gluten free information in one source. I keep my copy in a 3-ring binder in the kitchen so I can check frequently.
– Theresa S.
I have found the Safe food and Unsafe food lists invaluable! They have made this journey of going gluten-free much easier and more doable. I have also taken the advise of calling a food company and asking if the natural and artificial flavorings contained gluten. The person replied that the FDA didn't require them to disclose that information if it was below a certain number. That kind of made me angry so I told her that I would not be buying any of their brand foods anymore. I don't think it will have much impact on them but I felt better.
– Cassie S.
After reading your GF Survival Guide, I feel more empowered to actually start baking my own rolls, muffins and breads. I have tried most of the pre-packaged mixes and frozen breads and am disappointed with all of them. I particularly miss muffins – as they are like a treat without a lot of sugar and are usually higher in fiber. I will definitely be trying out your all purpose GF flour blend first.
– Eva G.
I've been trying to cut gluten out for a while but I get discouraged, it's hard and the info from the library is either super scientific or mostly a cookbook. Your Survival Guide is exactly what I need, along with the e-course you are providing. Glad to have your step by step help on this new challenge.
– Angelica B.
Reading the Gluten Free Survival Guide really helped me get started on the road to feeling more healthy, and most of all more confident that my children and I could successfully eat gluten free. When I ordered the guide we were only a few weeks into this journey but have now been gf for over a year and I've been able to share parts of your guide with grandparents and others who care for my children who want a better understanding of how to successfully feed them when they're in their care. There was lots of helpful information compiled in a way that was easy to understand.
– Amy M.
What an amazing reference and guide to gluten-free! I love the lists for safe and unsafe additives as I recently discovered that gluten could be hiding in soy sauce… unfortunately it wasn't a fun experience and the lesson was learned the hard way. The recipes look wonderful and I can't wait to try the pizza crust… oh how I've missed my pizza the past 1 1/2 years! Thank you for putting together such a wonderful guide.
– Tracie L.
I want to thank you so much for the Gluten Free Survival Guide! I was really nervous about going gluten free, but you have made it a lot easier. I've found that I like the gluten Free versions of food better than I liked it when it had gluten! I love your recipes. I'm the only one that has gluten allergies in my house, but everyone loves the gluten free foods that I make. Thank you, and keep the recipes coming!
– Shonitra E.
I just purchased your survival guide a few days ago. I wish I had this a year ago when I was trying to learn how to live gluten and dairy free. I'm 55 years old and it's so hard to change a lifetime of eating habits and preferences. I am doing pretty well with staying gluten free and dairy free, But the occasional recurrence of symptoms tells me I still make mistakes. It was good to have a refresher on what I need to be doing.
A lot of the information in your guide is known to me by now, but there were a few things I didn't know and your safe/unsafe lists, meal plan, and journal plan are so very helpful. I never thought about the different machines and tools I used in cooking and the fact that I need to designate some to be specifically for use in my meals. I clean everything thoroughly, but there still may be cross contamination. I will be rectifying that in the weeks ahead. I have a new understanding about cross contamination in manufacturing after reading about the Kinnikinick factory story. I won't be purchasing anything stating shared equipment anymore and I will be more diligent about calling the manufacturer when not sure.
I am thrilled to learn about the Triumph Dining guide and cards. I had never heard about them. Also, your recipes sound delicious. I appreciate that your recipes include dairy free suggestions in them, too. I can't wait to try many of them. I appreciate the chapters dealing with holidays, special occasions, and dining out. I tried to read it from the perspective of just learning and I will be recommending this resource to two friends who recently inquired about living gluten free.
Finally, after reading this guide I realize that I still have areas that I definitely need to be more careful about. I will be making more changes.Thank you for passing along your hard-earned expertise to those of us struggling to live gluten free. I really enjoy your newsletters and appreciate the recipes you pass along.
– Dorothy K.
Love the Gluten Free Survival Guide for lots of reasons here's the best piece of advice I've used so far:
How to deal with the "eat gluten or go hungry" scenario.
Keep a stash. Best advice ever. I even keep a bag of a mix of a pumpkin seed mix in my car.
– Karen
I got your gluten free kit and I love it! I have found out that I don't have celiac disease but definitely gluten intolerant. Ever since I have gotten off of the gluten my life has been so much better. I predominantly ate meat, fruits and vegetables any way but there are times that I want sweets or bread.
– Denise
Buy now and get

The Gluten Free Survival Guide
The Essential Gluten Free Cookbook
and some great bonus items:
the super-helpful GF Ingredient list
a complete 1-week GF Meal Plan
Digital Download – Instant Access
– Only $27 –
The Gluten Free Survival Guide
The Essential Gluten Free Cookbook
and some great bonus items:
the super-helpful

GF ingredient list
a complete one-week

GF Meal Plan
All In One Package
Digital Download – Instant Access
– Only $10 –