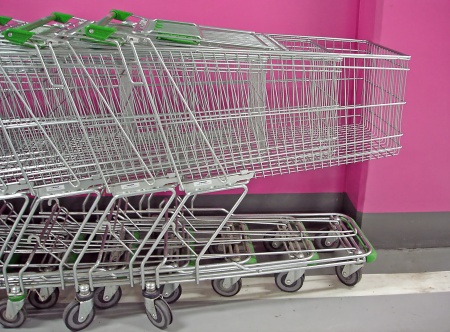 Our Story: A gluten free diet can be hard on the pocketbook. Wheat is cheap and it's in almost every single processed food that I used to buy to keep our grocery bill under control. Back in our college days (pre-GF), John and I used to cook all of our suppers for one month with $40 worth of groceries. If you extrapolate that out, we were spending about $120 a month to provide three meals a day for two people. Of course, we didn't eat very healthfully. Pasta, white rice, and frozen meals were a staple in those days.
$900+ for groceries: Fast forward to 2006 and our grocery bill had climbed to an average of $900 a month. That's for two gluten free adults, one gluten free, dairy free infant, and two omnivorous dogs. Anything that we buy at Wal-mart is included in that total, so there are probably some clothes hidden in there somewhere. But still! $900 a month is way to much to spend on groceries.
Tightening the Belt: Sometime during the first few months of 2007 I decided that I had to take control of the grocery budget. My goal was $600/month. During the year I tried several strategies to reduce the amount I'm spending on groceries, but I haven't consistently applied all of them at the same time. Even so, I've spent less than $600 during four months, and the spending in the remaining months has decreased considerably. The chart below will give you an idea of how I'm doing. It starts in January of 2006 and goes through December 12th, 2007 (when I started writing this post…groan).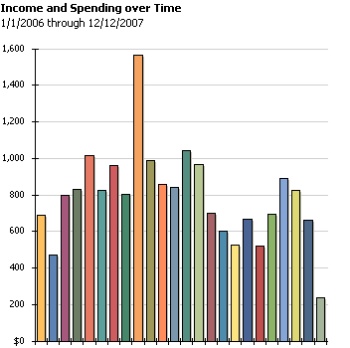 A New Year, A New Goal: My goal for 2008 is $400/month. I'll be applying all 10 strategies that I used this year, but this year I'll do them all simultaneously. If you'd like to give it a go too, here's my list:
10 Strategies to Slash Your Grocery Bill
1. Plan your menus.
The first step to smart grocery shopping is to plan what you are going to eat for the week. Check your calendar to see what events you have during the coming week and count how many breakfasts, lunches, and dinners you will need.
Now, take a sheet of paper and make a column for breakfast, lunch, dinner, and snacks. Brainstorm ideas for each meal. If you're stumped, thumb through your cookbooks, check out your favorite gluten free blogs, or ask your family. Be sure to stick this list on your refrigerator so that you have a quick reference of what you're planning to cook each day.
I'm going to do my best to post my weekly menu on the blog, and also submit it to the Gluten Free Menu Swap, so be sure to check back every Monday for our new menu.
2. Shop with a list.
Shopping from a list is a building block strategy for reducing your grocery spending. The goal is to make a list of ingredients for the meals you've just planned, and then only buy the things on the list. I've tweaked this a bit and shop from a "pantry list" instead of a regular grocery list.
A pantry list is a pre-printed list of foods that you want to have on hand all the time. I use it as a checklist and go through my pantry and refrigerator every week to make sure I still have everything on the list. If I don't have something, I mark down how many I want to buy. Once this is done, I add any additional ingredients that I need for the week's menus, and I'm ready to shop. This strategy alone will keep you from buying item's you don't need because you can't remember whether you have them or not.
3. Set a weekly budget.
My budget for 2007 was $600/month. This amount was allocated out by week – $100 a week for Weeks 1 and 2, and $150 a week for Weeks 3 and 4. This was doable as long as I planned to buy dog food, diapers, and toiletries during the second half of the month. The real problem with sticking to the budget was that I was not good at judging how many $ worth of groceries I had put into my cart. I often got to the checkout counter and discovered (to my horror) that I had bought $200 worth of groceries instead of $150.
My solution to this problem was to bring a calculator and pencil along on the shopping trip. When something goes into the cart I write the price down on the back of my pantry list. At the end of every aisle I find a spot where I won't be run over and tally up my total. By keeping a running list, I'm better able to determine whether I can buy things that aren't necessities (like hot chocolate and marshmallows…mmm).
I've also started highlighting the items on my list that I don't have to have and I put these groceries into the top part of the cart (where David would be if he were with me). If I get to the end of my shopping trip and realize that I need to put some things back, they are, at least, easy to find.
4. Track prices.
When I find a pantry item at a good price, I like to stock up. However between blogging, work, and home I can't keep up with all of the prices in my head. My pantry shopping list can though.
Here's how it works. The first time that you shop with the list, jot down the price of each pantry item that you purchase in the price column. When you get home, type that price into the spreadsheet so that it will print out on next week's list. Every time that you shop, check the prices again. When you find a lower price, just mark through the old one, write down the new price and update your list when you get home. Within a few weeks you'll have figured out the rock-bottom prices at your grocery store and you'll know a good price when you see one.
5. Monitor "in-between" trips.
Trips to the store during the week are my budgeting downfall. I never save any money for these trips, so pretty much anything we have to buy between big shopping trips is outside of our budget. And we always buy more than we on into the store for.
The only solution that I see to this problem is to do a better job of planning meals and making my grocery list. This year I'll be saving the receipts from my in-between shopping trips so that I can analyze what I'm buying. I think that I'll find that I need to add some more items to the pantry shopping list. I probably also need to do a better job of anticipating how much snack food we'll need. And there may be additional issues that I'm not aware of. Monitoring the receipts should give me some answers, and possible some new strategies for saving.
Feedback:
As I shared earlier this week, I've got a lot to learn about grocery shopping. I'm convinced that I can get better and I'm sure that there are people out there in the blogosphere that can give me good advice. I'd love to hear your thoughts on my strategies; let me know in the comments whether you think these will work and what you do go lower your grocery budget. Also, if you're not shy about sharing, how much do you spend on groceries each month?