Has anyone else noticed that they are eating a lot of rice now that they're gluten free? We never, ever ate rice before gluten free. Comments such as the following were not unhears of: "The stuff has no flavor". "Do we have to have rice?"
Now….we eat rice all the time.
But that's no reason to be discouraged for there is the wondrous thing called risotto. Yes, it takes a little time to make. And yes, it doesn't really work if you don't follow the rules. But it's soooo good.
The roasted asparagus we made the other night ended up in this yummy risotto. Before I give the recipe for the risotto (check back on Friday), I wanted to write out a lesson on how to make risotto. It's not difficult to make, but there is a certain technique that you have to follow.
I'll follow up the lesson with the recipe for the Spring Asparagus and Mushroom Risotto pictured above. And then every few months for the next year I'll give you a new risotto recipe that is fitting for the season. (I'm really excited about having an excuse to "test" risotto recipes!)
(And yes, this is one of those nights where I'm going to right in italics a lot. And I may make use of an inordinant number of parentheses.)
Step One: To make risotto you'll need a fairly large skillet or pot. I prefer a large skillet, but a stock pot like this one will do in pinch. Start by putting the skillet over medium heat and melting the butter (and sometimes olive oil) called for in the recipe.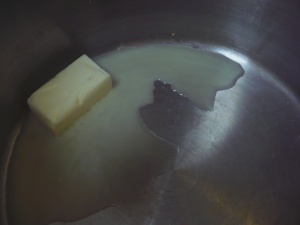 Step Two: Once the butter is melted, add diced onion and/or garlic to the oil to season it. Saute the onions until they are tender and be careful to watch that the garlic doesn't brown. (I won't say how I know this.)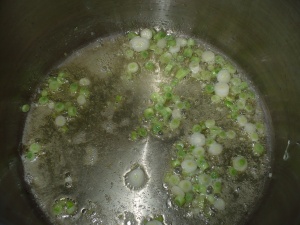 Step 3: Medium-grain arborio rice is the traditional rice for risotto. (Warning:This is not medium-grain arborio) Medium-grain rice is much more starchy than long-grain which is what makes risotto so wonderfully creamy. Our local grocery didn't have any arborio, so I had to settle for this nice short-grain brown rice. The short grain rice still made a good risotto, but it took forever to cook. (Don't substitue long-grain rice; it will not make risotto!)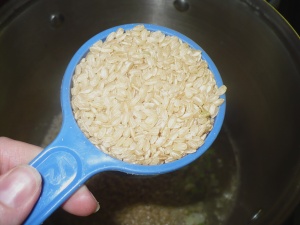 Step 4:
Add the rice to the skillet and stir briskly so that all of the rice is coated with the oil/butter. Continue stirring while the rice heats up and absorbs the oil. The ends of the rice grains will become more translucent and that's when you know it's time to move on to Step 4. (Okay, so that is not at all clear from this photo, but I was having trouble taking pictures in the depths of the stock pot)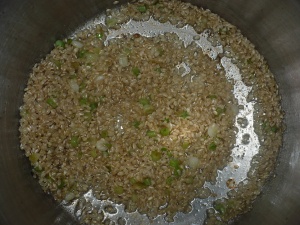 Step 4: And now for the best part! It's time to pop open a nice bottle of wine for your risotto and yourself. The addition of wine at this state releases the starches of the rice. It's key! And if you're going to open a bottle of wine, you may as well enjoy a glass while you stir the risotto. Just pour the wine in and stir it around until it is mostly evaporated/absorbed.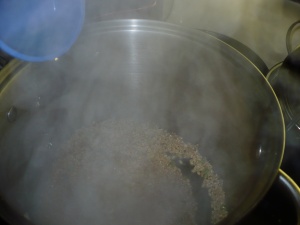 One the wine is absorbed it's time to start adding stock (vegetable or chicken, or really whatever type you want) in increments of 1 to 1/2 cup at a time. (I must confess that I don't really measure it out. One of the lovely things about risotto is that it's very forgiving regarding measurements as long as you do things in the correct order. )If you're thinking ahead, you can heat the stock up so that each addition doesn't cool down the rice. (But I made risotto for two years before discovering this trick, so it's not the end of the world if you forget).
After each addition of stock, stir the risotto regularly until the stock is absorbed. If you draw your spoon through the rice and the liquid immediately fills the space, as in the picture below, keep cooking.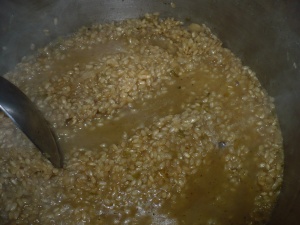 If the space stays clear for a moment, then it's time to add another cup of stock.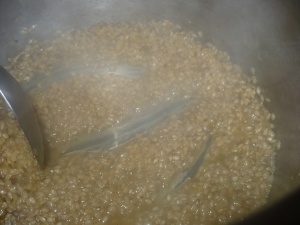 Continue this process until the rice get's a bit puffy and is al dente when you test it. (This is much easier to see when you use the right rice.)
Step 5: Once the rice is almost done, you can add any additions that you like. The rice will not cook for long after this point, so it's best to add ingredients that only need to be rewarmed. We usually add sauted mushrooms and a vegetable that I've precooked and maybe a bit of meat (in the pre-veg days). You can definitely use leftovers from earlier in the week.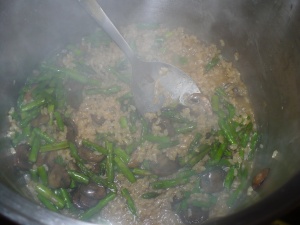 Step 6: Now turn off the stove and let the risotto rest. While it is resting the rice will absorb even more liquids and become even creamier. If you want to really live it up, you can stir in butter, cream and/or parmesan cheese at this point. (If you're concerned about calories, just drink another glass of wine so that you don't think about it. )Serve hot to a hungry crowd and do not expect to have leftovers =)