Home
My name is Mary Frances and I'm the writer/blogger/cook/food taster at Gluten Free Cooking School. (To be fair, my husband, John, helps out with that last one as needed.) We've been gluten free for a little over 7 years and for the past 4 years or so I've been writing my gluten free blog to document our trials, share our successes, and help others as they try to eat and live gluten free.
If you want to get updates on new recipes and articles that I write, make sure to subscribe to our gluten free newsletter. When you do, you'll also receive a free gift from me, which is currently a week's worth of suppers menus complete with shopping list.
Learn How To Cook Your Own Delicious Gluten Free Food
I'm very excited to announce my new online Cooking School. If you're gluten free, you know how difficult it can be to learn how to cook with only GF ingredients. You've probably had loaves of bread that were a soggy mass, biscuits that fell apart too easily, and hard-as-a-brick cookies.
If you're struggling with cooking delicious gluten free food, my Cooking School is for you. Each lesson focuses on a particular type of food, and I walk you through how to cook it step by step. There are articles for you to read, different recipes for you to try, and videos showing you exactly how I cook the recipe, so you know you're doing it the right way.
Best of all, you can sign up for just $1 and get immediate access to everything the Cooking School offers. Click here to read more about the online Cooking School.
Do You Want To Love Your Gluten Free Life?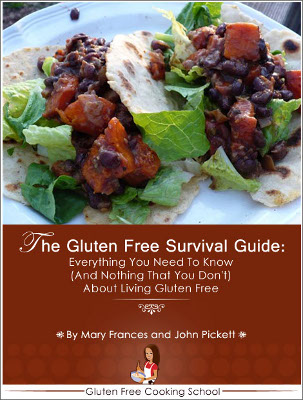 When John and I went gluten free several years ago, I remember how depressing it was to walk down the aisles of a grocery store and realize that we couldn't eat 90% of the food on the shelves. I remember wondering how we would ever find good food to eat again, since our choices were so incredibly limited. If you are gluten free, I bet you know the feeling that I'm talking about.
Despite the difficulty we had in going gluten free, I'm very happy to say that today eating GF is no longer difficult, and I can actually say that I love being gluten free. We feel great, we eat delicious, healthy food every day, and being GF is no longer the huge burden it once was. In fact, it's not any kind of burden – it's just normal.
After a couple of years of blogging and getting to know lots of my readers, I came to the realization that the feeling of depression and hopelessness that we experienced when we first went gluten free is actually pretty common among people that are on a gluten free diet. My readers kept mentioning issues and problems they were having that I recognized and remembered from our own experiences.
I decided to write down the experiences that we had in going gluten free, the problems and issues that we struggled with, and the solutions that we found for each one. My book, The Gluten Free Survival Guide, details everything you need to know about going gluten free, and it will teach you how to love your gluten free life.
If you are struggling with going gluten free, or are losing your sanity trying to cook healthy, delicious GF food, please take a look at the book. You can click the book cover to find out more about it, and I'll tell you about all of the great gluten free recipes and extras that come with the book on the next page.
Gluten Free Diet
Chances are good that you found my site because you have some interest in gluten free cooking or a gluten free diet. For some helpful information on how to get started eating gluten free, check out my original post on starting a gluten free diet, and the follow-up post on a gluten free diet plan.
If you're feeling discouraged about living on a gluten free diet, then you need to read our book. In each chapter, we help you navigate through the aspects of life that are different when you are on a gluten free diet. The book provides strategies for everything from your first grocery shopping trip to eating in a restaurant to traveling to cooking your favorite foods. Whether you're just starting a gluten free diet, or have been on it for years, you need to read this book if the gluten free diet is feeling like a struggle.
Gluten Free Recipes
I've published quite a few recipes over the years for gluten free foods. Some of my most popular ones include my recipes for gluten free bread, my gluten free flour mix, gluten free biscuits, gluten free pizza, and our favorite Saturday morning breakfast, gluten free pancakes.
In addition to those recipes, I've also written a second gluten free bread recipe, a recipe for gluten free tortillas, and a bit more on the subject of making a gluten free pizza crust.
If you're still looking for more, you can use the search box on the right side of the page to find specific recipes and posts, or just browse back through my archives. If there's something you'd like to see on my site, the best way to get in touch with me is to sign up for my newsletter, which will give you my email address.
Thanks!
- Mary Frances