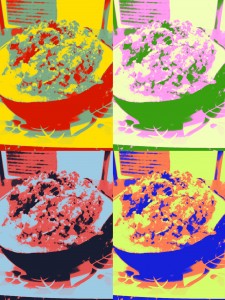 Thanksgiving 2010 will be our eighth gluten free Thanksgiving. God willing, we will be spending the day with family and  eating more food than is good for us. We have so much to be thankful for this year – I can't wait for next Thursday!
I am getting very excited about Thanksgiving side dishes too and have already cooked a few. Tonight's supper featured Cornbread Stuffing with "Sausage" and Apples stuffed into a Baked Acorn Squash.  Our side dish was Broccoli Pomegranate Slaw.  I was going to post a picture for you, but it did not come out well at all. Thus the Warholish like photo above.  However, the acorn squash did make very nice little serving dishes for the dressing. It might be a useful way to differentiate the Gluten Free Stuffing from the stuff that everybody else can eat.
Later this week I want to work on a Green Bean Casserole recipe and a Cranberry salad dressing. I may also make some yeast rolls and see how they freeze. I made them several times, but somehow there are never any for the freezer =)
I haven't decided what I'll be cooking for the Thanksgiving meal. My mom's family hosts a huge potluck and I need to confer with my mom and sister-in-law so that we can figure out who is doing what.
Have you figured out what you'll be cooking for Thanksgiving?
Do you have strategies to ensure that you have an enjoyable day – free of stress and free of gluten?
If not, then you should buy our new e-book. Chapter 5 walks you through all the strategies that I've used to take the stress and gluten out of our Thanksgiving meals. And the cookbook that is included with the e-book contains my family's recipes for Gluten Free Cornbread Stuffing, Gluten Free Yeast Rolls, Gluten Free Gravy and the Gluten Free Cream of Mushroom Soup that you'll need for your Gluten Free Green Bean Casserole.  These are recipes that I've made for years and they are so good!
Also, be sure to join us for the Thanksgiving Questions chat this Saturday night. Get more details here.