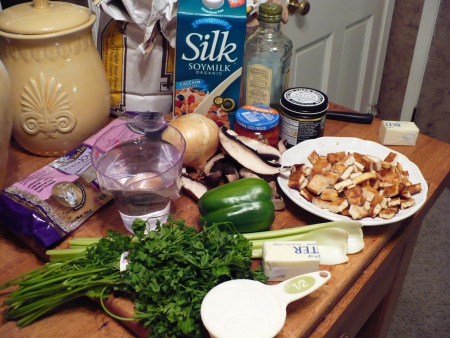 Sunday is here again and thanks to Gluten Free Mommy's Ginger Lemon Girl , I have actually planned our meals for the week. Now I've just got to force myself to sit down and make the shopping list (groan!). I'm not looking forward to facing Walmart after work tomorrow night!
Gluten Free Mommy is hosting the menu swap, so head over to her site Monday evening to see who else has joined in. The ingredient of the week is basil, which I've featured in my homemade basil pesto. This was my first year to grow basil and I planted twice as many seeds as I should have. (I thought about reading the planting instructions first, but decided to wing it!) Somehow all of the plants managed to survive and thrive in our ongoing drought and I now have a TON of basil. Our first frost is forecast for the week after next, so I'm going to be busy making pesto and freezing basil this week.
Other Updates
I've added updates to last week's menu so that you can get our reaction to each dish. Check it out here.
The Mystery photo contest will end at midnight tonight (Sunday) so head over an make a last minute guess. The winner will get to choose the topic of my next post.
And, by the way, the picture above is all of the ingredients that I had out to make my first attempt at a gluten free Chicken Spaghetti casserole. The batteries in my camera died this week and even though I've raided all of David's toys and the remotes I haven't found enough juice to power the camera. (grrr) Thus, a picture for a post that didn't quite happen. Never fear, I'll be trying again and I've even found some willing taste-testers to try the meat version for me!
Now, without further ado, here is the menu for this week.
Gluten Free Menu
Sunday: Gluten Free Mommy's Thai Wraps with Asian Slaw
The thai wraps were yummy as usual. We make them with baked tofu strips instead of chicken and it works perfectly. The Asian slaw was supposed to be like the one with the Ramen noodles in it. Unfortunately John ate all of the sunflower seeds this week, and the rice noodles didn't fry up exactly like I had hoped. This recipe definitely needs another round of experimentation, but it has promise. The flavors of the dressing were exactly as I remembered.
Monday: Summer Veggie Quesadillas and Refried Beans
I tried really hard to stick to my own recipe tonight, and John liked them just as much as last time. The recipe made five quesdillas, so I gave us each 1 1/2 and set aside the remaining two for our lunch tomorrow. We didn't make it to the grocery store tonight so I served this with Easy Mexican Rice (aka: leftover brown rice reheated with salsa and butter) and a small lettuce/tomato/vegan sour cream salad. This was my first attempt at vegan sour cream and I was relatively happy with it. It needs some tweaking, but I may be able to make the switch!
Tuesday: Amy's Tomato Soup
and Grilled Cheese Sandwiches with Homemade Basil Pesto Amy's soup was delicious as usual, but the grilled cheese with basil pesto was out of this world!
Wednesday: "Falafel on Flat Bread with Creamy Cilantro Sauce"Falafel on Flat Bread w/ Creamy Cilantro Sauce & Book of Yum's Southern Cooked Greens
The falafel was so good I went ahead and posted about it =) David was in a persnickety mood and would only eat the greens, so Sea's recipe gets extra points in my book!
Thursday: Black Bean Burgers, "Curried Sweet Potato Fries"Curried Sweet Potato Fries, and "Easy Summer Coleslaw Recipe"
The burgers were great – we ate them on one piece of flatbread so we really got the burger flavor, instead of the gluten free bread flavor. And the fries! Oh my gosh, they were so good. You've got to try them. Unfortunately, the coleslaw didn't happen, so I still have a huge head of cabbage in the refrigerator.
Friday: "Gluten Free Pizza Recipe" of some sort John requested Eggplant Parmigiana Calzones again and I made a pesto pizza topped with some extra Eggplant Parm strips, mushrooms, and baked tofu. John loved his, I wished I had added some tomato to mine.

Saturday: Gluten Free Goddess' Bean & Butternut Chili with Southern Corn Bread
So, so, so good. You cannot go wrong with any of Karina's recipes.
Upcoming posts for this week:
Monday: How to Make Cream of Mushroom Soup
Wednesday: Falafel on Flat Bread w/ Creamy Cilantro Sauce
Friday: Banana Nut Bread postponed – John ate it all before I took a picture =)
Sometime Next Week: Southern Corn Bread, How to Prep a Butternut Squash, and Halloween Quesadillas
And to wrap things up, here is a picture of David with his new favorite toy: the broom. In this picture he is making sure he got all of the leaves below the bench on our deck. This afternoon he helped me clean my room – he had a broom in one hand and a Swiffer in the other =)