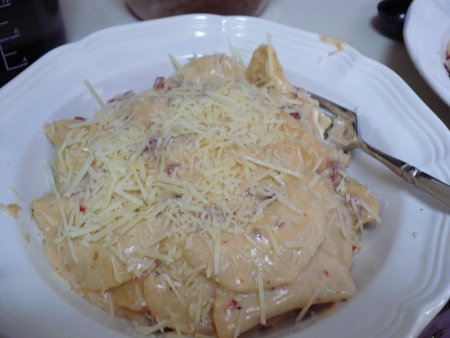 Here's the picture of my gluten free tortellini attempt. As you can see we ended up making ravioli.
This week's menu starts off easy since it is largely a repeat of last week! We had quite a busy week buying a new car and working on a house that we're putting up for sale, so we ended up getting take-out twice. We were all so tired that I completely disregarded the menu most night and just made what was easy for me to make. Everything else was pushed forward.
Towards the end of the week I will be trying out some Thanksgiving recipe and probably doubling them to freeze, so that I don't have to take my entire pantry with me. Though that will be much less of a problem in our "new to us" Passat wagon =)
Karen at Gluten Free Sox is hosting the Gluten Free Menu Swap this week. Be sure to head over to her site to check out the other menus. While you're there browse around her pasta recipes; she's made some awesome ravioli and tortellini lately.
And now to update you on what's been going on in our kitchen: I just pulled an Impossible Pumpkin Pie out of the oven and if it turns out well I'll be sharing photos and tips this week and then sending you over to Fat Free Vegan's blog for the recipe.
Friday night I played around with my gluten free pizza crust recipe and ended up rolling out a crust that covered my entire pizza stone. The results were outstanding and I'll be posting that as soon as we have time to do one more test run. (Why do I not measure when I play with recipes)
I also made a great pancake/ice cream/french toast topping with some baby bananas from Whole Foods. More on that tomorrow, I hope.
This Week's Menu:
Monday: Garlic Chicken (or Tofu) Stir-Fry with Quinoa, Peppers and Basil
Tuesday: Portabella Burgers with Curried Sweet Potato Fries
Wednesday: African Bean and Sweet Potato Stew
Thursday: Nachos
Friday: Ravioli with Marinara Sauce and a green salad
Saturday: Thanksgiving Trial Run: Baked Tofu, Green Bean Casserole, Cornbread Dressing with Gravy, Cranberry & Orange Jelly
Sunday: Thanksgiving Trial Run: Baked Brown Rice, English Pea Salad, and Roasted Potatoes, Carrots, and other yummy vegetables
And for my Mommy brag, here's a photo of David playing in his "pantry".