Confession here: I'm not good at budget grocery shopping. However, I do want to be a good steward with our money and our income is variable, so I've decided that I need to get some help =)
Help for me has come in the form of a grocery shopping coach – Patti Laurens. I had a coaching call with Patti last week and decided to try an experiment this week. I went to the grocery store and tried to only buy foods that cost less than $1/lb (that's $06.25/oz).
Here's a picture of what I bought: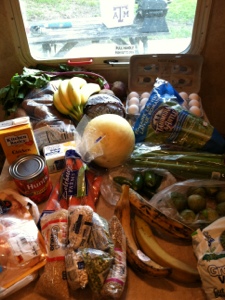 Now the fun part of this experiment is that I get to figure out what too cook with all of these foods. So far we've had a delicious Arroz Con Pollo for supper, rice and eggs for breakfast, a Chicken Cheakpea Curry, salads, and Honeydew Granitas. Not bad!