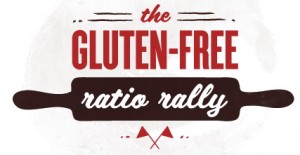 The Gluten Free Ratio Rally challenge for May was Pate a Choux. (I'm just a tad bit late posting this!) Pate a Choux is the dough/batter that is used to make eclairs, cream puffs, profiteroles, gougeres, churros, and beignets.  The Sensitive Epicure blog hosted the roundup so check it out to see more of the possibilities of  gluten free pate a choux.
Saturday morning I woke up at 3 AM, full of energy and too restless to try to go back to sleep. I realized that it was the perfect time to bake.  The quiet of the wee morning hours was just what I needed to try out a new recipe. Experiments don't go so well when you're distracted by a multitude of interruptions…and those are bound to happen when my sweet little ones are awake.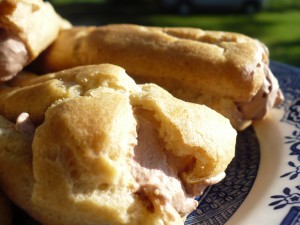 Gluten Free Chocolate Eclairs for breakfast. It doesn't get much better than this.
I followed the ratio as given in Ruhlmans' Ratio

and used my all-purpose gluten free flour mix without any xanthan gum. As you can see, it worked perfectly. The filling is homemade chocolate whipped cream. Absolutely delicious!