Learn Step by Step How To Cook Delicious Gluten Free Food
I'm so excited today to tell you about our Cooking School. The Online Gluten Free Cooking School is what I envisioned my blog being from the very start – great recipes, in-depth lessons, videos to show you step-by-step how to cook great food, and lots of interaction between me and my readers.
Just about everyone here can relate to the struggle of learning to cook gluten free, and I get emails every day from people who suddenly had to learn to cook after a diagnosis of celiac disease. The Cooking School is designed to make learning how to cook delicious gluten free food as easy and as much fun as possible. I have a great time coming up with new recipes, filming the videos, and chatting with my readers, and I know you'll enjoy learning to cook great GF food with us.
You Don't Have To Learn To Cook By Yourself
Learning how to cook gluten free food can be a lonely process. A lot of my readers get a recipe or two from my blog or another website, and go and try them out. But what do you do if it doesn't turn out right? What if it comes out OK but you don't like how it tastes? Did you make a mistake or was the recipe just no good? Is there anywhere to go with these questions?
My Cooking School takes care of this issue. All of recipes you'll get as a member are tested and tried, so I'm confident that they'll work great for you. In addition, each recipe comes with a video showing you exactly how to cook it, so you don't have to guess whether you're following the recipe correctly. This makes it pretty difficult to make a mistake. However, if you do happen to cook a recipe and it doesn't turn out well, get in touch with me and let me know. I'll try to pinpoint exactly what went wrong so you can get it right the next time.
Cook The Gluten Free Food Your Family Loves – Without All The Hassle
One of the hardest things about going gluten free is suddenly not being able to eat your favorite foods any more. For us, it was breakfast – pancakes, waffles, biscuits, and other yummy goodies. We didn't have children when we went gluten free, but I can imagine the dismay they would have felt at being told they couldn't have their favorite breakfasts any more because Mommy and Daddy couldn't eat it. I know that this situation happens a lot to people who go gluten free, and it's definitely tough to deal with.
Learning how to cook your old favorites – gluten free – is one of the great joys of going on a GF diet. Being able to eat biscuits, pancakes, and waffles that are every bit as good as their gluten-filled counterparts is so, so satisfying. Your family will be just as happy as mine when you're able to start cooking their old favorites again.
See Exactly How The Food Is Supposed To Look
I've gotten a lot of great feedback from current members about how helpful the videos are. Whenever you cook a new recipe, it's often difficult to really know if you're following the instructions like you're supposed to. Sure, you can guess, but if the recipe doesn't turn out right, how do you know what the problem was?
Being able to watch me cook each recipe is the next best thing to having me at your side as you cook. You'll see exactly what consistency the dough is supposed to be, exactly how to stir in the ingredients, and exactly how the finished product should look. No more wondering if you got it right and trying to figure out what exactly went wrong.
Here's what some of our current members have said about the Cooking School.
Just wanted you to know… I just finished all of the lessons at the cooking school and I am thrilled. All my recipes turned out, and I have shared them with all my GF friends. I am a pediatrician who is not really GF, but I have a lot of kids who are. I can't share anything with them that I wouldn't eat myself – but I have to tell you….drop biscuits, slice bread and blueberry scones have been the stars for me!
I have recipes I can make for whoever drops by. It's awesome since no one will know they are GF. Let me tell you I have gotten my moneys worth with this purchase. Watching the videos, following the recipes, and getting to eat GOOD GF food beats anything Bob's GF RedMill can throw out (so much better its not even funny and much more cost efficient for families.)
Anyway, thanks, gotta go email the scone recipe to an adult friend who will love these…..I hope some of these people will come to the GF school too! Gotta go to bed….will probably dream of blueberry scones!
Best, Patricia W : )
Thank you for all of your helpful information.
My husband was diagnosed last April as both gluten intolerant, dairy intolerant, and yeast intolerant. In truth, I felt quite overwhelmed at first, since I've always done a lot of baking/cooking from scratch but suddenly felt like I was at a zero skill level. It has taken me all this time to get brave enough to go purchase some xanthan gum and even TRY making something from scratch. I'm pleased to say my first attempt (zucchini muffins) turned out marvelous and we all liked them. I think prayer is what helped me to have the courage to dig in and get started on this new challenge.
Sincerely,
Maria
Get a Sneak Preview of the Cooking School for Only $1
The regular rate for our members is $24.95 every three months. However, I'd like to let you take a test drive of the Cooking School for only $1. This special $1 trial will last for two full weeks and you'll be able to come inside and try out several classes. Look at the lessons, read the recipes, watch the videos and do some cooking. At the end of the two weeks, you can stay a member for the regular rate. If you don't want to continue your membership, then you can cancel at any time with no hassle and no questions asked.
One more thing to add – I know that it's difficult trying to remember two weeks later to cancel your membership. If you sign up for the trial and get charged $24.95 because you forgot to cancel in time, just let me know and I'll refund that charge.
Why Are You Going To Let Us In For Only $1?
Well, it's pretty simple. I could tell you about everything the Cooking School offers until I'm blue in the face, but the easiest way for you to see the real value of what we have to offer is to simply try it out for yourself. Join up for $1 now and find out how the Cooking School can help make your gluten free life easier and more enjoyable.
Is There A Catch? Any Hidden Fees?
Nope, not a thing. You'll pay $1 today for two full weeks of access to the Cooking School. If you choose to stay a member, you'll pay $24.95 every three months. You can cancel your subscription at any time – no hassle and no questions asked.
The Cooking School is currently closed to new members.  If you'd like to take a class when we reopen enrollment, sign up for our free newsletter (there's a sign-up box in the right sidebar of the home page) so that you'll get the announcement that we're starting back up.
~Mary Frances 9/15/11
Who's Behind The Cooking School?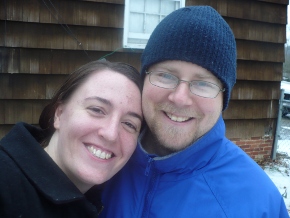 Mary Frances and John Pickett have been married for 7 years, and live in the Southeastern US. John was diagnosed with celiac disease in college, and Mary Frances also found out several years ago that she has a wheat allergy. Due to both of these issues, they have been completely gluten free for several years.
Mary Frances started Gluten Free Cooking School as a free blog in 2006 to share her recipes with other people struggling with a gluten free diet. Her site quickly became very popular, and today she is one of the most popular gluten free bloggers online, with over 80,000 people reading her recipes and advice every month.
John is not a cook, but he helps with a lot of the behind-the-scenes stuff around GFCS. He's also the disembodied voice you hear on the cooking videos. =)
Popular Cooking Courses
Here are a few of the most popular courses from The Cooking School. Remember, you can sign up for $1 right now and get immediate, full access to all of these courses.